Sunday morning arrived and the weather was glorious and although not a great lover of carp fishing I was looking forward to the first match of the Spring League. I got to Perry St a little early but already many of the anglers were gathering. Once again this popular league was a sell out with several anglers on the reserves list. I sorted out some bait and then it was time for Les to let everybody know what format the league would take. It was pretty much the same as last year in that you can drop your worst result and stand ins are allowed (which was handy as I'd have to miss one match). New for this year was the introduction of a pairs and individual knock out competition with the pairs starting this week and the individual next week. As it was a drawn pairs there was lots of banter with people saying who they didn't want to be paired with. Les was saying how he pitied whoever got me and then was promptly got stuck with me (unlucky mate!).
Also new was that for the first five matches everybody would get to fish one of the coveted corner pegs (i.e. whoever drew one this week wouldn't be eligible for the next four weeks), a novel idea which should make things a little fairer. Anyway the draw was announced and into the bucket I went and pulled out peg 7, it wasn't a corner peg (so nothing changes there then!) but apparently it had been quite consistent. Janders drew another flier in the shape of peg 11 so another pound would probably be waving goodbye soon. For company I had Alan 'Picky' Gage on peg 8 so we decided to have our usual £1 side bet, on the other side I had Chris Haines on peg 6. He had won this league last year and was looking to repeat his success again.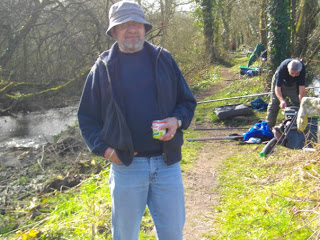 Janders was pleased with his draw!
I surveyed my peg and decided on a line in the open water at 11.5 metres plus two inside lines to my left and right. To my left I had a little raft of twigs which was a result of the recent swim clearing along with the remnants of three tree stumps in the water which could be a problem if I hooked any big fish. To my right at about 8 metres I had an inlet coming in and this looked to be an obvious fish holding spot. I set up a 0.4 gram rig with 0.12mm bottom and Tubertini 808 size 18 hook for the open water and a little Trabucco dibber style float for the insides and also up in the water. This rig had the same hooklength and hook.
I always enjoy this league because the banter is great and I get to see loads of people who I haven't seen for ages, like Rocking Roy, Butch Baker and Graham 'Dino' Pepper along with Picky, Oz, Mike Hosgood and the lovely Steve Chant (who supplied loads of photos for this weeks blog – cheers buddy).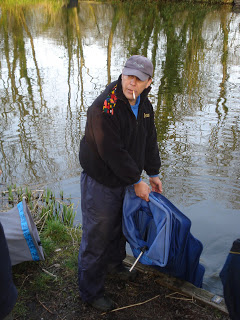 The lovely Steve Chant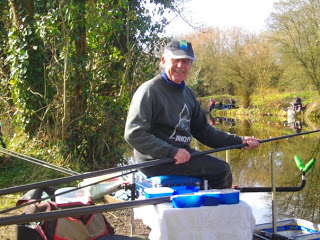 The legend that is Graham 'Dino' Pepper
The whistle sounded and I cupped in some chopped worm and caster at 11.5 metres, pellet and maggot on the inside to my left and pellet, corn and maggot to my right. I started with double red maggot on the long line. It wasn't long before there was loads of splashing to my left as Darren Roberts had a carp nearly straight away from corner peg 10, followed shortly by Picky and Janders and both my pounds started to look in danger already.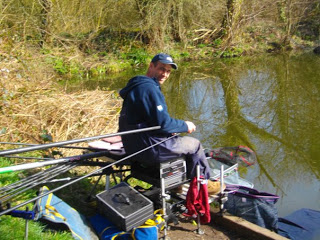 Darren Roberts was into fish straight away
Mike Hosgood got in on the act as well and it wasn't long before Les started to moan that he wanted a new partner. No bites on my long line saw me try my shallow rig as it had looked like Mike had caught his up in the water. This didn't bring a response either and I found myself thinking about trying the inside lines a lot earlier than I wanted.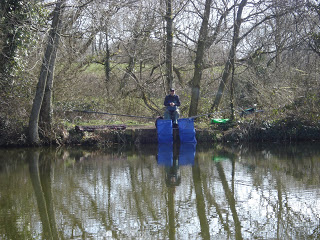 Mike had an early fish too
I came in on my left inside line with double red maggot on the hook. I had a toss pot fitted to the top of the pole so I could feed a pinch of maggots and pellets every put in. I had a 6oz perch quite quickly followed by a carp of about 2lb which at least put me on level terms with Picky and Chris Haines who'd had one as well. After an early flurry of activity in which Les, Oz, Mike Hosgood and Mike Collins had all caught carp things slowed down a bit and it seemed to be just the two corners (Janders and Darren) that were catching consistently. Reports from the other end of the pond suggested that Steve Bush on peg 1 was also catching well.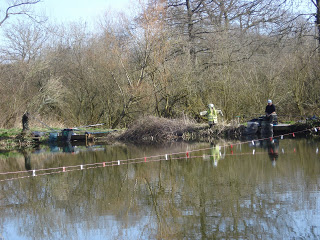 The view from my peg looking into peg 11
I then started to get a few bites and quite quickly added a small perch but dropped off a slightly better one before catching a frog! Despite my best efforts I wasn't allowed to put it into my keepnet. I then had a couple of carp to put me ahead of Picky. Chris was now catching like a steam train, fishing up in the water next to a tree in the water in his peg. Not to be outdone Janders landed a beast of 11lb 8oz and Oz went one better netting one of 14lb 12oz. At the halfway mark I had five carp, two perch and that frog, all on maggot. It felt like I was way down but I kept plugging away. I had carp number six and lost a couple of foulhooked fish. Picky then had a run of two or three fish which he had problems landing due to some tree stumps he had in his swim, he was pegging me back though.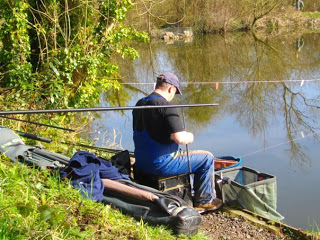 Picky started to catch me up
I now couldn't buy a bite and neither could Dino or Rocking on the far bank if their moaning was anything to go by, they were making a very funny double act. Chris Haines on the other hand had no such problems, in fact the only problem he had was if he had enough keepnets with him! Match organiser, Les Braunton, had a few fish but was now struggling like me. I tried my right hand inside line but no bites were forthcoming and when Picky had another from his inside I soon swung around to try the left hand side again. I had carp number seven and lost another foulhooker and reckoned I was still just ahead of him.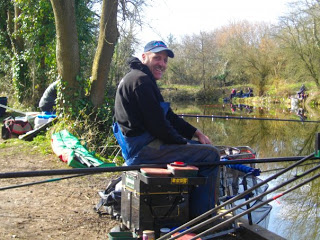 Rocking Roy (one half of a great double act)
Picky added another fish and it was close, I tried to my right again and at last had a bite, after a spirited scrap I netted a lovely tench of around 3lb. I needed to beat Picky because along with the pound side bet I reckoned our five peg section was up for grabs if Darren and Chris framed (which I was sure they both would). The last hour approached and no more bites to the right saw me back down the left margin. Picky lost another before I hooked and safely landed my eighth carp with only five minutes to go – but was it enough? I asked Picky how many he had, he said he had seven to my eight carp and one tench but I had a sneaky feeling his fish were bigger.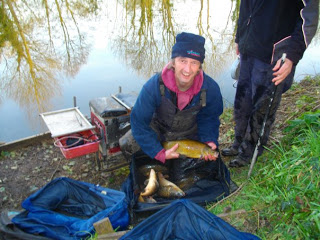 Me with my tench
I packed up and after dropping some of my kit back at the car waited by peg one for the weigh in. Steve Bush had 17 carp for 37lb 8oz which was top weight until we got to Chris on peg 6, he had 25 carp and one tench for a fantastic 68lb 14oz. My fish went 22lb 2oz and I still wasn't sure it would be enough to beat Picky.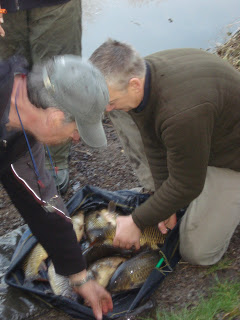 Chris with part of his catch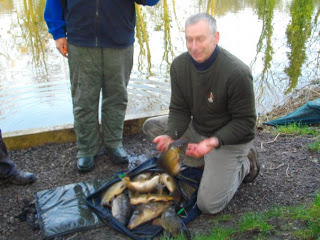 Chris performing his famous fish juggling routine!
Picky weighed 20lb 8oz and I was mightily relieved – I knew it would be close, I just needed Darren to frame now. Mike Collins did well from peg 9 to weigh 12lb 12oz and Darren had 39lb 4oz to put him into second place. My nemesis Janders weighed 33lb to take yet another squid off me (I should bloody think so off that peg!). Steve 'Oz' Osborne had four fish weighing 25lb 2oz and then then weights dropped off until we reached Alan Dunn who had 24lb 8oz from peg 19.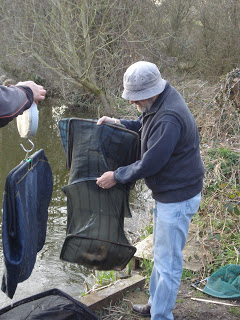 Janders weighing in prior to relieving me of another £1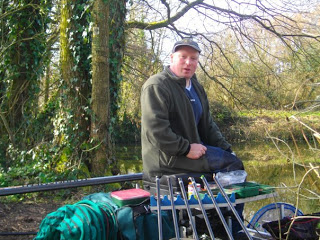 Dunner put in a section winning performance to catch 24lb 8oz
At the results the top three of Chris, Darren and Steve were announced and I did indeed win my section (by double default!) and picked up £20. Still a good start to the league with 14 pts although even at this early stage Chris looks good to retain his title. Round two is next week so lets hope I can draw a corner peg.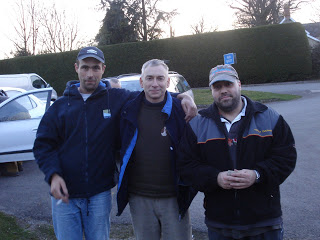 The top three (from left to right) Darren Roberts, Chris Haines and Steve Bush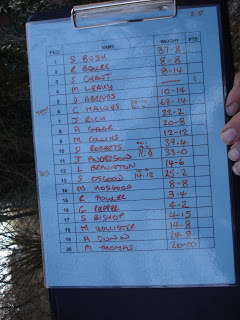 The scores on the doors
1 – Chris Haines (Haines Angling) – 68lb 14oz
2 – Darren Roberts (Chard) – 39lb 4oz
3 – Steve Bush (Chard) – 37lb 8oz
Sections
1 – Dave Abrams (Weymouth) – 10lb 14oz
2 – Jamie Rich (Chard Remains) – 22lb 2oz
3 – John Anderson (Chard Minnows) – 33lb
4 – Alan Dunn (Chard) – 24lb 8oz