Another bright and sunny day and I was looking forward to a bit of carp bashing, my only worry was that several frosts might knock sport a bit. My mate Andy was fishing today as a substitute as was Dave Lawrence for Steve Bishop. Draw time soon arrived and the anglers who drew a corner peg last time went first before the rest of us drew. No corner peg for me, I ended up with peg 14, a good peg but it didn't do much last time. Andy drew peg 10 (a corner) and was well happy, Dave also got a corner in the shape of peg 1 and as he and Mike Hosgood were against me and my reluctant partner Les Braunton I was hoping Les would have a good one. Les pulled out last weeks winner, peg 6, so we had a chance.
Me and Andy awaiting the draw
I got to my peg and surveyed the situation, it looked ok with cover on the insides, one worrying thing was that there were nowhere as many fish moving as last week. On my right I had Mark Leahy on peg 13 and Butch was on my right (peg 15), opposite was Steve Chant on my peg from last week and Les, so at least I could see how my partner was faring. I set up the same two rigs as last week for fishing out and down the insides. Fot bait I had maggots, casters, pinkies, corn and Skinz feed pellets. With loads of time before the start I had time for a sandwich and a cup of coffee. Andy also came round for a quick chat.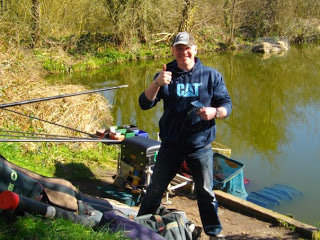 I think Andy was pleased with his draw!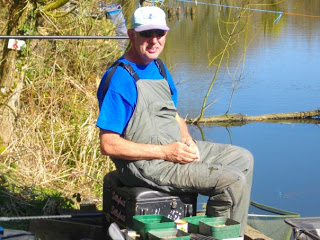 My reluctant partner Les
On the whistle I cupped in some caster, pellets and maggots at 11.5 metres and small amounts to both insides. I fed one inside line with just pellet and maggot and the other with pellet, maggot, caster and corn. I started with double red maggot on the size 18 Tubertini 808 hook on the long line and decided to just feed through a small pole mounted cup. After five minutes the float sank from view and I bloody missed it!. Next put in and the same thing happened, but this time I connected and I was soon landing a 2lb bream. I fairly quickly added a 4oz skimmer and lost another on the way in, I then had a 2lb carp and was really pleased with my start. After an hour from what I could see nobody else had caught much apart from Darren Roberts on peg nine, who'd had a carp. Both corner pegs (ten and eleven) were still fishless which was a surprise. Les swung a small fish so we were both off the mark.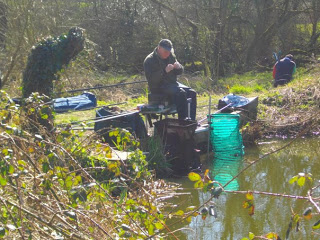 Dunner was struggling on corner peg 11
Going into hour two, I'd only added a small roach and was thinking about trying my insides but wanted to leave them as long as possible so any fish there would settle properly. I cupped in some more feed on all three lines and stayed put at 11.5 metres. Les by now had a couple of carp and reports said that Dunner on eleven had one as had Mark Leahy and Steve Bush on peg twelve.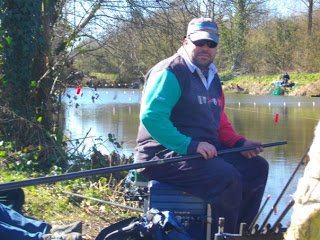 Bushy on peg 12
No more bites were forthcoming on my longer line, so a quick look on the insides saw no indications so I went back to catching nothing at 11.5 metres. After three hours I hadn't added any more but apart from Les who was now getting odd fish, nor had anybody else. Andy still hadn't caught, Dunner had one, Mark had two, Bushy had a couple and Butch only had small fish. On the opposite bank Steve Chant only had one as did his pairs partner, Mike Thomas and Darren Roberts hadn't added to his early fish. Les shouted across that I'd better buck my ideas up, I asked him how the other end of the pond was fishing and he said our opposition Mike and Dave on pegs 20 and 1 were bagging, it was looking like we could get knocked out of the pairs competition.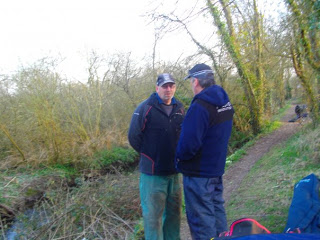 Our pairs opposition Dave Lawrence and Mike Hosgood discussing tactics before the match
Worryingly, hour four arrived and I hadn't added any more fish despite rotating all my lines, even more worrying was the fact that slowly and surely more people started catching, Andy had landed a couple of carp as had Dunner and judging by the splashing coming from my right, Leahy and Bushy were catching the odd fish as well. Nothing much had changed on the opposite bank though and Steve had started feeding a robin. There was a lot of commotion coming from the next peg and all I could see was 14 metres of pole being shoved straight up vertically into the trees. It transpired that a pigeon had crapped on Mark Leahy, not once but twice and he got his own back by poking it up the ass with his pole!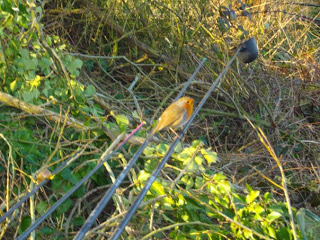 Steve's new best friend – the Robin!
Butch Baker had a fish up in the water so I tried that for a bit but only added two small rudd so it was back to the insides (without much success) when Dangerous (Butch's boy) came round for his usual walk. He said that Dave was winning the match from peg 1 and Chris Haines was doing well although most were struggling. While he was there I had my first indication and shortly after I hooked and landed my second carp which was a similar size to my first. I then hooked a better fish which took me ages to land and it turned out to be a foulhooked common of about 4-5lb. Mike Thomas next to Chanter hooked a good fish on light elastic and had it on for an age before it broke him – hard luck mate.
Mike Thomas lost a big fish – you need a bigger boat mate!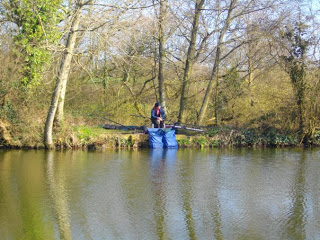 Me in action! on peg 14
Going into the last hour it seemed like it was going to be tight between loads of anglers, I reckoned Les and Dave would frame, but after them I had no idea. I hooked another decent fish and netted another carp around the 5lb mark and the was the last of the action for me. Les called the all out and I shouted up and asked Andy what he'd had, he replied five carp and a tench so I thought he'd done me. Mark Leahy said he'd had eight carp and I was rapidly falling down the rankings. I packed up and took my gear back to the car before waiting at peg 1 for the weigh in to start. Dave Lawrence weighed a level 34lb and everbody said he'd win it with that, Mark 'The Hoff' Hollister did well with 16lb 2oz from peg 3 and then there were no more weights until we got to Les on peg 6 and his ten carp weighed 23lb 4oz.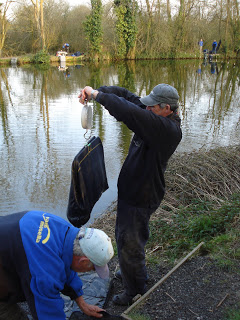 Butch weighing Les in
Nobody else broke double figures until we got to Andy, he weighed a level 15lb and I thought it might be close as I had guesstimated my fish at weighing around 14-16lb. Dunner weighed slightly more than Andy with 15lb 2oz, Bushy had 9lb and Mark Leahy came close to Les with 23lb 2oz but no cigar and I thought bird shit was supposed to be lucky! Then it was my turn and my four carp, single bream and four small fish went 17lb 4oz. Andy called me some choice names before paying me a pound to go with the one I'd already collected from Picky (3lb 8oz) and things got better when Janders only weighed 5lb 8oz and handed over another nugget.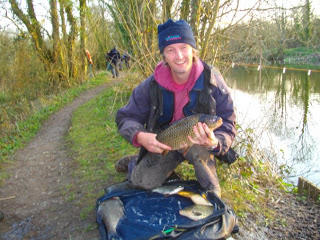 Me with my catch
Chris Haines showed his class again when he plonked 27lb 4oz on the scales, mostly caught up in the water I think and Mike Hosgood weighed 14lb 4oz from peg 20 so Dave had beaten Les and I'd beaten Mike so the pairs result would be close too.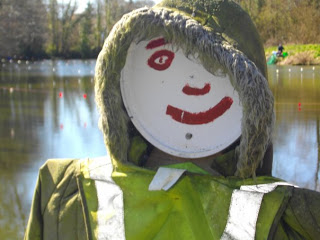 Proof that fishing at Perry St does strange things to you!
Back at the results and as suspected Dave won, followed by Chris and Les. Andy won his section, I just missed out on mine, I needed Leahy to beat Les – oh well. The good news was that me and Les were through to the pairs semi finals beating Mike and Dave 34 points to 32.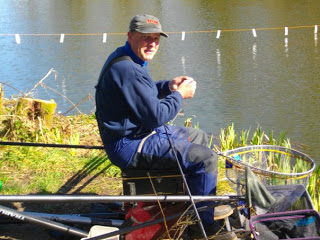 Mark 'The Hoff' Hollister won his section
After two matches, Chris Haines is already well into his stride and leading the league although there are loads of anglers battling it out for second place.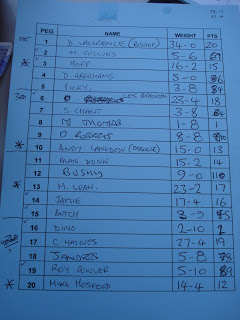 The weighboard for match two
Next week I'm going to give the resi a go so lets hope the bream are in the mood!
1 – Dave Lawrence (Chard Raiders) – 34lb
2 – Chris Haines (Haines Angling) – 27lb 4oz
3 – Les Braunton (Chard Remains)- 23lb 4oz
Sections
1 – Mark Hollister (Chard) – 16lb 2oz
2 – Andy Langdon (Chard Remains) – 15lb
3 – Mark Leahy (Street) – 23lb 2oz
4 – Mike Hosgood (Chard Raiders) – 14lb 4oz