I only fish the 'resi' a few times a year and looking through my old diaries I couldn't find an entry where I'd fished it as early in the year as this. On arrival the reservoir was flat calm and it was bright and sunny, not ideal conditions for bream fishing. Still somebody would have a few and I hoped it would be me! After collecting my bait from Les (maggots, pinkies, squatts and casters), it was time to draw. I pulled out 48 and was quite pleased with that as normally any peg in the forties is ok although the 'hot' pegs are 43, 44 and 45.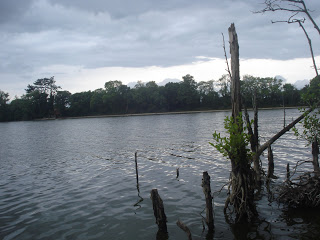 The 'resi', scene of my latest disaster
I started the long walk around which was made a lot easier by Les taking my Tardis round on the back of his little 4 x 4 (cheers LB). On arrival, the lake looked ok with a bit of ripple, I started setting up while chatting to Mark Leahy on my left. On the other side I had a mate of Hoff's called Keith who was fishing the resi for first time. Next to Mark on the end peg (again!) was Dave Lawrence. We were all nearly ready when we heard a lot of clunking and clanking coming from Dave's direction. It turned out a cheeky squirrel had picked up Dave's empty sweetcorn can and was trying to get some little bits of corn out of it! Dave retrieved the tin to stop the little thief injuring itself.
Setting up didn't take long, I mixed my groundbait (Sensas Bream 3000 with some Matchblend to darken it) and set up my feeder rod. This had just a simple paternoster rig with a Drennan open end feeder and 0.12 mm bottom with a size 16 B611 hook at the business end. On the whistle I baited up with double red maggot and filled the feeder with squatts and plugged the ends with groundbait and cast out to the clip at about 35-40 yards. I had a couple of quick casts to get some bait down before settling down to await the action.
I didn't have to wait long as roach were soon attacking the bait and I had three small ones in as many put ins. I slipped on a piece of corn to try and avoid their attention. Looking around neither Dave, Mark or Keith had caught yet. Les shouted up that Butch Baker had netted a good skimmer and I thought it would only be a matter of time before the slabs moved in. I had a couple of tweaks on the tip before it slammed round but on striking I thought I'd missed it. As I tightened up though it was still on, here we go I thought, but then the fish kicked hard and the line went slack – shit! On reeling in, it became apparent that the feeder and everything had gone! A weakness in the line? who knows but I had to set up again.
I was still ahead of the anglers around me but Les on peg 45 had caught a bream so I was still quite optimistic. The first hour passed and I added a couple more roach as did Mark but Dave still hadn't had much and kept swapping between his feeder and long whip lines. I wasn't too worried as it sometimes takes the fish an hour to find the bait. By the time the second hour passed I started to worry! Apart from Les and Mike Hosgood nobody had caught a bream and it looked like being a hard match. With boredom rapidly settling in I asked Mark if he reckoned we'd catch a bream and he said that yes he thought one of us would get one, I wasn't so sure.
I was still getting odd pulls from roach but missing most of these and my flask was emptying at an alarming rate. Hours three and four were pretty much the same and I only stuck at it knowing that a couple of bream would get me in the money. Also there were the side bets to fish for and as Janders had only had a few roach the pound was anybodies. I couldn't see Picky so wasn't sure which way that pound was heading. With nobody around me catching I also started to think I might have a chance of sneaking my five peg section. Then going into the fifth hour Dave tried his whip line for the umpteenth time and swung in a roach followed by another. He wasn't exactly bagging but it didn't take him long to overtake my half a dozen fish and put paid to any chance I had of winning the section (unless I could get a bream of course).
The last hour arrived and I couldn't see me catching a bream now, I had added another roach and a perch to give me perhaps a pound in total. With Dave catching odd roach, Mark kept trying his waggler line but never had a bite on it. Even Mark was by now doubting we would catch a bream and had started packing up some of his kit. I stuck at it but was really glad when the whistle blew to signal the end of the match. I quickly packed up and went down to watch the weigh in and get some snaps. It turned out that some of the early pegs had caught bream in the last hour. Mark Hollister had one plus bits to weigh 7lb 14oz, his lead didn't last long though as Dave Abrams on the next peg had two to weigh 11lb 4oz.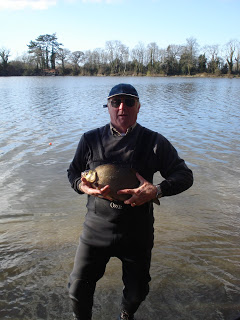 Dave with one of his bream (so that's what they look like!)
Then nobody else had much until we got to Mike Hosgood on peg 42, he hadn't added to his early bream and weighed 7lb 6oz.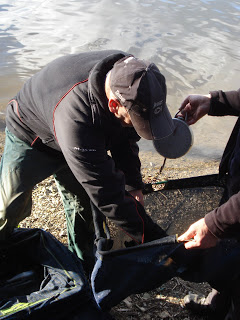 Mike weighing in (not the greatest picture in the world!)
Then we got to Les and his two bream and eight skimmers went 15lb 12oz and I knew nobody else would come close – well done mate.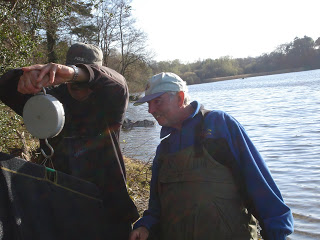 Don't worry Les, you've done enough to win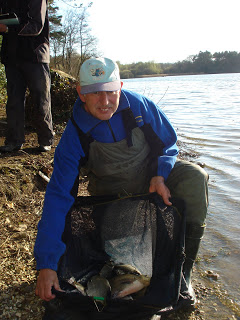 LB with his winning 15lb 12oz
Janders was admitting to a pound and I thought it might be close until he pulled out his net and one of his roach was close to that on it's own. He weighed 1lb 12oz and I knew I was nowhere near that so said goodbye to another squid. One good thing though was that Picky hadn't weighed so I could claim a pound off him, or I would've done if he hadn't buggered off early! Double or quits next week then Picky!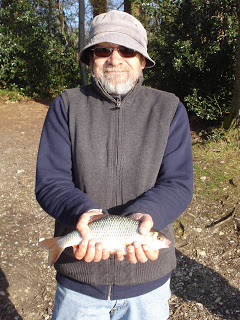 Janders with his bonus roach
Keith didn't weigh and I weighed a staggering 14oz!, Mark didn't bother either and Dave weighed 3lb 8oz of roach to deny Janders the section money. Back at the results and the winners were read out, Steve Osborne won his section with 1lb 10oz! so it had been pretty hard going for most. I can officially say good riddance to March which was a crap month for me, lets hope April is better.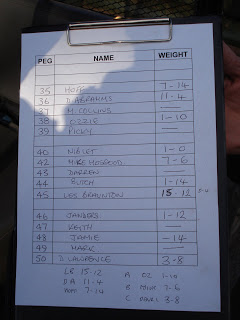 The weighboard (pretty grim reading for some)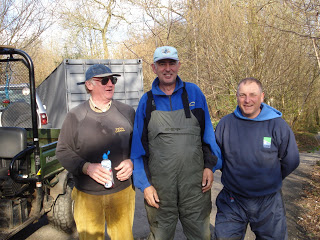 Top three on the day from left to right – Dave Abrams, Les Braunton and Mark 'The Hoff' Hollister
We're back on Perry St next week so lets hope my luck improves then (don't count on it!).
1 – Les Braunton (Chard Remains) – 15lb 12oz
2 – Dave Abrams (Weymouth) – 11lb 4oz
3 – Mark Hollister(Chard) – 7lb 12oz
Sections
A – Mike Hosgood (Exeter) – 7lb 6oz
B – Steve Osborne (Chard) – 1lb 10oz
C – Dave Lawrence (Chard Raiders) – 3lb 8oz