I woke up and once again it was bright and sunny although we'd had another frost in the night, would this affect the fishing? I got to the draw and sorted out some bait before buying yet more hooks off Chris Haines (that man could sell sand to the Arabs!). After two decent results in the first two matches I was keen to keep it going and today was also the semi finals of the pairs knockout. Me and my reluctant partner Les Braunton were up against Steve 'Oz' Osborne and Darren Roberts. Neither Les or me had drawn corner pegs yet so we had a one in three chance today. I pulled out peg 12 (which I've never really liked) but Les got corner peg 10 so we had a chance in the knockout.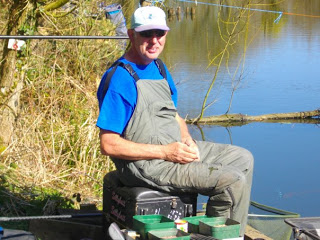 My partner Les
Picky paid me his pound from last week but as he had corner peg 11 there was every chance he'd be getting it back later. I reached my peg and started setting up, I could see Les and one of the opposition in the shape of Oz on peg 7 so at least I would have an idea of how we were faring in the pairs. I set up a rig for open water at 11.5 metres and a little Trabucco dibber style float for the insides and up in the water. Both rigs had the fantastic Tubertini 808's in size 18 at the business end. For bait I had some Sonubaits Skinz pellets, corn, maggots and pinkies.
The lovely Chanter walked up to give me the bad news that his camera battery was flat so apologies that there won't be as many photos this week. But bless Steve, he even phoned his missus to see if she'd come out with another battery! On the whistle I cupped in some pellets, maggots and pinkies on the long line and the same plus corn on the inside lines. I missed a couple of bites on double red maggot before dropping off a tiny rudd, I then had a 4oz roach so at least I was off the mark. I fully expected Les and Picky to bag from the off but this didn't happen and looking around nothing much was happening at all. Perhaps the frost had more of an effect than we expected.
Steve Bush next to me on 13 was the first to catch a decent fish in the shape of a bream so I stuck with the 11.5 metre line a bit longer but it really wasn't happening. After an hour it was dire so I tried up in the water with a soft pellet on the hook but never had a bite. Next stop was my right hand margin line, a tiny rudd first put in on double maggot saw me switch to corn. After 5 minutes the float buried but I missed it!, next chuck I hooked a carp only for it to come off straight away. This wasn't exactly going to plan! Another missed bite and that was the last of the action so I tried to the left but never had a bite there.
By now two hours had passed and it was a real struggle, at least both me and Les had caught albeit small fish. The only good thing was that I hadn't seen Oz catch much either although I didn't know how his partner, Darren, was getting on. The only real excitement came from Bushy hooking a huge fish which he lost after having it on for ages. Picky finally got off the mark with a carp as did Alan Dunn on peg 9, it looked like he was catching up in the water so I had another go but again I couldn't buy a bite.
Hour three was much the same although I kept expecting Les to start catching but it didn't look like it was going to happen. Dunner now had a couple of carp and Bushy had added a small one too, more worrying was the fact that Oz had landed one and lost a couple and Janders also got in on the act with a carp of his own. I was now fearing for the safety of not one but two shiny pound coins! Then with a couple of hours to go, Les finally landed a carp after losing a couple and we were back in the hunt in the knockout. Picky started catching well and Dunner was now on about four carp. I was still concentrating on the right hand inside line but apart from a lost foulhooker nothing was happening. It was looking like I would have to drop this match.
Then the wind dropped and the pond went flat calm and out in front of me and Bushy the water was black with carp! I'm pretty sure Bushy had caught a carp up in the water and I knew Dunner was doing the same. I got my inside rig and moved all the shot apart from a small dropper under the float and took off the pole pot. I shipped out with maggot on the hook and started loosefeeding maggots and pinkies on a regular basis. I could see the carp and kept lifting and dropping the rig and then the float went and a good fish was on, I played it for ages before the poxy hook pulled out – bugger. It might have been foulhooked but I wasn't sure.
I then hooked and safely landed a carp around 3lb quickly followed by another of 12oz and I was starting to get interested again. Picky was still catching and was looking like being an easy winner. Les also had a couple and as Oz was still stuck on one carp I reckoned we'd just about got our noses in front in the pairs stakes. I was still catching the odd rudd and small skimmer and when I added carp number three, I thought a decent weight might be on the cards and I was slowly closing the gap on Dunner and Bushy. I lost another which was foulhooked as I came back with a scale on the hook. With an hour to go I had my fourth carp and I really fancied I could get a couple more.
Then the wind got back up and the carp just disappeared, I tried the insides again but couldn't buy a bite. I went back out but all I could catch was small rudd until the end of the match. Les blew the whistle and that was that but had we done enough to overcome the opposition. I packed up took most of my kit back to the car, on the way I asked how people had got on and was surprised when people were saying they had just one or two carp, it had fished really hard. The best I heard of on our side of the pond was Bushy with five carp and a bream and Chanter with six carp.
As always the weigh in started at peg one, Mark Hollister had really struggled to weigh in 2lb 10oz and the rest of the early pegs had similar weights including Darren Roberts (one half of our pairs opposition) who had 3lb 14oz. I knew I'd beaten that so as long as Les beat Oz we were home and dry. The first decent weight was Rocking Roy with a level 10lb from peg 6. Then the weights dropped again and Oz weighed 2lb 12oz and I knew we'd got through then. Janders handed over his nugget after weighing 1lb 8oz, I put it in my pocket to keep it warm until we reached Picky. Dunner had five or six carp and weighed 11lb 14oz to take the lead, Les came close with his two carp and a tench which went 10lb 12oz – well done partner.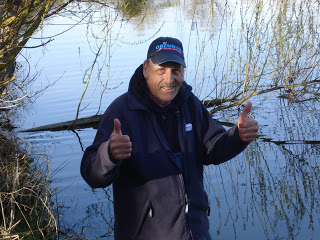 Rocking got amongst the carp on peg 6
Then Picky weighed in to confirm what everybody already knew, that he'd run out a comfortable winner, with eleven carp for a level 32lb. I handed over my £1 before weighing my fish in, I reckoned on having about 10lb and was pleasantly surprised to weigh 11lb 6oz to put me into third place. This lasted until we got to Steve Bush on the next peg who weighed 14lb 4oz to push me out of the frame places. I fully expected to drop lower after Chanter weighed his six carp but they only went 9lb 8oz. There were no more decent weights until we got to Mark Leahy on peg 19 who weighed 10lb 10oz (even the great Chris Haines had struggled for 7lb so perhaps he is human after all!).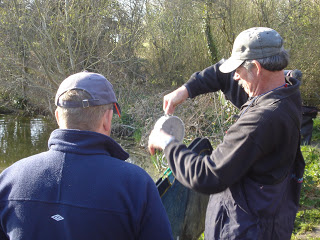 Butch weighing in while Picky looks on
The results were read out confirming that Picky had won followed by Bushy and Dunner, I picked up my section by double default again and collected £20, which was very welcome. Me and Les beat Darren and Oz 33 points to 14, the other semi final saw Steve Bush and Butch Baker go through with 29 points. The final is in two weeks time so wish us luck for then.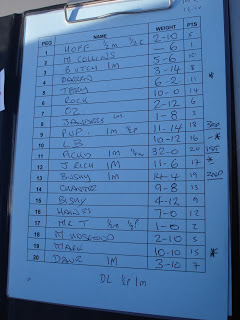 Scores on the doors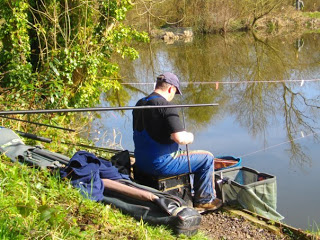 1 – Alan Gage (Chard) – 32lb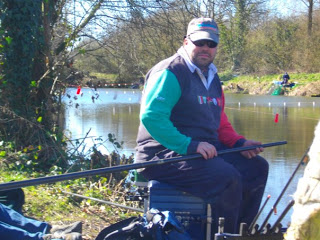 2 – Steve Bush (Chard) – 14lb 4oz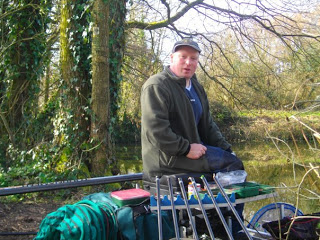 3 – Alan Dunn (Chard Remains) – 11lb 14oz
Sections
A – Terry Niblett (Chard) – 6lb 2oz
B – Les Braunton (Chard Remains)- 10lb 12oz
C – Jamie Rich (Chard Remains) – 11lb 6oz
D – Mark Leahy (Street) – 10lb 10oz
After three matches and dropping the worst result Chris Haines leads the league with 39 points followed by Bushy on 37 and Les on 34. Next week we've got a match at Perry St on the Good Friday followed by a trip to Chris's pond in Frome on the Sunday, so here's hoping for a couple of good results.