Saturday was scorching hot and today looked liked it was going to be more of the same. After the pond fished quite well on Wednesday night, I was hoping that it would continue today. I got to the Crown for the draw and there were 16 anglers fishing, which is a great turnout for our little matches. As ever everybody wanted peg 1 which went to Neil Dring, I looked at my ping pong ball to see a number 5. This was next to where I was in the first match and neither peg had done much then but the pond as a whole hadn't fished well, lets hope today is better eh?
After a short drive to the pond and a short walk to my peg, the first thing I noticed was the carcass of a dead bream on the bank, probably killed by an otter. At about 3lb it was a nice fish, I know it's nature and all that but it still seems a shame. I put my box in the water and started setting up, I'd brought a new keepnet this week in case any eels showed up as I had a hole in my other one. I had intended to set up a waggler but being a lazy bugger I settled on two rigs. They were both ones I had used in previous Dillington matches, a 0.5 gram Drennan Roach float with 0.12mm bottom and size 18 B611 and a Drennan Squatt float with 0.08mm bottom and size 20 B511 for fishing up in the water. I mixed up half a bag of Sensas Lake and added some free samples and was ready for the off.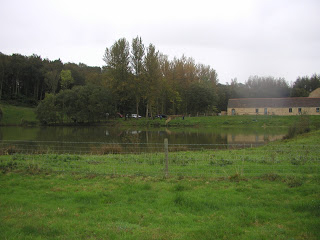 Dillington Pond
For company I had Robin Cox on my right and Bruce Hunt on my left so at least there'd be some banter. Rob blew his whistle and we were off, I cupped in three balls of groundbait at 11.5 metres and went straight over it with caster on the hook. Normally bites come quite quickly but after 10 minutes I was still waiting for my first bite! Then the float dipped and sailed away and I bloody missed it!, still at least the fish had arrived – wrong. I had to wait another 10 minutes before the next one but at least I successfully connected this time and was soon swinging in a 2oz roach. My next fish was a much better 8oz roach and this was quickly followed by a smaller sample, this one came as soon as the rig settled and I really thought I'd get a few now.
How wrong can you be, after an hour I just had the three fish, Rob had about the same and Bruce was doing slightly better with about sixteen small fish on the whip. Then he hooked a sizeable fish and after a lengthy battle, netted a perch of 2lb to put him firmly in the driving seat. With no more bites on the caster, I resorted to trying double red maggot as this normally guarantees bites, when this didn't work I knew I was in trouble and it was going to be rock hard today. I did manage a small roach and a tiny perch but was going nowhere fast.
There were loads of small roach topping so out came my shallow rig but despite trying loads of different depths I didn't add any more fish, I did miss a couple of bites though. Back on the deep rig with maggot on the hook I did hook a better fish which turned out to be a 4oz eel (good job I had my new keepnet with me!). Bruce hooked another big perch but luck wasn't on his side this time as the hook pulled out, I shouted up that if he'd landed that one it would have been game over. Roger came up from peg 2 and reported that he was struggling as was Neil on the flier!
By now we were half way through the match and the sun was blazing down and shoals of bream could be seen swimming about just out of pole range. I did contemplate setting a waggler up but just knew they weren't in the mood for feeding. Also a couple of big carp could been seen cruising and God knows where they came from as none were stocked! Bruce was still getting odd small fish but me and Robin were sat like a couple of very sad garden gnomes. I tried up in the water with maggot on the hook and did manage one small roach. I decided to stick it out on the deep rig with maggot on the hook to try a tempt some more eels.
I was feeding casters quite heavily and had another 4oz eel, followed quickly by a 2oz perch and a little bootlace eel of the same size. Things were looking up!, Robin came back from a wander to report that Roger and Neil were still struggling. Bruce went to see how Martin was getting on and came back to say most people were in the same boat as us although Graham Field was catching small fish on the whip and had around 60, Martin was also getting a few as well. The sun was so hot that it was a job to hold the pole and combined with the lack of bites, I wasn't enjoying myself at all. I did manage another 4oz eel and a small perch and 5 minutes from the end netted my best eel of about 6oz and that was it. I knew Bruce had beaten me but I reckoned if he framed I might just sneak the section. Robin asked me what I thought I had and I replied 'About 1lb 12oz'.
I packed up and took some of my kit back to the car, on the way I again passed the dead bream and wondered if I could get away with weighing it in! Mind you as most of it had been eaten I reckon even Robin might spot something amiss! Robin's lad, Leighton started the weigh in and Neil had really struggled on the flier to weigh 13oz, Roger had 9oz as did Robin. My 13 fish went 2lb 6oz, Bruce had 4lb 3oz so for the second match on the trot I'd been done by a big perch off the next peg. My mood was lifted somewhat when the next best weight in my section was 2lb 4oz so as long as Bruce framed, I'd get the section. I also beat Janders who had 1lb 7oz so another nugget was mine.
Back at the results and Graham Field had won easily with 125 fish for 5lb 2oz, Bruce claimed second spot and me and Martin Heard tied for third place with 2lb 6oz and we picked up £20 each. Another two point section score as well meant I was still in contention in this league. Although not that many fish were caught, everybody had caught the sun and there were some very red faces and arms about.
1 – Graham Field (Ilminster) – 5lb 2oz
2 – Bruce Hunt (Tiverton) – 4lb 3oz
3 – Jamie Rich (Against Men and Fish) – 2lb 6oz
3 – Martin Heard (Tiverton) – 2lb 6oz
Section A – Moses (sorry I didn't get his second name) – 2lb 4oz
Section B – Alvin Jones (Chard) – 2lb 2oz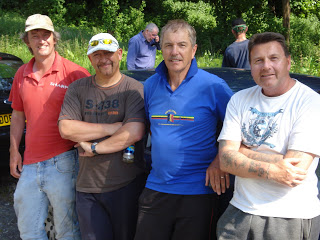 The top four on the day, from left to right, yours truly, Graham Field, Bruce Hunt and Martin Heard
Next week is the last match of the Haines Angling Spring League, I'm currently lying in third spot and would dearly love to hang on in there so lets hope I get a decent draw.