The last round arrived and I was lying in third place in the league, but my position was by no means safe with Alan Dunn, Picky and Terry Green-Niblett breathing down my neck. Second place was also achievable with Steve Bush only three points ahead of me, Chris Haines was too far ahead for me to catch although Steve could with a good result. A decent draw was crucial and Bushy got just that, drawing the in form peg 10, Picky also drew okay with peg 12 (where I was last match). Dunner drew peg 2 which wasn't so good as it hasn't done much all series. Terry drew the winner from last match and would be a serious threat. And as for me, I pulled out peg 7 which has been quite a consistent peg, I just needed to catch a few now.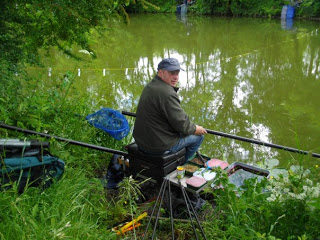 Dunner was hoping not to blow out on peg 2 again
I got to my peg and surveyed the situation, I had plenty of cover on both insides and of course the little cluster of treacherous tree stumps. My plan was to fish at 11.5 metres in open water and stay there for as long as possible while building up the inside lines. I set up the usual two rigs, a 0.4 gram Drennan Carp float for the long line and a little Trabucco dibber for the insides and up in the water. I also set up a duplicate of this rig in case I got smashed up. All the rigs had 0.12mm bottoms and size 18 Tubertini 808's. I attached little pole pots to all my top three's and was ready for the off. For bait I had maggots, corn, 4mm pellets and some expanders.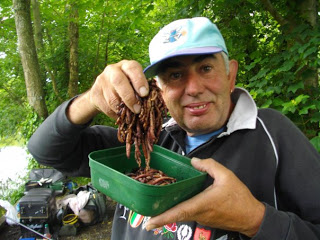 I reckon Les was basing his attack around worms!
On the whistle I fed all three lines and started out with double red maggot on the hook, I soon had a bite which turned out to be a small perch which fell off on the way in!, not a great start. Terry Green got off to a great start landing a couple of small carp quite quickly and this definitely wasn't going to plan! Mark 'The Hoff' Hollister drew yet another corner peg (11) and was also off to a flying start catching carp from the off. My one saving grace was that Picky hadn't caught yet. My attention was drawn to my right hand inside line where some better fish were taking the odd expander pellet that hadn't sunk off the top. I went in with a shallow rig but two small rudd wasn't the response I'd hoped for, still at least I was off the mark.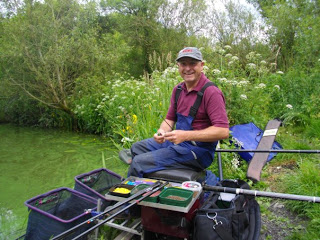 The Hoff was bagging again from yet another corner peg (how does he do it?)
My nemesis Janders wasn't fishing today as he was on holiday (I thought everyday was a holiday for him!), his substitute was Alvin Jones who was next to me on peg 8 so at least I could keep an eye on whether I would be a pound worse off at the end of the day. At this early stage he hadn't had much either although Mike Thomas next to him had an early fish and so had Bushy in peg 10. Already I reckoned second place was out of sight and I was worried about hanging on to third as Terry was getting regular bites. There were quite a few fish moving about and I was convinced I would be able to catch up in the water but despite trying this for three quarters of an hour, I didn't add to my two rudd.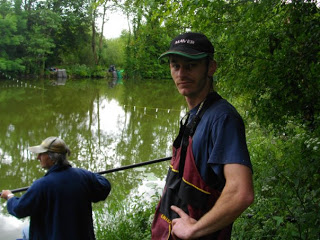 Alvin was standing in for Janders but which way would the pound be headed?
I decided to try the long line with the deep rig again but this time slipped a soft expander pellet on the hook. After about five minutes I had a good bite and a swift strike saw a substantial amount of white hydro come out of the pole tip. I played the fish with kid gloves and netted a carp of around a pound and a half – phew! So after an hour I was still behind quite a few people but crucially I was ahead of Picky. Steve Bishop, Les and Dave Abrams were opposite me on pegs 14, 15 and 16 and were really struggling (these pegs had been awful all series), so I wasn't doing too badly.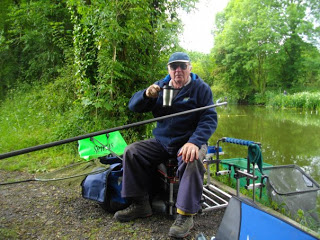 Dave had time for a cup of coffee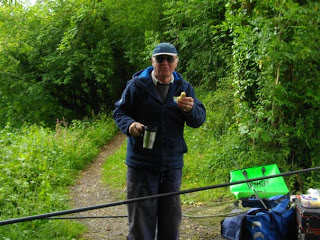 And something to eat!!!!!
Hour two saw me hit a purple patch and I landed a foulhooked 2lb bream and a small 12oz pastie and was now closing in on Terry who hadn't added to his earlier fish. The Hoff was still catching regularly although from all the swearing coming from peg 10 I was guessing Bushy wasn't having it all his own way. Mark Leahy was on the other side of me on peg 6 and getting the odd fish and then he hooked a right lump which he had to weigh straight away as it was over 8lb and Les called the weight out at 11lb 12oz, a right bonus! Not to be outdone, the Hoff weighed one of 8lb 4oz, but I wasn't too concerned about those two league wise, but they were both looking good for frame places on the day.
Going into hour three and I had my first proper look on the inside to the right, I missed a bite straight away on corn and next put in hooked a decent fish which I knew straight away was foulhooked. I had it on for ages and was just thinking I might have a chance of landing it when the hook pulled out – bugger. Then just to twist the knife even further, Picky landed a carp which looked to have wiped my early lead out. No more bites saw me switch to the left and then back again, no bites and I was back out trying to catch shallow again. They just weren't having it though so I made the decision to concentrate on the left hand inside line which is normally the most productive. After about half an hour I had my first proper bite there and eventually landed a decent carp of around 5lb which put me right back into the fight.
Terry was now struggling and Picky hadn't added anymore, I shouted up to ask what Alvin had caught and he replied only small fish although he'd lost a couple of carp, Mike T next to him had landed a couple more carp and was doing well. My thoughts turned to the early pegs (which I couldn't see) and I hoped Dunner wasn't bagging up. I then hooked a good fish which smashed me up and I was beginning to think third place was slipping away from me. No more bites to the right and then I hooked a good fish from the left on corn and it felt like a good fish. While I was playing it, Picky safely landed another carp and I felt I really needed this fish. Eventually I slipped the net under a good common which looked to be about 6-7lb and I'll happily admit my hands were shaking a little as I unhooked it.
Picky was wondering what to do next!
I was hoping the last hour would see me catch a few more but the heavens opened and we all enjoyed a torrential downpour – lovely! and during that time I only had one bite which I missed! Terry on the other hand had three fish including one on the whistle and I reckoned he might have sneaked past me. Even worse though was when Les called the all out, Dunner shouted 'Fish on', had he beaten me for third place right at the death? Typically the rain stopped as we packed up, as I took some of my kit back to the car I asked how the anglers to my right how they'd got on and and many had struggled including Dave Lawrence on peg 1 who hadn't caught a carp. Dunner said he'd had four carp including a couple of better ones, this was going to be close.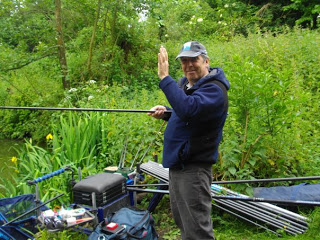 Dave wasn't quite so cheery at the end of the match!
When the scales arrived Dave didn't bother weighing in, Dunner had 14lb 4oz and I really thought he'd pipped me, Mike Collins had 3lb 9oz and Oz on peg 4 had 5lb 7oz. Mike Hosgood didn't bother the scalesman and then Mark Leahy put 28lb 5oz on the scales and I knew he'd frame with that. I pulled my net out and my four carp, one bream and two rudd went 15lb 7oz which was better than I thought and unless Terry and Picky beat me by several places, third place should be mine. Alvin didn't weigh and handed over a pound on behalf of Janders. Mike T weighed 9lb 11oz from peg 9 and I started to think that if Bushy framed with his six carp and a tench, I might sneak the section again. Bushy actually weighed 15lb 5oz but lost some real munters and I was lying in second place on the day with half the pegs weighed. This didn't last though as the Hoff put a fantastic 55lb 6oz on the scales to take the lead by a mile.
Picky had 8lb 12oz and handed over the pound I gave him last week and then it was Terry's turn and I really thought he'd done me but the digital readout on our new scales said 15lb 1oz and I was still hanging on in third place (both on the day and in the league). Bish found a couple of late carp to weigh 7lb 15oz and then Les and Dave A didn't weigh.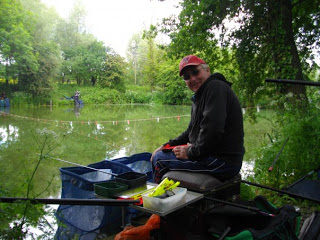 Terry Green came close with 15lb 1oz
Darren Roberts had 5lb 12oz from peg 17, Steve Chant weighed a lowly 7oz from peg 18 but took some lovely photos for me once again, Butch on 18 didn't weigh and Chris Haines had a level 8lb from peg 20 but was it enough to take the league title?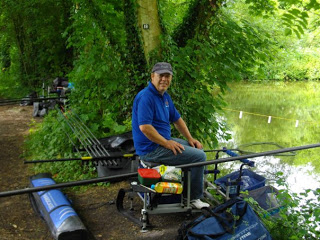 The lovely Steve Chant had mainly small fish!
At the carpark Les started with todays results and the Hoff won easily followed by Mark Leahy and I sneaked into third place and picked up £60 (my first podium finish of the series). Then came the league results and Chris Haines and Steve Bush tied for first with 114 points, I hung onto third place with 112 and picked up £100 and Alan Dunn and Terry Green tied for fourth with 107. Terry was also crowned individual knockout champion and me and Les collected our pairs winnings (£50 each). So all in all a very profitable match, I collected £210 which equals my biggest ever pick up. In the seven matches I fished, I picked up in six of them so perhaps this carp bashing isn't as bad as I first thought!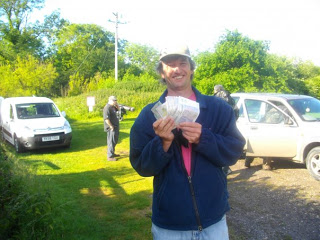 Loadsamoney!
1 – Mark Hollister (Chard) – 55lb 6oz
2 – Mark Leahy (Street) – 28lb 5oz
3 – Jamie Rich (Against Men and Fish) – 15lb 7oz
Sections
A – Alan Dunn (Chard) – 14lb 4oz
B – Steve Bush (Chard) – 15lb 5oz
C – Tery Green (Sillybait) – 15lb 1oz
D – Chris Haines (Haines Angling) – 8lb
League
1 – Chris Haines and Steve Bush both with 114 pts
3 – Jamie Rich – 112 pts
4 – Alan Dunn and Terry Green both with 107 pts
Individual knockout champion
Terry Green
Pairs knockout champions
Jamie Rich and Les Braunton
Joint Spring League Champions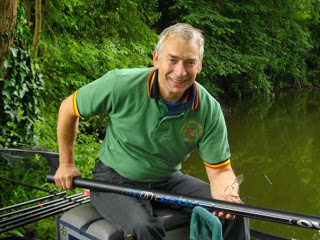 Chris Haines
and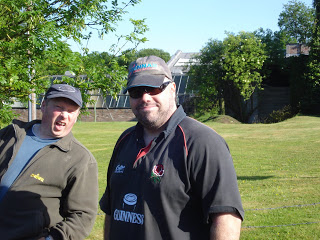 Steve Bush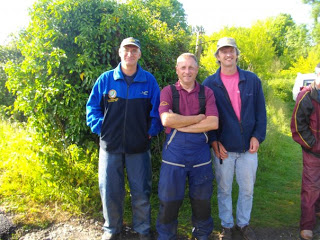 The top three on the day from left to right, Mark Leahy, Mark Hollister and yours truly
I would like to thanks Chris Haines for his kind sponsorship and Les for once again organising an excellent league and of course all the anglers who fished for making it such an enjoyable series to fish – cheers guys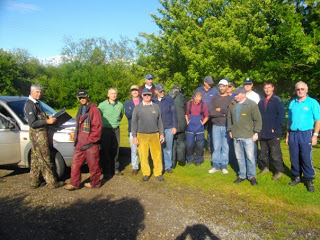 The motley crew