Another blazing hot day awaited us for round three of the Summer league and once again there was a good turnout of 16 anglers. I drew peg 8 on the far side quite close to where I was last match and I was quite pleased with my peg. I made myself comfy and started setting up, first out of my rig tray was a Drennan 0.5 gram Roach float with 0.12mm bottom and size 18 B611 and my other rig was a little Drennan Squatt float for fishing up in the water.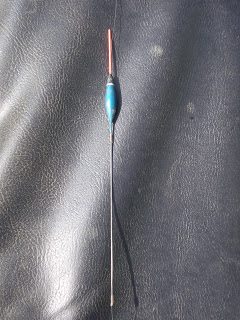 Drennan Roach floats are brilliant (I just wish mine would go under a few more times!)
I mixed up some Sensas Lake and River Black in equal quantities and was ready for the off. The lovely Richy White came up for a pre-match chat but when I got my camera out he went all camera shy and buggered off back to his peg!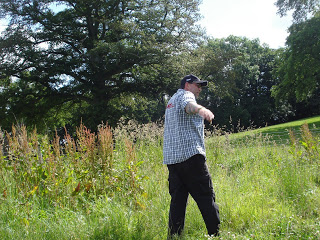 Richy suddenly decided he didn't want to chat!
The Old Fossil (Malcolm Levy) also came up and had a whinge about the tight pegging (remember that for later). For company I had Justin Charles on my right who was fishing his first match at Dillington for ages and a new chap on my left called Moses (honestly) but I'm really sorry I don't know his second name, I'll find out for next time I promise.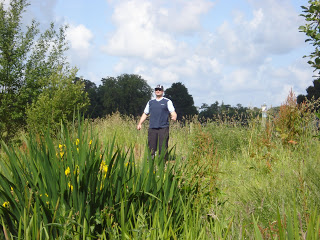 Justin, my next peg neighbour for the day (well most of it anyway)
Robin Cox blew his whistle at 10:30 and I cupped three balls of groundbait out at 11.5 metres and as always started with caster on the hook. After the last match I was prepared for a bit of a wait but after half an hour I'd only had one bite which I missed! I stuck double red maggot on but this wasn't much better and I only had a couple of small roach and perch. Very aware that the small fish anglers like Graham Field and Martin Heard would already be miles ahead, I tried my shallow rig as there were loads of small fish topping. This didn't exactly go to plan either and I only added three tiny roach. With two hours gone I was already in trouble and when a bank walker informed me that Graham was catching regularly I decided I needed to stick it out for eels (as I'd had a few last match).
I just don't know where all the big roach have gone (cormorants or otters?) but they have just disappeared and looking back over the last few years results, they just keep getting lower and lower. I think the club really needs to spend some money on stocking. Having said that, there were thousands of fry all over the place so the future looks rosy although something needs to be done sooner or else we'll start losing anglers. Anyway rant over so lets get back to the fishing (or lack of it).
Bruce Hunt on peg 20 lost a big fish and then shortly after netted a big perch to put him firmly in the driving seat. I was still sitting out with maggot on the hook whilst feeding loads of casters with only the odd small perch to show for my efforts. It definitely looked like my good run was coming to an end. The sun was so hot that the pole nearly burnt my hands shipping in and out. Richy came round and reported that he hadn't had much either although he did catch a lovely little bar of soap (tench), which is the first one to come out for ages.
I kept trying the shallow rig but it just wasn't happening so it was back trying for the eels. Then with two hours to go my float went under and a firm strike saw about four foot of blue hydro come out of the pole tip. The shaking suggested a big eel but then the fish went on a run and weeded me, eventually the poxy hook pulled out – bugger, that could have been my brown envelope fish. Then Martin shouted something down to Malcolm and I looked round to see him playing a big fish. Despite us all giving him loads of grief about the tight pegging, he eventually landed a big bream which looked to be 4-5lb.
With ten minutes to go my float went again and I had a decent fish on which turned out to be an eel of 6oz and that was to be the last of my action. I ended with 15 roach and perch and that eel for about a 1lb. I quickly packed up and awaited the scales, Steve Parker on peg 1 had a respectable 3lb 2oz, Dave Lawrence had 2lb 8oz, Martin Heard a level 3lb and Graham Field 4lb 9oz. I was going to be well down, Justin had thrown his toys out of the pram after losing a big fish and wasn't there for the weigh in and then it was my turn, I weighed a stunning 1lb 5oz! Moses beat me with 1lb 9oz and Malcolm's bream weighed 4lb 12oz and together with a decent perch, an eel and some bits he weighed 7lb 14oz which would be there or thereabouts.
Back at the results and Malcolm had notched up the victory, despite all his moaning. Bruce was second with 6lb 2oz and his perch weighed 2lb 15oz, Graham Field was third with sixty odd fish for 4lb 9oz. The only good thing was I beat Janders for the pound (he weighed 11oz), I ended up with six section points (out of seven) – not good, I'm still third in the league but can't afford anymore slip ups.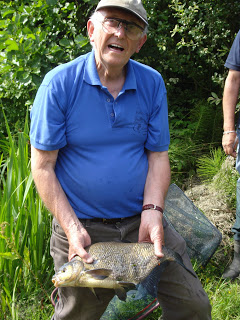 The Old Fossil with his 4lb 12oz bonus
1 – Malcolm Levy (Exeter) – 7lb 14oz
2 – Bruce Hunt (Tiverton) – 6lb 2oz
3 – Graham Field (Ilminster) – 4lb 9oz
Sections
A – Steve Parker (Ilminster) – 3lb 2oz
B – Neil Dring (Ilminster) – 2lb 12oz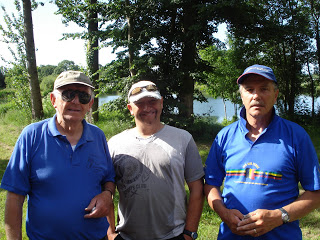 The top three, from left to right, Malcolm Levy, Graham Field and Bruce Hunt
Next Sunday I'm at Chris Haines's pond near Frome so lets see if I can get back on track then (I doubt it!).