Now I really ought to love this venue but I just can't seem to get my head around it, there's loads of silvers but I always seem to get bogged down with the carp and as a consequence never win any dosh. Well today I was determined to just go for silvers and hopefully catch any carp that come along. Match organiser, Les Braunton, has won lots of money by fishing 3 metres to hand with chopped worm and caster. Rather than copy (as you always come off second best) I was going to shortline it today.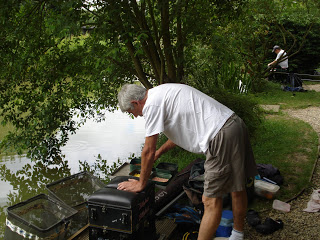 Venue expert – Les Braunton
I had all good intentions of picking Dave Lawrence up but when I got to his place, we couldn't get his box in my car so he ended up driving again – cheers mate. After sorting out some bait it was time to draw and I pulled out peg 2 which is close to where Les won the last match and next to Picky so it would be a head to head battle for the pound. I set up a 0.4 gram Drennan Carp float with 0.12mm bottom and size 18 Tubertini 808 for the chopped worm line and a little Trabucco dibber for up in the water and against the island but hopefully wouldn't have to use this rig! For bait I had quarter of a kilo of worms, half a pint of casters, red maggots and some expander pellets.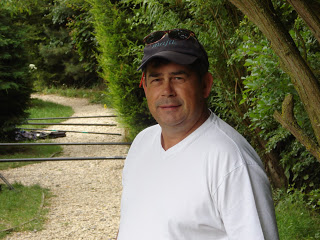 Picky, my neighbour for the day
I can't go on without mentioning my nemesis Janders, after having a look at the lake we were walking back to the cars and he just fell over! There was nothing to fall over and it had to be the most theatrical fall I've ever seen, eat your heart out Ronaldo! I pissed myself laughing and John was fine, nothing hurt apart from his pride.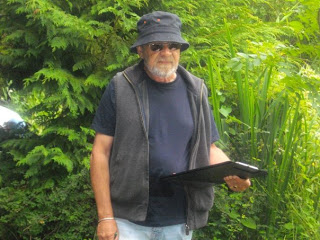 Janders (could he be Ronaldo's replacement at Man U?)
On the whistle I cupped in a healthy portion of choppie mix (worms, casters, maggots and a few expanders) at 5 metres and went straight over it with double red maggot on the hook. I didn't have to wait long for the first bite, which I bumped, so nothing new there then! I then had a decent skimmer followed by a hybrid and another skimmer. From all the splashing it seemed like most people were catching well. Although Picky was on the next peg I couldn't see him because of a bush but he shouted up that Les (who was next to him) was catching really well.
After the first hour I had 24 fish including a small carp and a couple of lovely little crucians and was pleased with my progress. I was cupping in small amounts of worm and caster each put in via a little pole mounted cup and this seemed to be working quite well. Hour two was a little slower with 17 fish although I did net a couple of decent perch and another crucian. It seemed to be neck and neck with Picky although from his reports, Les was catching like a man possessed.
Hour three saw things take a worrying turn, I was still catching lots of fish but instead of skimmers and crucians I was now catching small roach, rudd and perch. Then I hooked a bigger carp which dragged my rig straight through a lily bed and smashed me. This combined with Steve Bishop and Janders both starting to catch some better carp prompted me to have a look with my shallow rig with pellet on the hook. As always this didn't produce a lot (one better roach) and I felt Picky was probably pulling away from me.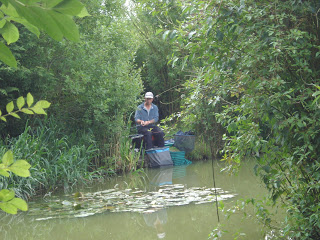 Bish started to bag up
I tied a new hook on my choppie rig and went back trying to catch silvers but of course they had disappeared, I was only catching the odd small roach and perch and had lost my way yet again. Through the day I kept trying different hookbaits, maggot, caster, half a worm and expander pellet but I caught the majority of my fish on double red maggot. I did manage another small carp but time was running out and it looked like Steve Bishop was going to romp to victory as he was still catching carp. Janders had also netted two or three decent carp and I was mentally preparing myself to say goodbye to a pound.
With around an hour to go and my chopped worm line dead I reckoned I needed carp to do well (here we go again!), so it was back out with my shallow rig with pellet on the hook. I fished off the edge of the lilies at about 11.5 metres while constantly flicking a few 4mm pellets over the top and lifting and dropping the rig. It wasn't long before the pole tip was dragged down and I netted a small carp, then I had a slightly better one before I hooked one that ripped through the lilies and snagged me. After sorting the rig out I had time to land another but not before it had gone through Picky's peg – whoops! There were a lot of fish there at the end but you can't seem to catch like this all day.
As I packed up I was a little angry at myself for not sticking to my game plan of going for silvers all day but that line just withered after the first two hours. I ended with 79 fish and really had no clue of what weight I had, possibly 10-15lb. Les started the weigh in at Dave who had struggled for 7lb 1oz, then Butch had 13lb 8oz and Dunner had a few pound more. The lovely Chanter stuck just over 20lb on the scales to take the lead but this didn't last as Steve Bush had 27lb something.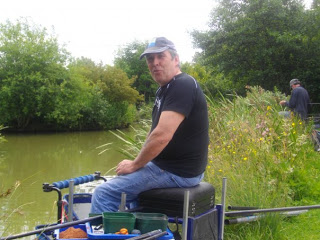 Dave struggled for 7lb 1oz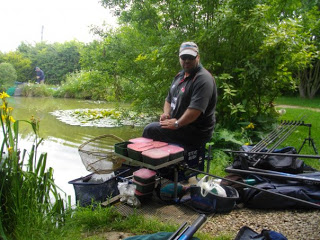 Bushy did well again…..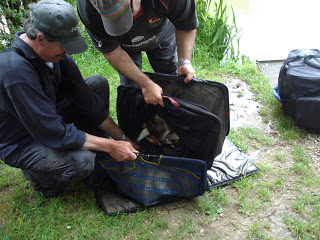 weighing over 27lb
There were some more double figure weights and then Janders plonked 19lb 1oz on the scales and I didn't think I had that. Bish weighed a fantastic 51lb something and we all thought he'd win it with that.
Bish with part of his catch but would it be enough?
Then Les pulled his nets out, his carp net went 17lb+ and combined with a fantastic silvers weight of 36lb+ gave him a total of over 54lb, Les had done it again, well done mate. He really had got this venue sorted. This just left me and Picky to weigh to decide where the pound went. He weighed 16lb odd and when I pulled my net out I knew it would be close, Les read out 17lb 4oz and I claimed the pound. I didn't have it long though and gave it straight to Janders – oh well.
1 – Les Braunton – 54lb+
2 – Steve Bishop – 51lb+
3 – Steve Bush – 27lb+
4 – Steve Chant – 20lb+
5 – John 'Janders' Anderson – 19lb 1oz
I wasn't too far off the minor placings and looking at the results it seems being called Steve really helps here. I must apologise that I didn't bring the results sheet on so haven't got the exact weights.
Next up is an evening match at Dillington on Wednesday so lets see if I can get back to winning ways then.