Scotty Russell had phoned me the night before from Dillington to say there were fish everywhere, bream, chub and several big carp!!!! So I was really up for this one, I left work early and was at the pond a little before the draw. There was a decent turnout (well for a Wed night!) of eight and Robin Cox said we could all draw two pegs and choose which one we wanted to fish. I managed to pull out pegs 3 and 5 so not much of a choice! Graham Field had elected to fish peg 4 so whichever I chose I would be next too him.
The pond was at least four foot down as the farmer was abstracting water for his potatoes. The last time I'd seen it this low it had fished really well so I was hoping for more of the same this time. With just over half an hour to set up, I only had time to mix some groundbait up (Sensas Lake Black and Roach) and set one rig up. Per usual I opted for a 0.5 gram Drennan Roach with 0.12mm bottom and size 18 B611. The next angler to my left was Alvin Jones down near the corner (where Scott had seen all those fish last night), so I had several blank pegs, would this help me?
On the whistle I cupped in three balls of groundbait at 11.5 metres and started with caster on the hook. No bites straight away and I looked up to see Alvin landing a chub on the waggler, Graham was also on the wag and had about ten small fish before I caught a small roach. After an hour I only had five small fish and all was not well. I tried maggot but this was just as slow so I went back on the caster trying to catch quality but it just wasn't happening.
Most off my fish were coming either on the drop or just as the rig settled but I would get a couple and then nothing for ages. I was resigned to yet another bad day (or evening). Several bank walkers came round and said most people were struggling although both Alvin and Graham were catching small fish quite quickly. With two hours gone I probably had about a dozen fish for 12oz or so. I decided to stick it out with caster and the last hour saw me get a few more bites and I struggled up to 18 fish but I knew I was miles behind Alvin and Graham.
With half an hour to go I finally hooked a better fish which turned out to be an eel of around 8oz and I ahd another with 10 mins to go, this one smaller at 4oz and that was it. I ended with 20 fish and was just disappointed with how it had fished again. After packing up I popped round to see how Scotty had got on by the pumphouse (peg 22) and he said he'd had one chub and some bits. When Robin and the scales reached me he said Alvin was top so far with 6lb 2oz, my fish went 2lb 5oz and Graham had 4lb 6oz so I was battered both sides – great!
Scotty weighed 3lb 9oz, Robin didn't bother, Stu had a level 3lb, Justin Charles had 1lb 8oz and Janders had 1lb 6oz so at least I won a pound. We're back here on Sunday and I have no clue what to do anymore, I really don't want to have to fish for shit fish but it may come to that.
Back at the results and Alvin won followed by Graham and Scott. After three matches and dropping the worst result Alvin and Robin Cox jointly lead with two points.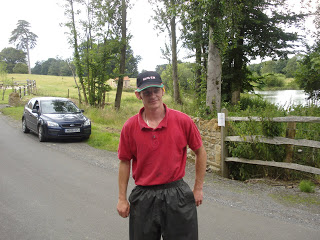 Alvin recorded his second win of the series
1 – Alvin Jones (Chard) – 6lb 2oz
2 – Graham Field (Ilminster) – 4lb 6oz
3 – Scott Russell (Yeovil and District Angling Centre) – 3lb 9oz