Conditions were still very hot and muggy although at least it was overcast for this one. The pond level was back up a bit as well and once again loads of big fish could be seen moving about. I really fancied drawing on the bottom bank and got my wish pulling peg 12 out of the bucket. I got to my peg and started making myself comfy, I mixed up a 50:50 mix of Sensas Roach and Lake Black and started setting up my kit. I set up a waggler rod with 2.5AAA Drennan insert waggler with only a couple of number eights down the line and a 0.12mm bottom with size 18 B611. I also set up my favoured 0.5 gram Drennan Roach float, again with 0.12mm bottom and another 18 B611.
On my right was Terry Morgan with Martin Heard, Graham Field and Alvin Jones to his right and on my left was Steve Parker. Alvin had a pair of shorts on and I was being blinded by the white glare coming from his legs! Opposite me on the far side of the pond was my nemesis Janders who had drawn peg 2 which was also the golden peg so if he won off it he would be in for a bumper payday. Neil Dring blew his whistle to signal the start and I carefully cupped in three balls of groundbait at 10 metres before picking up my waggler rod. I baited up with two red maggots before casting out and flicking casters and hemp over the top. After 20 mins all I had to show for my efforts was one tiny rudd so it was time to try the pole.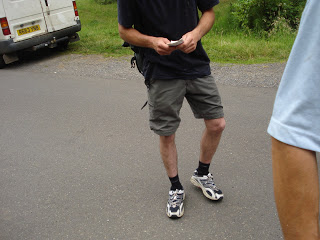 Should these be allowed out?
Martin was getting a few small fish but Graham said he was struggling and already it looked like being a hard match. I shipped out the pole with caster on the hook and once again had to wait ages before catching a small roach and by the end of the first hour I only had a few roach and a perch plus that tiny rudd. I stuck with it in hour two and would get a couple of fish before it died off again. Despite his legs, Alvin was catching quite well and netted a decent perch as well. Martin was still catching and Grahams catch rate had picked up too. Once again I was going nowhere fast and even a quick try with maggot didn't improve things.
By the end of the second hour I had around a dozen fish and was miles behind Graham, Martin and Alvin although I was keeping pace with Terry and Steve. Neil Dring on peg 20 had netted a good perch and Bruce Hunt on peg 1 shouted over that he had about a pound and a half. With big fish still moving around out of pole range I decided to have another go with the waggler. I started to get the odd roach, tiny rudd and even had a couple of small skimmers! (where did they come from?) but still wasn't adding much to my weight.
Then Steve hooked and landed a good perch which looked all of 3lb and when Bruce started hooking chub I knew I needed big fish to do any good. I knew there was a decent head of eels in the pond and had seen Roger Russell land several from peg 18 and Neil had caught a couple too. I baited up with caster on the pole and started feeding them quite heavily. After about ten minutes the float slid away and I missed the bite! – great. Back out again and the next bite saw me into a decent eel and I eventually slipped the net under a wriggler of 12oz or so. When I followed that up with another of 6oz I started to think a comeback might be on the cards.
I was just thinking that I'd only ever caught one big perch in a competition here and how one now would get me right back in the hunt when the float went. I struck and this was no eel, a couple of thumps and then the fish (perch?) woke up and shot off towards Terry's peg. I had the pole tip under water but it just kept going, I lifted the pole and it had gone under Terry's line and I was now attached to his rig as well – oh fantastic! Eventually the rig came loose only for me to find the fish was well and truely weeded up. I tried pulling from different angles and adding sections and this seemed to work as the fish came out only to dive straight back in again! This happened a second time but this time it was stuck fast and much to Martins amusement I had to pull for a break.
My head was gone now as I knew that fish had cost me, I should have just held on and not given an inch but I didn't realise how much weed there was in front of Terry. I tied another hook on and went back out. I hooked another decent eel but this one weeded me by my keepnet and I had to pull for a break again. Oh man, this was turning into a disaster. Bruce had now had a couple of chub and was looking good for another victory. I did land another eel and had another where it spat the hook out! I did manage another eel but I knew I'd lost enough to frame. I was hoping I might get another eel but all I managed was a small roach to take my total to 32 fish. The whistle went and I packed up feeling rather dejected.
I thought I might have beaten Terry but reckoned everyone else around me had given me a spanking. I took some of my kit back to the car and got back to my peg as they were weighing Graham in, he had 101 fish but they only went 3lb 5oz, which surprised me, Martin pipped in with 4lb 6oz and three late eels probably made the difference there. Terry weighed just over a 1lb and my fish went 3lb 13oz to leave me thinking what might have been once again. Steve's perch went 3lb exactly and with some bits and eels he had a 4lb 13oz total. Bob Hammond ahd 1lb 1oz and Roger had 4lb 14oz and Neil had 4lb 13oz so it was all quite close. Bruce had indeed won it with three chub plus eight eels and bits for 9lb 14oz and Alvin was second with 6lb 8oz.
Still it had fished better than of late and the weights are gradually getting better but I still think it needs an injection of fish, probably skimmers or roach.
Next Sunday we're back at Chris's pond and I'm not confident as I'm yet to pick any money up there, we'll see.
1 – Bruce Hunt (Tiverton) – 9lb 14oz
2 – Alvin Jones (Chard) – 6lb 8oz
3 – Roger Russell (Ilminster) – 4lb 14oz
Sections
A – Martin Heard (Tiverton) – 4lb 6oz
B – Steve Parker (Ilton) and Neil Dring (Ilminster) – 4lb 13oz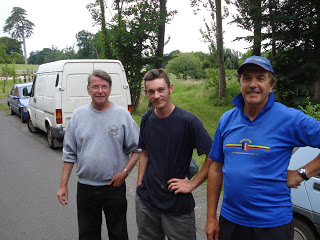 The top three on the day (from left to right), Roger Russell, Alvin Jones and Bruce Hunt