Dave Lawrence picked me up at 7:00 and off we went, we stopped at Cartgate for an excellent brekkie where we met Chanter, Picky and Oz. Les and the rest turned up at just gone eight and we set off for Chris's pond near Frome. I have never done that well and was determined to stick to a plan of fishing chopped worm and caster for the silvers and to ignore the carp. I had a half a kilo of worm ordered along with some casters. In my bag I also had some micro pellets and corn, just in case!
We arrived at the venue and all piled into Chris's on site shop so Les could relieve us of all the money we had in our wallets. By the time I had bought fags, paid for breakfast and bait, paid the pools and bought some new choppie scissors I had spent £70! Les announced the draw and I pulled out peg 9 and I noticed nobody was saying that it was a flier or anything! and when I got there I realised it was a peg I had drawn on one of my first visits and hadn't done very well then. It looked nice with an island about 10 metres away and inviting lily pads to the left.
I set up two rigs, a 0.4 gram Drennan Carp with 0.12mm bottom and size 18 Tubertini 808 for fishing in the middle over chopped worm and a little Trabucco dibber for fishing the inside to the left and by the island. I chopped up a load of worm and caster and was ready for the off. I had Butch Baker for company on my right and Alan 'Pup' Dunn was on my left. On the whistle I cupped in worm and caster at about 5 metres and then micro pellet and corn by the island and by the lilies. I started over the choppie with double red maggot on the hook.
I started getting bites straight away, catching roach and small skimmers. Looking round the pond everybody was swinging in or netting fish. Compared to the last time I was here it seemed much slower and despite trying pieces of worm, caster and corn, I was only getting odd fish and by the end of the first hour only had around a dozen fish compared with 24 last time. I was starting to flap already. Going into the second hour I had two decent skimmers but Butch and Bushy next to him were catching quicker than me as was Dunner on my left. It was time to try the inside so I fed some more choppie mix before slipping on a piece of corn and shipping the rig out near the lilies. I missed two bites before catching a small 4oz carp, no more bites here so I added a couple of sections and went across by the island but I didn't get the instant action I'd hoped for.
We were now halfway through the match and my plan had already gone to ratshit, I was miles behind the anglers I could see and decided to try and catch carp (again!). Dunner, Bushy and Picky were bagging and Butch was still getting silvers regularly.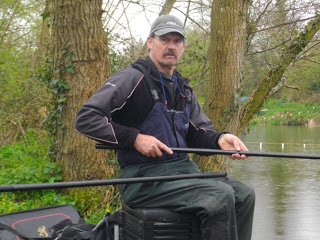 Butch was catching plenty of roach and skimmers
I was getting odd carp on the inside and across but going nowhere fast and my worm line was just being ignored. Dunner was fishing a tidy match and catching the odd carp in amongst the silvers and I was wishing I'd just stuck with my worm line, but it was too late now. Bushy also said that Les was catching steadily as well although I don't think he had anything to worry about with the amount of carp he was getting!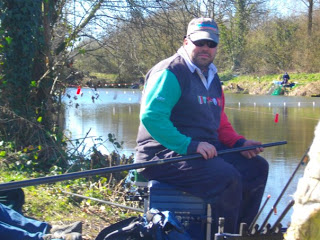 Bushy was bagging again
I was by now just blasting pellets by the island with pellet on the hook, there were carp sucking pellets off the island but I was only getting odd fish, I did manage one about a pound and a half just before the end. During the last hour everytime I looked across the pond all I could see was elastic coming out of Oz's, Chanter's and Dave's poles. Les called the all out and I seriously contemplated not weighing in, I had 36 fish which I doubted would go double figures. I knew Picky had beaten me so would be another pound down although I wasn't sure how Janders had gotten on so the fate of that pound would remain to be seen.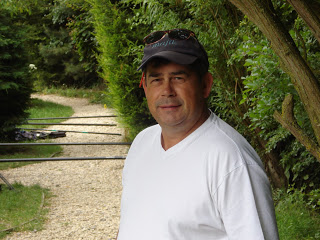 I knew where one pound would be going!
Chanter had enjoyed a good last hour and looked good for a frame place although right at the end of the match he managed to snap his pole when he wasn't watching where he put his feet. Who you gonna call Steve? – Polebusters! He also managed to drop one of the legs from his box into the pond, he was still smiling though.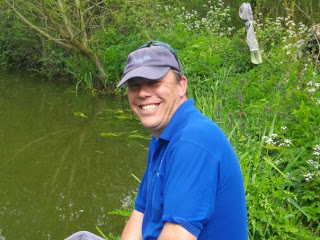 Still smiling
I packed up and as I took some of my kit back to the car I passed Dunner who was admitting to 30lb, Janders and Les also said they'd done well which confirmed how badly I'd done. The weigh in started at Steve Bishop who had a nice net of roach for 16lb 11oz, Oz had a level 15lb and all of a sudden I realied people hadn't caught as much as I'd thought (the plan, should have stuck to the plan!). Chanter weighed 24lb 7oz to take the lead, he had mainly carp including a double which helped! and Dave Lawrence had some lovely perch in his 18lb 5oz. Dave Abrahams struggled for 9lb 8oz and then Picky had 22lb 10oz and I handed over my nugget.
Bushy plonked a stunning 59lb 1oz on the scales which was made up of 14lb of silvers and 45lb 1oz of carp, Butch weighed 12lb 12oz and then my fish went a level 11lb which was a little more than I thought but I was still looking at being second from last on the pond. Pup had 38lb 3oz which was mainly silver fish, followed by Janders who had 21lb 12oz so I handed over another pound just to polish off the last of my finances and then Les had 31lb 8oz without a carp in sight to continue his good run of results at the venue.
So that was that, I've now gone five matches without picking up a bean, maybe I can get back on track at Dillington next Sunday (I doubt it).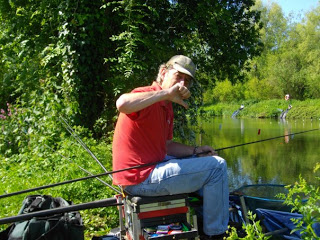 Yep my fishing has certainly gone down the pan at the moment!
1 – Steve Bush (Chard) – 59lb 1oz
2 – Alan Dunn (Chard) – 38lb 3oz
3 – Les Braunton (Chard) – 31lb 8oz
4 – Steve Chant (Chard) – 24lb 7oz