I was desperate to halt my bad run of five matches without picking up a bean and not catching very much and conditions looked near perfect for round four of the Summer League. It was overcast and mild and if ever the pond was going to fish it was going to be today. There was a slightly reduced turnout of 12 today (due to the poor fishing?) and when I pulled out peg 11 I was pretty chuffed. It was the peg where Malcolm Levy won a few matches back and it's generally a good area. Alvin drew peg one which seems to be a bit of a poison chalice at the moment, the chub either feed and you're a hero or you catch very little.
I got to the pond and it did look nice with a nice ripple on it as well, my peg looked good and relatively weed free (which was down to Alvin's hard work). Bruce Hunt was on my left and his swim was pretty choked with weed though and he went off to borrow a weed cutter. I had the other Tiverton invader, Martin Heard, on my right and next to him Graham Field. All have been enjoying good form here and I could be in for a spanking today.
I made myself comfy and mixed up some groundbait (Sensas Roach), along with the usual maggots, casters and hemp, today I had a load of worm left from last week. After so many eels showed last match, I was going to put in a chopped worm line. I set up a Drennan Roach float for fishing 10 metres straight out and another rig with a Drennan Carp float for fishing just off a weed bed to my right at about 10 metres.
Janders came up for a chat as he was next to Bruce and as we were talking there was a loud splash and looking across to peg 16, Steve Parker's box had gone over and he's slipped into the pond. We asked if he was ok and he said he was, I did have a little chuckle and asked if he could do it again so I could get some pictures, unsurprisingly he declined. I chopped up some worm and casters and it was time to start. I cupped in three balls at 10 metres and a big potful of choppie by the weed bed.
I shipped out, with caster on the hook and laid the rig out but the float wouldn't settle, I tried again with the same result. It appeared there was more weed present than I originally thought and I'd plonked my groundbait straight on top of it – doh! In my defence while plumbing up I hadn't detected any on that line. I decided to add a section to my pole, I knew I'd be off the bottom but you normally get quite a few fish on the drop anyway. I started to get the odd small roach and rudd but could see from the windmill like actions of Graham and Martin that they were straight into the groove of things with small fish. Bruce was getting a few but despite his weed cutting skills he was getting hooked up on it loads and losing quite a few fish in it.
After an hour I only had nine fish and if was to do any good my catch rate had to improve, I tried lowering the rig in at 11.5 metres and bringing it back over my groundbait at 10 metres and it worked to a certain extent but I was still only getting odd fish. After a couple of hours my swim was dying and I was miles behind the three small fish experts so it was time to try over my chopped worm line. Pete Lonton the club secretary turned up for a chat and I had a good whinge about how the pond was fishing as had others apparently, hopefully he'll get the club to stock some fish! While he was with me I had three or four 4oz perch but also lost a couple in the weed.
I thought I might actually be able to start playing catch up but this swim soon died as well so I fed some chopped worm and went back to catching very little over my groundbait. Bites would come in twos or threes before tailing off and the chopped worm line was now only producing the odd perch and not the eels as I'd hoped for. Martin and Graham were still catching small fish and Graham had even landed a couple of eels. I was back over my open water line and upped the feed in the hope that the eels might turn up like the last match here. No such luck though and just before the end I looked up to see Janders playing a big perch, I was just preparing to wave goodbye to another pound when it weeded him solid and he lost it. That was enough for him and he packed up.
Robin signalled the all out and I started to pack my kit up, my love affair with Dillington was over, I really hadn't enjoyed one bit of this match. I ended with 33 fish for around 2lb. Janders walked by on his way to the car and said he wouldn't be coming back again, I knew how he felt. Over the last three years the winning weights have steadily dropped as have the average match weights, I will still fish the matches but the club needs to do something before match attendances start to dwindle further.
The scales worked their way round and Alvin had really struggled in peg 1 for 1lb followed by Roger Russell on peg 2 with 13oz and Moses on 4 with 1lb 10oz – not great weights! Graham did well with 6lb 4oz and Martin did even better with over 140 roach for 7lb 2oz and I knew he'd win it with that. I weighed 2lb 3oz and Bruce completed my battering on both sides with 4lb 9oz, Janders only weighed 1lb 10oz and handed over a nugget. Steve Parker on peg 16 caught some late chub to weigh 5lb 13oz, which served me right for laughing at him earlier. Neil Dring had 1lb 8oz, Justin Charles 3lb 2oz and Robin Cox didn't weigh in.
Back at the results and Martin won followed by Graham and Steve, I was a little surprised when I picked up £20 for winning my section by double default, still at least it had stopped the rot for now. Bruce won the other section.
1 – Martin Heard (Tiverton) – 7lb 2oz
2 – Graham Field (Ilminster) – 6lb 4oz
3 – Steve Parker (Ilton) – 5lb 13oz
Sections
A – Jamie Rich (Against Men and Fish) – 2lb 3oz
B – Bruce Hunt (Tiverton) – 4lb 9oz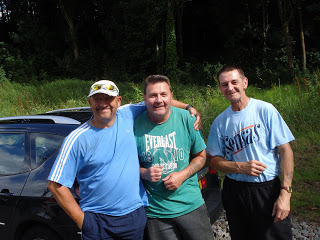 The top three on the day from left to right, Graham Field, Martin Heard and Steve Parker
Next week we're back at Chris Haines's pond in Frome and as I've never won any money there I won't be holding my breath.