I wasn't holding out much hope of a good day today as I just can't seem to get my head round the place. Dave picked me up at 6:45 and off we went, via Cartgate cafe for a brekkie where we met the others. It was a wet and windy day and the grey clouds overhead indicated we might be in for some more of the wet stuff. After about an hours drive we arrived at Chris's place. After sorting out some bait it was time to draw and I pulled out peg 10, which is where Dunner was last time and exactly the peg I wanted, had my luck finally changed?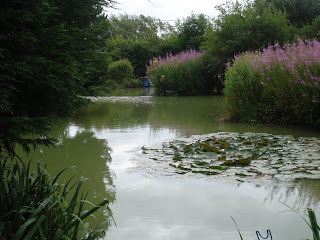 Chris's pond
I got to the peg and it looked nice with an island opposite and a bed of lilies to the right where Dunner caught most of his fish. Along with the usual worm, caster, maggot, pellet and corn, I had brought some diced meat dusted with groundbait and some tares (Dunner reckoned he had caught quite a few fish on them last time). On my right I had Alan 'Picky' Gage who was on the peg I had last time so at least I would have an idea of how my pound was looking, on my left was Butch Baker although I couldn't really see him because of a tree between us.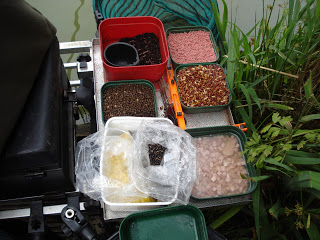 A fair old selection of bait
This time I was determined to go all out for silvers and hopefully pick up any carp that came along. I set up a 0.4 gram Drennan Carp with 0.12mm bottom and a little Trabucco dibber for against the island (just in case!). Both rigs had Tubertini size 18 808's at the business end. I was set up with plenty of time to spare so decided to go and annoy a few people, starting with Butch, as I got off my box I saw Janders had beaten me to it.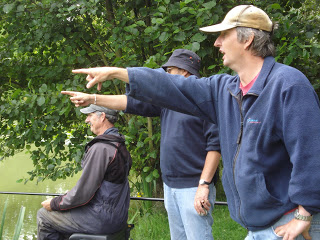 Me and Janders both decided Butch should fish in the wet bit!
With five minutes to go I wandered back to chop some worms up, the general consensus was that the pond wouldn't fish as well as last time due to the cold rain and drop in temperature and that 25lb would be a decent weight. Les called the all in and I cupped in a load of choppie by the lilies at about 8 metres and then micro pellet and meat by the island. I started off at two metres to hand loose feeding casters and tares but after five biteless minutes it was time to try over the chopped worm. I put on two red maggots and shipped out, the rig settled and shortly after disappeared, I struck and blue hydro streamed out as a carp made for the lilies and snapped me up! Not the start I had hoped for.
As I tied a new hooklength on I could see Picky catching odd silvers and from all the splashing coming from my left it sounded like Butch was bagging. I was soon back in action and getting bites, I was off the mark with a nice roach, followed by small perch and roach. I tried caster and worm and caught a few fish but it didn't seem to make a difference as you'd get a half ounce perch followed by a half pound skimmer. I was putting in worm and caster every chuck via a little pot on the pole. After the first hour I had 19 fish, mainly roach and perch along with a couple of small carp and was pleased with how things were going.
I felt there was nothing between me and Picky although I had no idea how we were doing overall as I couldn't see anybody else. The second hour was much the same although I started to get more skimmers along with some nice rudd, a couple more carp and a lovely little crucian and I was pulling away from Picky. I was still feeding the two metre line and every now and again dropping in on it but it only produced a small roach. I was slightly concerned that I was having to wait ages for bites over the worm but from banter I could hear around the pond it seemed it was the same for everyone. Although as all anglers are pathological liars you can never be sure.
Going into the third hour Picky was really struggling and had gone over by the island, I decided that if he started catching carp I might have to do the same (here we go again). I was still getting the odd fish though, so decided to stick at it for the time being. Butch was still catching and reckoned that Dave next to him had caught right from the off. I was still swapping between hookbaits and by far the best was just the head of a worm. I'd also done away with the small pole pot and was feeding larger amounts via my cupping kit and the swim seemed to be getting stronger and was fizzing like a jacuzzi!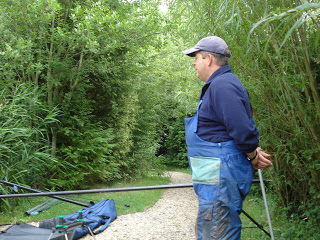 Picky went over by the island after the carp.
Picky started getting the odd carp including a couple round the 5lb mark and although he was having to wait ages for the bites I was sure he had eaten into the early lead I had built up. I kept thinking about trying the island but then I'd get a carp or a skimmer. Nope I was going to stick to the plan, I also added another crucian and even had a tench over a pound. The more worm I fed the better the swim got and I was flying. I had more carp and a couple of pound skimmers to end with a flourish, the only down side was I had a tangle right at the end and was still trying to sort it out when the all out was called, which probably cost me a couple of fish. I was fairly happy with my match although I now wished I hadn't spent so long fishing the two metre line which had only yielded two roach and a hybrid. I ended with 81 fish and no idea of my weight, I knew I had more silvers and more carp than last time when I had weighed 11lb so I reckoned on having about 14-16lb.
Walking back to Dave's car, I passed Butch who was admitting to around 18lb and I didn't think I had that, Dave reckoned he had nowhere near Butch's weight. Janders was admitting to 12lb so I had a chance of winning a pound at least. Les would have normally been the first to weigh but decided to start at Dave and go the other way round which made everyone think he's put another good weight together. Dave had a good double figures and Butch was spot on weighing over 18lb, I was then surprised to weigh 23lb 3oz and received much abuse over my complete crapness at estimating weights!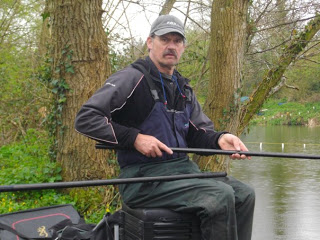 Butch had over 18lb
Picky pulled out his net and it was going to be close, the digital readout stopped at 21lb 10oz so I was still in the lead and a pound better off. Any thoughts of victory soon disappeared when Dunner put 25lb 4oz on the scales from the winning peg from the last match. Bushy had 18lb odd and then Steve Bishop had a level 31lb to take over the lead. Chanter was next to weigh and again it was going to be close, his weight was called out at 32lb 4oz and one Steve replaced the other at the top of the leaderboard.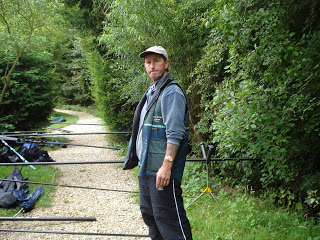 Steve Bishop had a level 31lb
Janders who is much better than me at estimating weights weighed in a touch over 12lb and gave me another pound (I could get to like this!). Then it was Les's turn and as I was currently lying in fourth (and last) place in the frame I was sure any chance of a brown envelope was about to disappear. But the venue expert had struggled! to weigh in over 19lb. I'd finally done it, after about six visits I'd finally picked up some coin.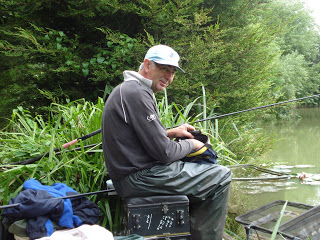 The venue expert only weighed 19lb odd!
Steve Chant had won to continue his good form of framing at each visit and actually managed not to break any poles this time! Bish was second, Dunner third and I was fourth and picked up £50.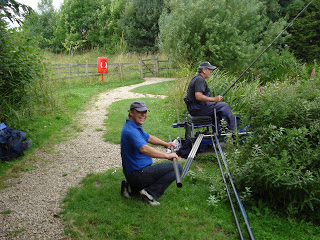 Not content with breaking his own pole last time around, Steve thought he'd have a go at Daves this week!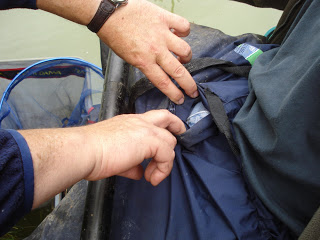 Talking of Chanter, I lent him my camera before the match and this is one of the pics he came back with! I know it's worm fishing but he could have left Dunner's lobbie alone!
1 – Steve Chant (Chard) – 32lb 4oz
2 – Steve Bishop (Chard) – 31lb
3 – Alan Dunn (Chard) – 25lb 4oz
4 – Jamie Rich (Against Men and Fish) – 23lb 3oz
5 – Alan Gage (Chard) – 21lb 10oz
Quite a pleasing day but next time I will be feeding more worm and ignoring the two metre line. Next up is an evening fixture at Dillington on Wednesday night, peg one would be nice but I'm not that lucky!