I've been quite enjoying the evening league albeit with mixed results and this one was no exception. I got to the pond for the draw and there was a reasonable turnout of seven anglers including Martin Heard and Scotty who obviously both needed to top up their piggy banks! As always Robin let us draw two pegs and decide which one we wanted to fish. I really fancied a crack at pegs 1 or 16 as I hadn't drawn either this year. But of course pulled out 17 and 19, nothing new there then! I decided to fish 19 as there wasn't much to choose between them. Alvin pulled out 16 and Janders peg 1 which just confirmed they can both draw better than Rolf Harris!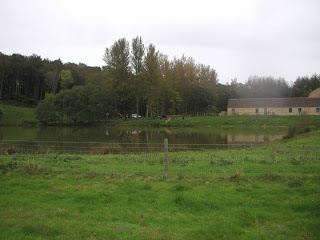 The pond
My peg was a real armchair as Moses, Rob and Alvin had been out on Saturday, cutting out swims and weed clearing – good work lads. As always there wasn't much time to set up so I quickly mixed up some groundbait (Sensas Roach) and set up my Drennan Roach rig with 0.12mm bottom and size 18 B611. On the whistle I cupped in three balls of groundbait at 11.5 metres and went out with caster on the hook. I started getting bites on the drop straight away and had three roach in the first three put ins. Looking around most people seemed to be getting a few although Martin was having problems with the weed if all the swearing was anything to go by!
I set my sights on 60 fish (20 an hour) as in the first evening match I'd had 45 for 4lb 11oz and 5-6lb will normally get you there or thereabouts. I was loosefeeding caster and hemp and still catching on the drop, most were roach about an ounce each although I did net a couple of slightly better ones. After the first hour I was ahead of target with 22 fish. Both Martin and Scott were catching but they looked like small fish to me.
The second hour was much the same for me and I was up to 41 fish including a small eel. I was missing a few bites and bumping the odd fish but still quite pleased with how it was going. Quite a few people came round for a walk including Roger Russell, Justin Charles and 'Big' Frank Woodard who reported that Robin was getting a few as was Alvin although Martin was on about 95 fish!!! I was just hoping they were tiny. My swim was drying up and bites were becoming more infrequent, I was also keeping an eye on Janders who had caught a couple of eels but no chub as yet. I knew full well that they could show up at anytime and he'd only need a couple.
I did think that as the light started to fade that some better roach might show, I was still putting fish in the net but they were the smaller ones of an ounce or so. On the whistle I'd ended with 57 fish and was sure I had 5lb plus. I packed up and saw Scotty by the cars, he had over 90 fish too and I was starting to think I hadn't done as well as I first thought. First stop with the scales was Alvin and he plonked 10lb 2oz in the weigh sling! He had some quality roach and looked like he was heading for yet another evening win (his fourth in five matches). Scotty had 5lb 10oz and Martin had 145 fish for 8lb 5oz, next was Moses (and yes I've forgotten your second name again!) with 6lb 10oz. Janders hadn't found any chub and weighed a level 3lb, Robin also had some quality roach in his 5lb 2oz net and that only left me to weigh. I was really disappointed when the needle stopped at 3lb 14oz, I was sure I had more than that. I also tore a hole in my new keepnet pulling it out, so not a great night really. I did take a pound off Janders.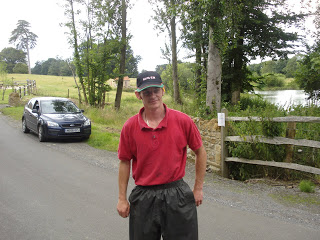 Alvin was victorious for the fourth time in five matches (and he was second in the other one!)
So once again I'm at a total loss and we're back here on Sunday and I have no idea what I'm going to do.
1 – Alvin Jones (Chard) – 10lb 2oz
2 – Martin Heard (Tiverton) – 8lb 5oz
3 – Moses (Ilminster) – 6lb 10oz