After last weeks wash out, we decided to have a sweep and try and get a decent days fishing. Robin had put in some good pegs including the tank traps (14), pegs 24, 27, 28 and 29, along with 125 and 126 at Isle Brewers. One peg I really didn't fancy was 17 although you get the choice of 18 as well and blow me if I didn't draw it. Robin said he saw seven chub in 17 yesterday but I just didn't fancy it so decided on 18 instead. Neil Dring drew 125 and I really thought he would walk it.
My peg looked ok with a branch in the water opposite and the main flow down the middle but it was pretty shallow and the river didn't have as much colour as I thought it would. Bob Hammond had drawn peg 14 and Stuart 'Fred' Brown had peg 24. I got old faithful out of my rig tray and plumbed up and found the peg was around two foot deep all over the swim. This meant I had a long line between the float and pole tip which I thought would help given the shallow nature of the peg.
On the whistle I started in the flow with caster on the hook and feeding caster, hemp and maggot and had a small chublet straight away followed by two more and a dace. I carried on catching small fish and a change to double red or bronze maggot saw my catch rate improve. All the while I was catapulting half a dozen maggots towards the tail of the swim to hopefully bring any fish up. I also noticed a good chub flash across by the branch and I fully expected to latch into one at any point and was glad I'd chosen to go with black hydro.
By the end of the first hour I'd had 26 fish, mainly small chublets and dace along with a 8oz trout, which was very welcome. I got to 30 fish before I couldn't resist going over by the branch with half a lobbie on in search of a bonus chub. I had a couple of decent bites which I missed and I was sure it was small fish hanging onto the end of the worm. I tried caster and had another small fish to prove the point. I was wary that time was ticking by and I wasn't adding much to the net so I came back into the flow and the fish had gone! Maggot only saw me catch minnows and caster saw me sat there biteless.
I came directly over where I had been feeding and had a couple of dace and a chunky roach, found them I thought – nope! and I went back to struggling. I tried searching further down the swim with caster and worm for nothing and decided to stick it out for a chub. I upped the feed but it just wasn't happening, with 20 minutes to go I noticed a furry head bobbing about down the swim and there was an otter looking at me! He (or she) snorted before turning away and submerging, I didn't think my visitor was going to help matters much, but I had a couple more bites on caster and swung in a small chublet just before the end. I ended with 35 fish which I guessed would give me 2-3lb.
As I had the scales yet again, I quickly packed up before walking down to weigh Fred in, he'd had a decent chub, a perch and a few bits for 2lb 14oz. Next was Bob who'd caught a few on the stick float for 3lb 4oz and I thought it might be close between us and was surprised when I weighed a level 4lb. Back at the results and Martin had done it again, this time winning with 9lb 10oz from peg 126, Neil Dring came close with 8lb 13oz from peg 125 but couldn't stop Heardy from winning his third match on the trot and his fourth win in five matches. Bruce Hunt was third with 5lb 8oz from peg 28 and as Robin had 3lb 14oz from peg 27, I won my section and picked up £15. The old fossil (Malcolm Levy) won the bottom section with a single chub of 2lb 8oz. Total wise I'm a long way behind the last couple of years and really need a good couple of months but I just can't see this happening with the way I'm drawing.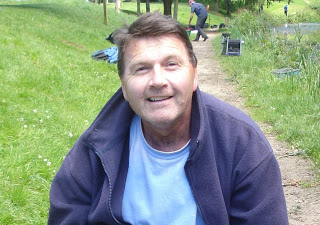 Fish catching machine, Martin Heard (I'm sick of uploading his photo!)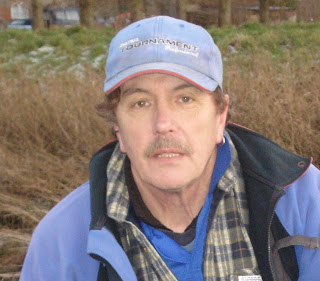 Bruce Hunt was third with 5lb 8oz
1 – Martin Heard (Tiverton) – 9lb 10oz
2 – Neil Dring (Ilminster) – 8lb 13oz
3 – Bruce Hunt (ALS) – 5lb 8oz
Section A – Jamie Rich (Against Men and Fish) – 4lb
Section B – Malcolm Levy (Tiverton) – 2lb 8oz
Next week is round three of the V.E.S. league and I'm actually doing well in this one after two matches, you watch it all go pear shaped next week!