After not fishing last week due to the extreme weather, I couldn't wait to get on the river this week. There had been some rain on the Saturday but I wasn't too concerned and as I drove over the Isle I could see it was up and coloured but to me it looked nice and would only get better as the day went on. In the back of my mind though I had a nagging doubt that they would switch it to Dillington, as they always seem to do these days as soon as there's a hint of rain. I got to the draw and sure enough we were on the pond!
There were only eleven of us fishing as Neil Dring decided to have brekkie and go home (he's not a big fan of the pond) and Robin Cox had work to do (good excuse Rob!). I mentioned to Janders that I fancied peg 17 as I'd done well off it last time and only went and drew it! Janders said he really didn't want to draw peg 6 and only promptly went and drew it! We got to the pond and it looked nice with a few fish topping but I felt it would fish hard after the big freeze and all the cold water that had gone in. Scotty Russell agreed with me saying that 6lb would be a good weight although Graham Field was more optimistic, saying he thought it would fish well!
I made myself comfortable and before setting my kit up, I mixed up some groundbait (Sensas Matchblend and Formula Supreme) as I always do so it has plenty of time to fully absorb the water. I filled a bait box from one of the feeder streams and the water was bitterly cold. I set up two rigs, a 4 metre whip with a little image waggler and 0.10mm bottom and size 20 B511 and a short pole with a Drennan Squatt float and the same hooklength combination as the first rig. I nicked some pinkies off Alvin Jones, who was on peg 18 and was ready for the off.
Pete Lonton blew his whistle and I flicked the whip rig out with a pinkie on the hook, followed by a small nugget of groundbait and waited for the first bite. I waited and waited and nothing! Looking around the pond everyone was in the same boat, it was going to be rock hard. Apparently Roger Russell had snared a tiny roach and that was it, I tried the short pole over the whip line but this was met with the same response. I shouted to Alvin and Graham Field to ask what they had and they were both in the same boat as me – blanking. Up to today I was doing well in the league and a single fish would guarantee me three points.
By this stage, Alvin had set a feeder up and said he was getting indications on it. As I was looking up towards Alvin I thought I saw Scott on peg 2 swing in a small fish so I kept watching and sure enough he swung in another one! I walked up to see Alvin so I could get a better look at what Scott was doing. While watching Alvin he had a couple of sharp raps on the tip (which he missed!) and Scott was getting a fish a bung on the long pole and Alvin said that he'd put four balls of groundbait in.
With nothing to lose I went back and set up another rig, a 0.5 gram Drennan Roach float with 0.08mm bottom and 20 B511 and plumbed up at 10 metres. I cupped in two balls and went straight over it, I fully expected to catch, but no and things were starting to get desperate. Then out of the blue the float submerged and I swung in a tiny roach, yes, three points secured. Graham had one around the same time although I couldn't see anyone else catching. The trouble was, I had reverted back to not catching as well, then like before a bite out of nowhere and I had doubled my fish tally.
I had by now started firing out three or four maggots over the long line and started to put a few bites together, I got to five fish and feeling very pleased with myself I asked how many Alvin had (expecting him to say none) and he replied he'd had four! I knuckled down and slowly but surely my fish counter started creeping up and with an hour and a half to go it read 23. Alvin asked for an update and when I told him, he seemed surprised as he was only on 9. I could see that Martin Heard was starting to get a few but it was already obvious to me that Scott would be an easy winner. He was on the point on peg 2 and had most of the top half of the pond to himself! Another flier then Scotty!
Most people had a fish or two but the only anglers catching consistently were Scott, Martin and myself. Janders packed up early and brought over my pound before shooting off saying he probably wouldn't be fishing next week! Oh dear a bad day at the office then (he'll do anything to get out of doing the bait run!). By now I was getting a bite a chuck on red maggot and I think the fact that it had warmed up a couple of degrees had helped. When Pete signalled the all out, my clicker said I'd had 47 fish which I thought would give me a pound and a half or so. I was sure Scott had won but had I done enough to beat Martin who said he'd had 40 fish.
Pete came round with the scales and said that Martin had weighed 1lb 6oz and apart from that it was ounces in our section. I thought I'd beaten Martins weight until I took my net out and the contents didn't look like much! But the needle read a level 2lb and it looked like I'd be second behind Scott. Graham and Pete both had an ounce and Alvin had 12oz. Scott actually weighed a lot more than I thought, with over 150 fish for 5lb 12oz. I was second and picked up £30 which keeps the winnings ticking along for this year. More importantly I got one section point to keep me in the hunt for the league. Martin leads it with a maximum 3 points followed by me and Graham on 5.
It really had fished poorly with Graham Bulgin and Alvin winning the two sections with 7oz and 12oz respectively.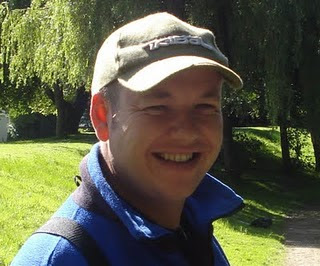 Scotty recorded yet another victory.
Hopefully next week we'll be able to get on the river.
1 – Scott Russell (Yeovil and District Angling Centre) – 5lb 12oz
2 – Jamie Rich (Against Men and Fish) – 2lb
3 – Martin Heard (Tiverton) – 1lb 6oz
Section A – Graham Bulgin (Ilminster) – 7oz
Section B – Alvin Jones (Enterprise Angling) – 12oz