With the river bank high on Friday afternoon I feared the worst but the wet stuff stayed away for the rest of Friday and all of Saturday and the Isle looked perfect. A frost the night before probably hadn't helped matters but I was still confident it would fish well. At the draw there was another depleted turnout of ten and that included Ashley Tomkins who turned up hoping it was going to be on the pond!
Robin had wisely pegged just the top end of the river and when I pulled out peg 24, I felt I had half a chance as it's a reasonable peg. Janders also drew well, peg 28 in the copse, so it was anybodies guess which way the pound would be headed. I drove to the peg and it did look very inviting, Graham Bulgin was next to me on 23 and I said I reckoned we'd get a few bites today. I set up two rigs, both Carbo's (surprise, surprise!), the usual 1.5 gram and a 2 gram version as it did look quite pacy. Both had 0.12mm bottoms and 18 B611's.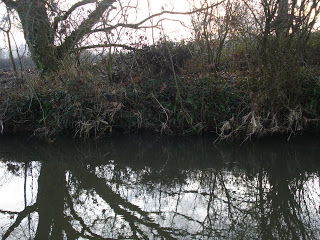 Peg 24, looked really fishy
The start time soon arrived and I baited up with a single caster before going across to the far bank cover and feeding some hemp and casters. I also fired some maggots down the swim to hopefully draw some fish up. I wasn't expecting too much early action as it's a chub peg and I was prepared to wait for bites. After 20 minutes I'd had a couple of indications and was inching the float through when it slid away and I was soon netting a chub around the pound mark, hopefully it would be the first of many. I couldn't see any feed in it's throat which I took to be a good sign.
I had a few more bites which I missed and reckoned could be minnows when I looked up to see Graham net a decent chub which put him ahead of me but at least it meant there were a few fish about. I tried half a lobbie and double caster but didn't have a bite on either, still plenty of time to go! After two hours, neither me or Graham had added to our early fish and he was now on the tip. Robin Cox and Bruce Hunt walked down from their pegs (14 and 15) and were both struggling although Rob said Malcolm Levy on peg 38 had caught two early chub.
Time was now ticking on and a bumped small fish on double maggot was the only other action I'd had. I was now pinning my hopes on the golden last hour but this arrived and finished without another bite! Graham netted a small trout (which count) right on the whistle and that was that. I was really disappointed and knew I wouldn't be picking up today as Robin was only paying the top three and no sections and I knew Malcolm and Graham had beaten me.
I had the scales yet again so quickly packed up before walking up to weigh Graham in, his chub wasn't as big as I thought and he weighed 2lb 1oz, my fish wasn't as big as I thought either at 15oz, not a good day. As I reached the top of the track, Bruce and Martin were just loading their cars, Bruce had 12oz and Martin only had 1oz despite missing seven wrap rounds on lobworm! and he was on the golden peg – so he is mortal after all. Robin hadn't weighed and had chucked back four trout for about two and a half pound (remember that!)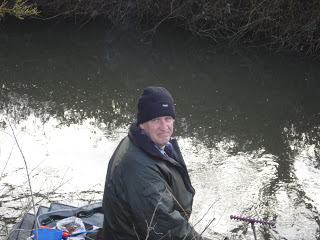 Graham weighed 2lb 1oz
Back at the results and the river hadn't fished at all, in the bottom section only Malcolm and Neil Dring weighed in. Malcolm had caught a couple more and his four chub went 6lb 9oz for an easy win and Neil only weighed an ounce which meant I was third! Robin was really cursing throwing back those fish! I picked up £25 plus a pound off Janders who blanked. I couldn't believe how badly it had fished. I also finished second in my section and pulled a couple of points on Martin who was fourth, he still leads this league with 7 points although I'm just behind on 8.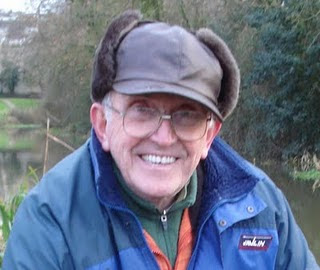 Malcolm won with four chub.
Although I'm quite pleased that I'm keeping my winnings ticking over (£140 this year already), it would be nice to have a decent days fishing!
1 – Malcolm Levy (Tiverton) – 6lb 9oz
2 – Graham Bulgin (Ilminster) – 2lb 1oz
3 – Jamie Rich (Against Men and Fish) – 15oz