I woke up to find we hadn't had a frost and the temperature wasn't too bad so hopefully we'd be in for a good day for once! At the draw there was a really poor turnout of only 12 anglers which I suppose reflects how poor the fishing has been. I was surprised that Rob hadn't pegged 125 or peg 25, both have been fishing well and surely you need to give anglers a chance to catch fish! I stuck my hand in the bucket and pulled out peg 52 at Ilford, it used to be a good peg but hasn't done much for ages. Still with the way the rivers been fishing a couple of chub would get me there or thereabouts. Bob Hammond was on 55 where Janders broke the match record with 37lb 8oz and I really fancied that peg today.
I got to the river and it looked ok but painfully low and clear, as I got to my peg some silt was kicked up by a fish moving off from the inside which got my hopes up a little. I set up the usual Carbo and plumbed up, there was a nice depth although it was shallower than I remember. I started just off the edge of the flow in the deepest part and edged the rig through but got snagged on something and when this happened twice more I decided to try in the slack water in front of me. I was feeding hemp and caster with caster on the hook and was getting the odd dig from minnows so changed to double caster which saw me getting no bites at all.
After a couple of hours I was still blanking and when Bob walked up and said he hadn't caught I started to fear the worst again. I went through the usual bait changes but with no response and tried as close to the snag as I dared but nothing. I did miss a bite on double caster but I reckon it was just a bigger than average minnow! I knew I was in trouble when I saw a small jack pike sat in the shallows, out of boredom I dangled a lobbie in front of it's nose but it didn't want to know.
Bob was packed up and behind me with half an hour to go, he stayed for a bit as I had the scales but he soon realised he wouldn't have to weigh me in and went on. I blanked again and I'm starting to get disheartened. I just kept thinking about 25 and 125 all day and knowing I'd have caught on either.
Back at the results and Malcolm Levy had won his third match out of four with 9lb 14oz from peg 23 – well done Malc. Graham Bulgin had two chub for 5lb 8oz and second from peg 48, despite snapping his pole on a chub that snagged him. Andy Welch was third from the peg next door with another two chub weighing 4lb 11oz. Pete Lonton won the top section with 2lb 6oz and Roger Russell only needed 3oz to win the bottom section.
I realise that you get good and bad runs and I had a really good January but it would just be nice to catch a decent fish. I really think the club needs to do something but I was shocked and dismayed to hear them thinking about putting F1's into Dillington and buying some roach for the river. Carp in Dillington would ruin it for me and I'm not sure I'd fish it again. For me the solution is easy, you just need to move the small roach and perch from the pond to the river on a regular basis and spend some money on decent skimmers for the pond – simple. We have lots of matches on the pond and the small fish could do with thinning out, over three matches you could move 150lb of fish (with the correct documentation of course) and just do this every year to keep some fish going into the river. The fish out the pond would then grow on and the skimmers they put in would stir the other fish in to feeding. The other point is that skimmers breed well whereas F1's (supposedly) don't so we would get different year classes of bream.
There are loads of carp waters around for those that want to catch them although the trend seems to be going back to silvers so I think this would be madness. I really applauded the club with their initial stocking policy but this seems daft, especially as to put enough F1's in to make a difference they would have to buy thousands and thousands and undo all the good work they've put into creating a super little venue,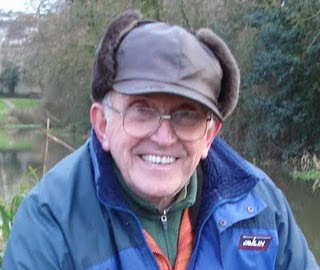 Malcolm adds the Open to his list of victories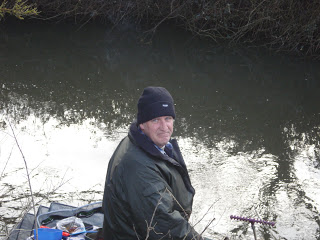 Graham was second despite breaking his pole
1 – Malcolm Levy (Tiverton) – 9lb 14oz
2 – Graham Bulgin (Ilminster) – 5lb 8oz
3 – Andy Welch (Ilminster) – 4lb 11oz
Section A – Pete Lonton (Ilminster) – 2lb 6oz
Section B – Roger Russell (Ilminster) – 3oz
Update
A quick update regarding my post on the clubs stocking policy, Max (club chairman) phoned me tonight to say they won't be putting F1's into Dillington and they are looking into stocking some roach into the river, So fingers crossed things might be starting to happen!