Well it was the last day of the river league and the final match in the Crown series, Martin and Malcolm were away so a good result could see me sneak the league. The sun was out and there wasn't a cloud in the sky although the wind was a little keen. My mood was tempered slightly when Rob said we were all on the relatively untried stretch at Hambridge, the last time it was in the top weight was 10oz! I drew peg 1 which was just upstream of the bridge so a nice short walk and Rob said there had been loads of roach there in the week.
After the short drive we arrived and I was soon setting my gear up, Neil Dring was just above me with Bob Hammond above him. Below the bridge was Fred Brown, the river looked nice but was very low and clear. I managed to get my box in quite low and out of the worst of the wind. I put on a deepish rig and started to plumb up and was surprised how shallow it was, I was soon digging a shorter 0.75 gram Carbo out of my rig tray. Half ten soon arrived and I started with double red maggot about two thirds of the way across but was struggling to get the rig to run through and kept getting snagged. I shallowed up a couple of times and finally caught a tiny roach, I started getting a few but the wind was making presentation difficult.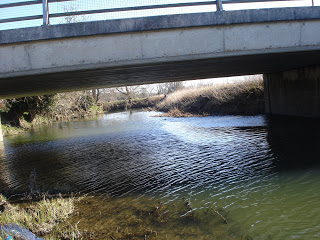 The view under the bridge from my peg
I got to six and noticed Fred playing a big fish and he was soon netting a decent chub. I kept trying caster but they weren't really having it and I was also bumping/missing too many on the maggot but was fairly pleased as Neil still hadn't caught above me. I was plugging away and thought I'd be able to catch enough to beat Fred's chub as long as he didn't snare any more. Neil wandered down, he'd just dumped a load of bait in and was going to let it settle. I was getting a bite most chucks from small roach and dace and Neil watched for a bit before going back. Under the bridge there was a big pike which kept having a go at the fish and every now and again roach were jumping out the water trying to escape. I jokingly said to Neil that it would be nice if he could catch it for me.
Within minutes of him returning to his peg he was playing a big fish which he said could be that pike! it actually turned out to be a 3lb+ chub, still as long as he didn't get anymore I should be ok. Next put in he had another and then a third! Unless the size of my fish improved dramatically I was now fishing for second. I kept trying caster but was having to wait too long for bites. I tried down the middle and started catching there so took more sections off and found I could catch at two sections to hand. Still mainly small roach and dace with the odd chublet and little skimmer thrown in, it was faster and the presentation was much better. I was still missing loads of bites and bumped a couple of better roach.
I set my sights on 100 fish and thought this would give me around 7lb, I found single red maggot best, I tried going overdepth with caster but could only catch odd fish so went back to running through. By this stage Robin was sat with me and taking the piss at the number of bites I was missing, I was getting a bite every run through. Neil and Fred hadn't added any more chub and nobody else had caught much so I stuck at it. I reached 100 fish with half an hour to go and ended with 114 (mostly roach and dace with 3 skimmer/hybrid things and a few chublets). I really thought I had between 7-8lb but was admitting to 5lb, I knew I didn't have enough to beat Neil but hopefully I'd sneak in the frame.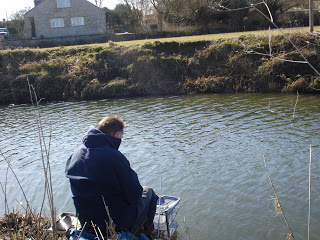 Match winner Neil was a tad camera shy!
Graham turned up with the scales and I was slightly disappointed to weigh 5lb 8oz, Neil's three chub plus three bits went 9lb 10oz for an easy victory. Fred hadn't found anymore and was third with 3lb 4oz. Roger Russell was the only other angler to weigh and he had two chublets for 4oz although he lost two 'munters'. I picked up £30 and also my two section points secured me victory in the league and I think I have some money to come from that as well. So a decent end to the river season with lots of bites and some money as well. I think if I'd have fished the whip with small nuggets of groundbait, I'd have pushed Neil a little closer.
1 – Neil Dring (Ilminster) – 9lb 10oz
2 – Jamie Rich (Against Men and Fish) – 5lb 8oz
3 – Fred Brown (Ilminster) – 3lb 4oz
Final Crown League standings
1 – Jamie Rich – 14 pts
2 – Martin Heard – 15 pts
3 – Malcolm Levy – 25 pts
Next week I'm on the resi, so I'd better dust off my feeder rod and reel!