After dusting my feeder rod and reel off, I headed for the resi, hoping some slabs might show. At the draw there was a decent turnout of 17 anglers and lots of faces I hadn't seen for ages including Steve Bishop, Terry 'Niblett' Green and Dave Abrams. There was some ripple on the resi and some colour after loads of rain the previous two days and the signs looked good for a few 'wrap rounds!'.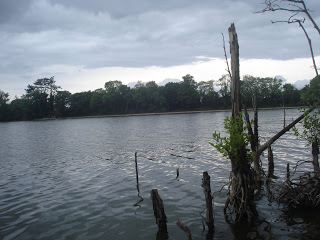 The'Resi'
As always people wanted to draw in the forties and always I pulled out a peg nowhere near where I wanted to be! – peg 37. Les very kindly put my box on the 'bug' so the walk wasn't too much of a killer. After all the rain the resi was high and my peg was a bit of a parrot cage but after a bit of pruning I was soon quite comfy. My first job was to mix some groundbait to allow it to fully absorb the water ready for the off. I mixed up some Dynamite Baits Bream and added a little fishmeal and some Brasem. Next I got my Drennan Stillwater Feeder rod out the bag and put on my Shimano reel which took me a while as I couldn't remember which way round it went! On the business end I had a small Drennan groundbait feeder and a 0.12mm hooklength with a size 16 B611 hook, I also incorporated a small swivel to eliminate line twist.
After mixing the groundbait, one thing I noticed that the water was freezing! and I reckoned it might be a slow starter today, the last match was won by Mike Hosgood with 11lb odd and I thought today might be similar. I had a coffee and then it was time to start. For company I had Brendon Ions on my right with Butch Baker next to him and Dave Lawrence on my left. I baited up with double red maggot and filled the feeder with casters and groundbait and lobbed it out to around 40 yards. I was fully expecting to wait a while for bites but was getting indications straight away. After a couple of chucks I had a decent roach as did Brendon. I had five roach in the first hour and just said to Brendon that perhaps the skimmers weren't going to feed when he had two in two chucks!
With my enthusiasm renewed I carried on catching the odd roach but as always, roach fishing on the tip is a nightmare and I was missing loads of sharp bites. After around two hours I was on ten fish when Les came walking up, he was struggling as were the others around him and he went up to see how the forties were getting on. On his return he reported that they weren't bagging and that Bish had six skimmers and Picky had 17 roach and a skimmer. It looked like it was going to be hard so I got my head down. Butch was catching roach well and Brendon had added a couple more skimmers, Dave was struggling though and had lost several in a snag and wasn't happy.
I was beginning to think I wasn't going to catch a skimmer when I had one and then another! Here we go I thought but it was short lived and I would get a couple before going back to catching roach but at least I was getting the odd one. It was neck and neck with Brendon although he'd had a better one around a pound and a half and I was clawing back Butch's early lead. At one stage I had a real purple patch and had visions of doing a decent weight. With three quarters of an hour to go I had 12 skimmers and 19 roach for about 9-10lb, Brendon only had 5 skimmers as had Butch although he'd had a lot of roach. Then I couldn't buy a bite and only had two small roach for the remainder of the match to end with 33 fish. I still thought it would be tight between the three of us though.
Les started weighing in from peg 28 where he threw his back, by the time he reached Butch the top weight was Terry Green with 9lb 2oz, Butch then stuck 12lb 7oz on the scales and I didn't think I had that. Brendon was away from his peg so I weighed him in and he had 11lb something, he got back and asked if we'd taken the rock out of his keepnet! Les asked what size rock and got him to pick a similar sized one and he picked a tiny pebble! Les weighed it at 8oz to give Brendon a weight of 10lb 8oz. I then weighed exactly the same, without any rocks I hasten to add! I really thought I'd had more than that and that last 40 mins had cost me.
Dave didn't weigh and Dave Abrams had 10lb 9oz and I was wishing I had put a rock in the poxy net! The other section in the forties saw the top three weights with Mike Hosgood winning his second match on the trot with 15lb 15oz from peg 48, Bish was second with 14lb 4oz (46) and Paul Blake was third with 13lb 4oz (43). Butch sneaked into fourth place and Dave Abrams won our section (I hate losing by an ounce!), Mark Leahy won the other section with a level 12lb. I did take a pound of my nemesis Janders who had 6lb 15oz and also gratefully pocketed a nugget from Picky who had 7lb 1oz. So I wasn't too far off although I must say my casting left a lot to be desired to start with and I missed loads of bites but then I think that's part and parcel of catching roach on the tip.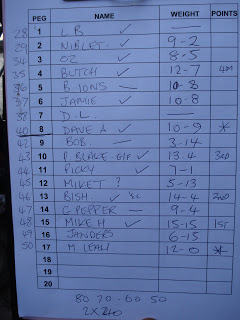 The full results
1 – Mike Hosgood (Exeter) – 15lb 15oz
2 – Steve Bishop (Chard) – 14lb 4oz
3 – Paul Blake (Chard) – 13lb 4oz
4 – Butch Baker (Chard) – 12lb 7oz
Sections
A – Dave Abrams (Weymouth) – 10lb 9oz
B – Mark Leahy (Street) – 12lb
Next week is the first Spring League match on Perry Street and it's been patchy so wish me luck!