I was really looking forward to the last V.E.S. match and even though we'd had two wicked frosts the two previous nights, I thought it would be a good match. How wrong could I be? read on to find out! Once again there were only nine of us fishing and there were some good pegs in. Rob had put 25 in and I really wanted to draw it, failing that I wouldn't mind 14 or 27. The only two pegs I really didn't want were 37 or 38 as they're both killer walks and of course I drew 37 so my drawing hand hasn't got any better!
Martin Heard was next to me on 38 but was already assured of the league, I was lying in second but if Pete Lonton beat me today he could overtake me and if I blanked there were several others who could also push me out of the league placings. I just needed to catch a minnow to guarantee second or third. After the route march Martin and me reached our swims, they both looked nice although very low and clear, there was also a cold biting wind, which was nice! The last time I'd drawn this swim I won with six chub for 12lb 15oz and was hoping for more of the same today.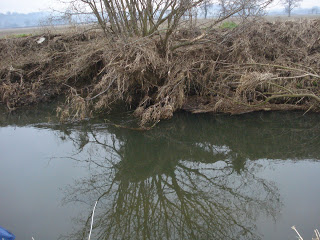 Peg 37, the last time I drew it
I set up 'Ole Faithful' and plumbed up around the swim, it was shallower than I remembered and you could see the bottom in places. I started with double maggot to see if I could catch a minnow to avoid the blank but just couldn't find one, any other match there are hordes of the little buggers. Martin hadn't caught either and it was looking grim. I tried all over the swim with maggot, caster and lobbie and nothing, I also trashed a rig and it was all going pear shaped. The only good thing was that Martin was getting regular updates via his mobile and most people were still blanking including Pete. The only two who had caught were Bob Hammond in 14 and Neil Dring in 25.
I stuck at it but just couldn't buy a bite, I kept hoping a chub might have a go in the last hour and we were rapidly approaching that time. With two hours to go I was holding back by the bush opposite and the float went under! I struck but there wasn't much resistance and I swung a bullhead in, I've never been so pleased to see such a small fish. The little bugger wouldn't open his (or her) mouth though and took some persuading. I shouted down to Martin to see if he'd caught and he said he'd had two minnows. Pete, Roger and Graham were still blanking in the copse but Malcolm Levy had sneaked out a couple of minnows.
The last hour arrived and went with no more action for either me or Martin and I was glad when time was up. Graham Bulgin walked down and said that they had all dry netted in the copse so second place in the league should be secured. I witnessed Martin's minnows and he came up to see my bullhead and we had to have an ounce each as it's the lowest weight we give.
Back at the results and the river had fished terribly, Bob had won easily with 5lb 14oz and had finally christened his pole, well done mate. Malcolm had found a late chub to take second place with 2lb 2oz. Neil Dring won the top section with 1lb 15oz and me and Martin tied for the bottom section!, we picked up £7.50 each. Martin was read out as the league champion again and I had hung on to second and picked up £60. Despite blanking Pete was third and picked up £40. So at least I'd stopped the rot for now and I can't believe I picked up £67.50 for a bullhead! We have one last match on the river next week before it's back to the carp puddles and Dillington and to be honest I shall be glad to see the back of it for a while.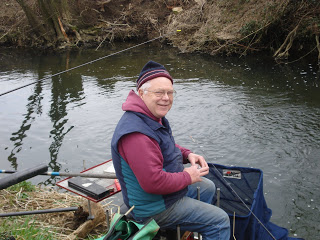 Pete Lonton hung on to third in the league despite blanking
I would like to thank V.E.S. Precision for their continued support and excellent sponsorship, Cindy and Steve at the Crown for looking after us all and Pete Lonton and Robin Cox for running the matches. The final match of the river season is next Sunday and the draw is at the Crown between 8:30 and 9:00.
1 – Bob Hammond (Ilminster) – 5lb 14oz
2 – Malcolm Levy (Tiverton) – 2lb 2oz
Section A – Neil Dring (Ilminster) – 1lb 15oz
Section B – Martin Heard (Tiverton) and Jamie Rich (Against Men and Fish) – both 1oz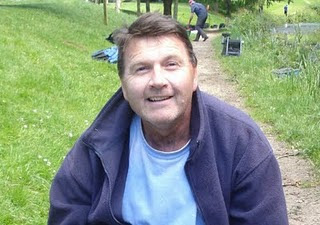 That man again! Martin Heard – V.E.S. Precision Winter League Champion
Final League Positions
1 – Martin Heard – 7 pts
2 – Jamie Rich – 11 pts
3 – Pete Lonton – 21 pts