The day of the penultimate V.E.S. Precision Winter League arrived and as soon as I drove over the river at Donyatt I knew we'd be on the pond. Still at least I should be able to catch to secure decent points for the league. On arrival at the Crown, I paid my pools to Pete who confirmed it was on the pond, much to the relief of Yeovil 'muggers' Scott and Ashley who came over hoping it would be on the pond.
With only nine of us fishing we spread the pegs out to give everybody plenty of water and I really fancied peg 17 as I'd done well off it the last two matches but actually drew peg 6 which was also the golden peg (so that was safe then!). We got to the pond and given all the rain we'd had, it was surprisingly clear and Scotty commented he reckoned it would be hard as we hadn't seen any small fish topping. I sorted my box out and then mixed some groundbait (Sensas Matchblend and Formula Supreme) before starting on my rigs. I set up a 4 metre whip with a little Image waggler and 0.08mm bottom with size 20 B511 and the pole at 10 metres with a 0.5 gram Drennan Roach float, 0.10mm bottom and the same hook pattern.
Awful weather was forecast and we were all prepared to batten down the hatches. The all in was called and I cupped in two balls at 10 metres and tossed a little nugget on the whip line (I've just read that last sentence again and it sounds well dodgy!), before starting on the longer line. I fully expected to catch quite quickly but it didn't happen, Scotty was blanking as well although Roger was getting a few on peg 17 and Robin was catching on peg 2. Then Scotty caught a small roach and I was thinking 'any time now' but my float refused to go under.
Scotty started to catch regularly as did Martin Heard on peg 20, Graham Bulgin on 18 and Ashley netted a fish on peg 12, I was starting to panic big style! I kept thinking that I needed to catch a fish to guarantee league points so after an hour I scaled down to 0.06mm bottom in a bid to get a bite. I would love to say that I shipped out and started catching but the change made no difference at all. After two hours I was resigned to dry netting as was Pete Lonton to my left, it was like there was diagonal line across the pond with all the anglers on one side catching and on the other side people were struggling.
Malcolm Levy was walking about and Ashley only had two fish and came up to see how we were getting on. As we were chatting I looked away and when I looked back my float had gone! I missed that bite but convinced myself I was seeing things, next put in I missed a bite and the put in after that. I then bumped a fish and came back with the maggot over the point of the hook, Ashley said he was going to get me some pinkies from Scotty. He returned with a handful, I slipped one on and shipped out, the float settled before sliding under and I swung in a small roach – phew! It was like someone had flipped a switch and it was a bite a chuck, I even had a better roach which required me to use the net.
I knew I was a long way behind Scott, when I reached 18 fish he was on 50, so I kept trying caster and although I could catch on it the fish weren't much bigger than the pinkie fish. I was also still feeding my whip line hoping to catch on it later. Pete had by now caught but Ashley and Malcolm had packed up. With an hour to go it looked like Scott would win with Martin in second but there was still a chance of the section. I flicked my rig in down the edge and when I went to ship out I had a slightly better roach on, so I decided to try the whip. First chuck I had another roach, 'cracked it' I thought but I would get a couple before it died. Another nugget of groundbait seemed to work for another couple but they weren't really queuing up.
In the back of my mind I knew I should just be getting my head down on the longer line but did I do it? – no, I just kept plugging away with the whip and ended up with 66 roach. I had the scales once again, so quickly packed up and went up to weigh Robin in, he had more than I thought and weighed 4lb 4oz, Scotty had 143 roach for 6lb 13oz and my fish went 3lb 9oz – bugger, yet another bad day at the office. Pete weighed a pound and actually pulled two points on me as he won his section where I was third in mine. Martin won the other section with 5lb 7oz and is uncatchable in the league with a match to go.
Back at the results and Scott won yet again followed by Martin and Robin won our section and Graham Bulgin won the other section with 2lb 11oz. After a great January I've not won a bean (or indeed caught much) for all of February. Next week is the last V.E.S. match and I would love to hang on to second but you watch it all go pearshaped.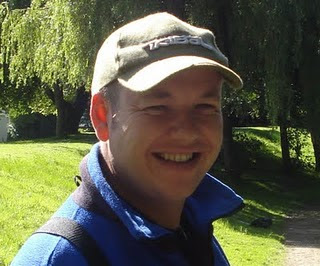 Scotty won again
1 – Scott Russell (Yeovil and District Angling Centre) – 6lb 13oz
2 – Martin Heard (Tiverton) – 5lb 7oz
Section A – Robin Cox (Ilminster) – 4lb 4oz
Section B – Graham Bulgin (Ilminster) – 2lb 11oz