This could be the shortest blog ever! The day started ok with it being overcast and the fish had stopped spawning and I thought it might fish quite well. We were all back in with a chance of drawing a corner, of course corner boy Les got peg 10, Dunner had 11 and I drew peg 6, which is actually a pretty decent peg and I fancied it for a few. My peg has a tree in the water and people normally catch off the end of it, quite often up in the water.
I set up three rigs, one for up in the water, a deep rig and a margin rig and for bait I had micro pellets, maggots, corn and 6mm hard pellets. On the whistle I cupped in some micro pellets, corn and maggots on both insides before starting off the end of the tree with a 6mm Sonu baits S-pellet on the hook. After an hour of flicking hard pellets out and lifting and dropping the rig I only had one bumped fish to show for my efforts. By all accounts it was rock hard for most of the pond (pegs 10, 11 and 12 being the exceptions), Janders, Hoff and Dino opposite all had a carp but that was about it. I wasn't too worried with five hours to go!
I came in on the inside and was getting a few indications on corn although they may have been liners but after two hours I still hadn't caught. Darren Roberts on my right had one carp and Hoff had added another and I found out that Picky had sneaked in an early carp and at this early stage both my pounds were in danger. Back out long and I lost a carp that went straight through the tree tearing the float off and snapping me in the process – great. I was getting loads of blows where I had been feeding the hard pellets so went out with the deep rig with corn on the hook but apart from one missed bite, this wasn't the answer.
By now Hoff had three fish and was looking good for excellent points again, everybody else seemed to be stuck on one fish (except me!). I set up another shallow rig and caught a tiny rudd on maggot to avoid the blank. The odd fish was showing by the end of the tree but I just couldn't get bites. Also there were fish knocking the lilies in the margins but both me and Darren kept trying the insides but with the same result – no fish. It was already obvious that Les and Dunner were battling it out for first place, Butch was catching well on 12 as was Mike T on 13. In fact everybody from me upwards seemed to be getting the odd fish and everyone down towards peg 1 was struggling, that's it, I'm jinxed!
Then finally I had a decent bite on the inside on corn and struck into a fish which came my way instead of towards the tree and then the hook fell out, this wasn't going to be my day. I felt there were fish about as I was getting the odd liner, so tried my shallow rig on the inside but this didn't work either and the deep rig with soft pellet was a waste of time too. Darren caught a tench and then Janders added a second carp and I was really in trouble. With less than an hour to go I hooked another carp which started to come towards me then changed it's mind and tore off and despite me applying pressure with a fairly tight black hydro, it swirled on the other side of the submerged tree! All too soon the inevitable happened and I was tying on another hook. That was to be the last of the action and I was relieved when the whistle went even though I knew that was my league now buggered.
I packed up and watching the weigh in was quite depressing, Paul Blake had done ok on peg 1 weighing 15lb 1oz, Dave Lawrence (who was fishing for Bish) had 6lb, Hainsey had 10lb 10oz and Bushy 9lb 5oz. Darren next to me had 6lb 12oz and I was given a generous ounce! Dave Abrams on my left had 9lb 3oz and Mike Collins also had a level 6lb. Rockin' Roy did really well from peg 9 with 12lb 8oz and then Les had ten carp for 28lb 11oz and Pup (Dunner) had less fish but they were lumps and he won with 38lb 5oz. Butch got third from 12 with 17lb 5oz and gets the man of the match award and Mike T had over 13lb from 13 then the weights took a downturn again until the scales got to Hoff who keeps up his league challenge with 16lb 7oz.
Janders two fish went 7lb 8oz and he took a pound off me, Dino just had the one small carp of 1lb 6oz and Mike Hosgood had 6lb 1oz. Picky's single carp of 3lb 9oz was good enough to take another £1 off me and the score is now 6-5 to him – git! Terry Green-Niblett had 6lb 5oz and last weeks winner, Steve Osborne, just had 3oz from peg 20. So I was stone cold last in the match and scored a massive one point which meant I've dropped to 9th in the league. To stand any chance now I have to have four blinding matches and I can't see it happening.
Chris Haines still leads the league with 92 points followed by Les on 86 and Hoff is now in third with 85. Les and Mike Collins just knocked out Rockin' and Janders 25 points to 24 in the pairs competition, hard luck chaps although it was always going to be tough beating peg 10!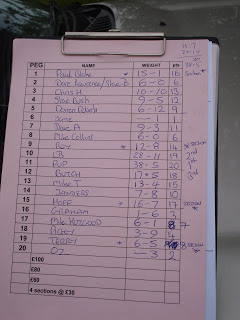 Don't look at the weight for peg 6 please!
So I'm sorry it's been quite a short blog and I'm surprised I've written this much! Next up is an evening match at Dillington and I hope to bring you more fish then (but don't hold your breath).
1 – Alan Dunn (allezbaz) – 38lb 5oz
2 – Les Braunton (Chard) – 28lb 11oz
3 – Butch Baker (Chard Minnows) – 17lb 5oz
Sections
A – Paul Blake (Chard) – 15lb 1oz
B – Roy Fowler (Chard Minnows) – 12lb 8oz
C – Mark Hollister (Chard) – 16lb 7oz
D – Terry Green (Chard) – 6lb 5oz