The weather was much warmer for this one, blistering hot in fact and when I got to the draw people were saying there were carp everywhere but they had one thing in mind – spawning! We could be in for a frustrating day. The four remaining anglers who hadn't had corners drew first and then the rest of us went in the bucket, I pulled out peg 9 which I was quite pleased with. As I got to my peg Oz called me up to his (peg 10) and there were carp everywhere in the reeds and lilies but all spawning. Janders had drawn peg 3 so I wouldn't be able to see how my pound was looking. Also Les has got in on the 'hat of the week' feature although I'm not sure he can pull off the look like Janders.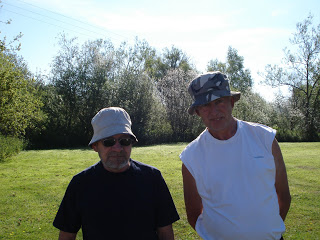 Les was going for the Desert Storm look!
I had Chris Haines next to me and readied myself for another battering, I set up two rigs, one for fishing by the cormorant roost and the other for fishing up in the water at 11.5 metres. It was also the final of the indiviual knockout between Picky on peg 4 and Hainsey and they were both fairly even pegs. Picky was also looking to get the side bet score back to 5-5. I wetted some micro pellets and opend a tin of corn and was ready for the off. Les signalled the start and I cupped in some pellets and corn by the barge before starting on the long pole.
I put a 6mm Sonubaits S-pellet on the size 16 808 hook and continually flicked a few hard 6mm pellets over the top while lifting and dropping the rig. After half an hour I hadn't had any indications at all and Oz and Butch on peg 11 were straight into fish, Hainsey also had two quite quickly from his side of the barge. I decided to try the inside much earlier than I would have liked. I had a little toss pot on my pole tip and put in a little pinch of pellets and corn. First put in the float went and after a short scrap I netted a lovely 3lb tench. Next chuck I missed a good bite and I felt there were a few fish there.
Then I couldn't buy a bite and after Chris added a third he was struggling too, in fact the only people I could see catching were Bish and Oz although judging by all the swearwords coming from Oz's direction, he was losing a few. Butch was having the same problem on 11 and he was also getting 'fluffed' out. The carp were going potty and not interested in feeding at all. I tried going out long again and also up in the water on the inside but had nothing to show for it apart from a couple of liners. The most exciting part of my day was a cheeky little robin that kept pinching my maggots!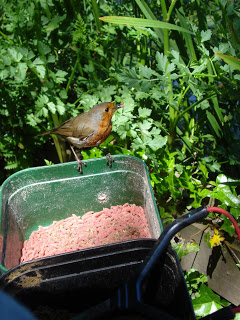 The highlight of my day
Halfway through the match it was obvious Oz was going to win but several anglers were in contention for the other frame places. I was still sat like a gnome, hoping the fish might get their heads down in the last hour or so. Then out of the blue I had my first carp and as Hainsey and Butch were stuck on three, I started to think I might be able to catch them up. It was shortlived though as the only other action I had was to lose two foulhooked fish while Butch and Hainsey added a couple more carp. Bish was now on seven carp and a bream and Hoff added a good tench to overtake me.
To be honest I was ready for the end with an hour to go, I did hook a carp and did all the hard work before it went under my keepnets and did me and that was the last of my action and I ended with just the two fish. Chris went right into the lilies and had three and lost three in the last hour to put him on seven fish. I was hoping he'd frame as there was a chance I could sneak the section by double default. I packed up and followed the scales along and it soon became apparent how hard it had fished for most. Paul Blake just had two carp from peg one for 7lb 10oz, Mike T had 3lb and Janders just had 4oz but had lost seven carp so I pocketed his £1 only to give it to Picky who did well to land five carp for 18lb 7oz. Terry Green struggled for 5lb 2oz although he did get a nice tan! and Mike Collins didn't weigh.
I was praying Chris would frame but his seven carp only went 18lb 4oz and Picky had beaten him in the kncokout by 3oz. My two fish went 5lb 7oz and then Oz put twenty carp on the scales for a fantastic 54lb 10oz. Butch also did well with 22lb 4oz, Hoff had 10lb 14oz and Bish ended with nine carp and a bream for 27lb 15oz and gets my man of the match award for coming second off a peg that wasn't a corner. Then the weights plummeted again until Alan Dunn on peg 20 who had a respectable 13lb 10oz. I still got half decent points with 11 but have dropped to sixth in the league and need good results in the next two matches to get me back up there.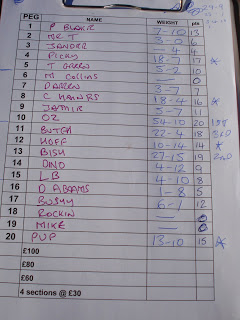 I got battered both sides!
1 – Steve Osborne (Chard) – 54lb 10oz
2 – Steve Bishop (Chard) – 27lb 15oz
3 – Butch Baker (Chard) – 22lb 4oz
Sections
A – Alan Gage (Chard) – 18lb 7oz
B – Chris Haines (Haines Angling) – 18lb 4oz
C – Mark Hollister (Chard) – 10lb 14oz
D – Alan Dunn (Chard) – 13lb 10oz
Quite a short blog this week but it's difficult to write much about two fish!