Last year the evening matches fished a lot better than the Sunday fixtures and I was hoping this would continue this year. I was slightly worried that it might still be too early as the weather has been very changeable but the last few days had been glorious. As always I got to the draw a little late (nothing new there then!) and was told I had peg 4 which I was quite pleased with as it had framed on Sunday. I picked up my bait from Alvin who was kind enough to get some for me and was pleasantly surprised when he said there were nine of us fishing tonight.
It was already 17:15 and with the start scheduled for 18:00, I thought I'd be pushed to be ready on time. I quickly mixed up some Sensas Roach and made up a 4 metre whip and Drennan 0.5 gram float for fishing at 8 metres to my right, out past the reeds. The whip had 0.08mm bottom with a fine wire 20 and the pole had 0.12mm and size 18 B611. With no Janders to have a side bet with I hastily arranged a £1 each winner takes all side bet with Alvin and Moses. Robin Cox was on my right on peg 2, Scotty was all on his own over on 19 and I fancied him to do well and of course Martin drew the flier (peg 15 by the willow) and would be hard to beat tonight.
Robin blew to signal the start and I cupped in two balls of groundbait, laced with casters and maggots on the 8 metre line before flicking a small nugget on the whip line. First put in the float settled before sailing away and I swung in a small roach, next chuck the same thing happened and I really fancied I might have a busy night. Then just like Sunday and the Bank Holiday Monday it died and I couldn't string two bites together. I was getting the odd perch and roach without really putting any weight in the net and having to wait too long for bites. The banter around the pond suggested everybody was struggling (again!).
I tried laying off the groundbait and just loose feeding but this didn't make a jot of difference. I got to seven fish after 25 mins and then bumped a fish which killed it completely. It was time to try the 8 metre line, I baited up with two red maggots and shipped out, I picked up the catapult but before I had time to feed the float slid away and I had another roach. I tried a caster and missed a good bite but then couldn't buy a bite again. I was back on maggot and thinking about putting some chopped worm in when my float disappeared and the strike was met with solid resistance. The slow plodding fight indicated a bream and I was relieved to slip the net under a near 5lb bream, what a bonus!
Over an hour of the alloted three had already elapsed and I started to think I might get my first victory at Dillington for a couple of years, I might even snare a couple more bream! Alvin and Moses were struggling so the side bet was safe for now, Roger Russell and Bruce Hunt seemed to be catching small fish quite well, Martin had only had an eel (which bit him!) and Scotty was sitting it out for big fish. Rob and Bob only had a few small fish and as I was still getting the odd roach and perch it was all going rather well.
Then Scotty had a chub and a bit later Martin had one and all of a sudden I wasn't sitting as pretty. Robin said he could see a big shoal of chub and carp swimming around in front of him and then with an hour to go he latched into a big fish which turned out to be a slab of 5lb+. Martin had a second chub and as Bruce was admitting to 4lb of fish, all of a sudden I wasn't even in the top three! Time was running out and I couldn't get a bite and as odd eels and perch were coming out I felt I had to do something so I quickly chopped up some worms and casters and dumped half a pot on the 8 metre line and decided to sit it out for a big fish.
While that was settling I went back on the whip line (which I had been feeding all match) and had a small perch but that was it – where have all the small fish gone? There were loads topping but they just wouldn't settle over any feed, maybe it's the clarity of the water? Roger had an eel which he somehow managed to foul hook up the bum! and that was my cue to put on half a dendra and go out over my chopped worm. The rig settled and the float just sat there, surely some perch wouldn't be able to resist a juicy bit of worm? With just 15 mins left, Martin had his third chub and I hadn't had a sniff, I tried two maggots for the last part of the match and the result was the same – nothing.
Robin blew for the all out and I was gutted that after such a great start, I couldn't capitalise. I had 15 fish and thought I might have just over 5lb, which I didn't think would be enough. Alvin walked past with the scales to weigh Rob in, his bream was 5lb 3oz but he didn't have much to go with it and his final weight was 5lb 6oz. My bream was 4lb 14oz and with my 14 'bits' I was relieved to see the needle stop on 5lb 13oz. Alvin had 1lb 8oz and Moses 14oz so I collected their £1's, Bruce had 4lb 13oz and Roger 2lb 10oz so it was still looking good. Bob had 12oz (the same weight he had on Sunday!) and then Martin had a level 8lb to spoil things. Scotty hadn't added to his chub and weighed 2lb 1oz so I was second and picked up £30 and had a good start to the league. So the weights were quite good for a three hour match but I'm still quite concerned that it's just odd bonus fish making up the weights.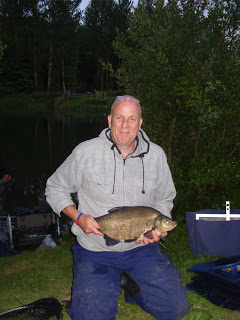 Robin with his 5lb 3oz slab
Next Sunday is the first of a trio of Perry St league matches, I wonder if I'll still be challenging after the third one? – I doubt it.
1 – Martin Heard (Tiverton) – 8lb
2 – Jamie Rich (Against Men and Fish) – 5lb 13oz
3 – Robin Cox (Ilminster) – 5lb 6oz
4 – Bruce Hunt (Tiverton) – 4lb 13oz
Also Rockin' Roy phoned me tonight to let me know that the Chard junior matches start at Perry St on Saturday 26th June. The draw is at the pond at 13:00, fishing 14:00 to 17:00. Names to Mike Collins on 07923 608581 or Roy Fowler on 01460 221019.