The first match of the Summer League was met with grey clouds and the threat of rain – great! At the Crown there was a decent turnout of eleven anglers with everybody wanting to draw pegs 1 or 16. Of course I didn't get either, drawing peg 6 which is a decent peg on the far bank. The big surprise was that Martin didn't draw it either, Robin got peg 1 and Alvin had 16.
We all got to our pegs and I had quite a bit of weed in the margins of my swim and Neil Dring kindly let me borrow his weedcutter. I spent ages clearing the swim and in doing so put quite a bit of colour in the water, would it help though? All my efforts didn't leave me much time to set up, so I quickly assembled my 4 metre whip with a Drake Crowquill and a 0.5 gram Drennan Roach for fishing out. Both had 0.08mm bottoms and fine wire size 20 hooks. I mixed up some Sensas Matchblend and was just adding some hemp, casters and maggots when the whistle went.
I chucked a little nugget on the whip line before cupping in two balls on the 10 metre line. I started on the whip with red maggot on the hook but despite loads of small fish topping the bites weren't instant and it took a while before I had a small roach. Looking around it looked like everyone was struggling but then I saw Leighton Cox slipping the net under a good chub to give him an early lead. I was still getting the odd roach and dumpy little perch but it wasn't fast and furious and after the first hour I was on twelve fish.
I shouted to Neil on the next peg and he'd only had four fish and Steve Parker on my right wasn't catching much but my whip line was dying. I could see Martin on the far side was getting odd fish on the long pole so decided to give mine a go and see if the catch rate was any faster than the whip. It wasn't and I never had a bite on it! I tried caster on the drop and had one small roach but I'm sure they were spooking in the clear water. I tried shallowing up as well but it wasn't happening. I took that rig off and put a little Drennan Squatt float on to fish up in the water properly but that didn't work either. Back on the whip saw me catch a couple of quick fish before it died again.
I was already all out of ideas, there were still loads of roach topping and I reckon a waggler fished out was the way to go but I didn't have my reels with me. Graham Bulgin and Robin were both walking, Graham hadn't had much and Rob had lost a carp but so far hadn't seen any sign of the chub. Neil lost a big perch at the net and not long after lost another good fish. I tried the light rig with maggot on the hook and started getting the odd small roach and struggled up to 20 fish. Alvin netted a good perch to put him among the leaders and Martin was still getting odd small fish and was now up to 40 odd fish.
Then just to add to the fun, it lashed it down! I was ready for the finish now and was resigned to a poor result. Neil had lost another good fish to polish his day off and then Steve next to me netted a good perch to finish off my hopes of sneaking a section win. I quickly packed up and while I was doing that Graham came round and collected the scales from me and started the weigh in. I was pretty soaked and I'm pretty sure my wellies have a leak now as well as my Drennan Drenchwear! Rob didn't find any chub and ended with 3oz, Graham had 1oz and Steve Parker's late perch plus two smaller ones gave him 2lb 12oz and I really hoped he'd frame with that. My 26 fish went 1lb 11oz, Neil found a small eel to boost his weight to 15oz. Bob Hammond had 12oz and Leighton weighed 3lb 3oz to go into the lead.
The other side had fished harder than I thought with Alvin the top weight there with 2lb 9oz, Martin had 1lb 10oz (which surprised me), Roger had 5oz and Graham Field had 1lb 1oz. With Steve framing that meant I'd sneaked the section and picked up £15 to keep the winnings ticking over, I'd also got two section points which is a good start to the league but I think I'll miss two matches so realistically I don't have much chance of doing well in the league.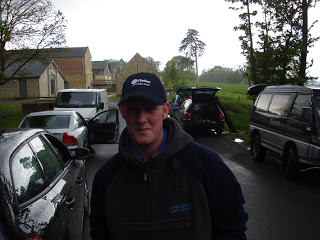 Match winner – Leighton Cox
So once again the pond had fished really hard and I really hope it improves soon, last year it got better as the year went on and the weather warmed up. We've got an evening fixture here on Wednesday and last year it fished quite well so lets hope that's the case. I'll let you know.
1 – Leighton Cox (Ilminster) – 3lb 3oz
2 – Steve Parker (Ilminster) – 2lb 12oz
3 – Alvin Jones (Chard) – 2lb 9oz
Sections
A – Jamie Rich (Against Men and Fish) – 1lb 11oz
B – Martin Heard (Tiverton) – 1lb 10oz