I was up early to get ready for Picky collecting me at 7:00, it was my birthday too (28 again) and we were off to Chris Haines's pond at Clivey. Picky turned up on time and we shoe horned all my kit into his car and set off via Cartgate for a brekkie. Oz and Bish also had some nosebag before the rest turned up and yes, Janders had yet another different hat on! Our convoy made good time and we were soon at the venue and in the shop ready to spend some more dosh. Janders made the coffee and tea and we paid the pools and sorted out some bait and I bought some Marukyu groundbait.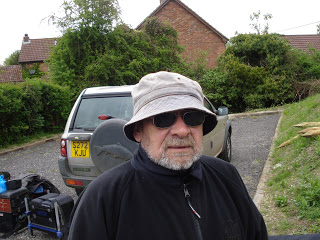 Janders 'Hat of the week'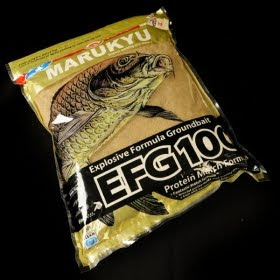 Marukyu groundbait
Once again Les took exception to my (rather smelly) hat and tried flushing it down the toilet! I managed to retrieve it and had to wear a wet hat all day – thanks Les! Then it was time to draw and as usual every peg pulled out was met with Les saying 'Best peg on the pond', I drew peg 10 which meant nothing to me. It turned out I was round the back of the pond opposite an island, a peg I drew on my first visit here and I'd struggled that day. After getting distracted by the carp last match and finishing just 15oz off third place I was determined to avoid fishing for carp today. It would be chopped worm and caster all day.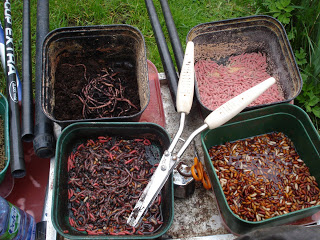 My bait tray for the day
I set up three rigs, a 0.4 gram Drennan Carp with 0.12mm bottom and size 16 808 for my main worm lines at 7 metres straight out and 8 metres to the left just off some lilies. I also set up a light Drennan Squatt float with 0.08mm bottom and fine wire size 20 hook as my plan was to keep putting something in the net, even if they were small roach. I also set up a small Drennan Blob with 0.12mm bottom and size 16 Kamasan B911 for against the island in case the silvers didn't play ball and I was forced to go for carp. Along with the worm and caster I also wetted some Ringers micro pellets for the island swim. It was rather a grey day and quite chilly, odd spots of rain didn't help either and quite a few anglers thought this might mean the weights would be lower and that 20lb would be a good weight today.
Bushy was on the next peg along on my right and Les reckoned nobody would live with him today as it's a consistent carp peg, I had Mike T on my left in the peg where I had my best Clivey weight of 23lb odd and Les was in the peg I had last match. In the last match I had put in nearly a full cup of choppie on the whistle and had to wait 20 mins before I started getting bites, so this time I put in just half a cup on both lines. I also dumped a load of pellets by the island. This time I had a little pole pot on my top three and intended to feed a pinch of worm and caster every put in.
Bushy was on the next peg and expected to do well
I started on my 7 metre line with the head of a dendra on the hook and once again the float just sat there while everyone around me seemed to be catching. After 20 mins I hooked a decent roach only for it to come off on the way in – good start! I swapped to the inside and started to get bites, my first two fish were tench around the 1lb mark (that's more like it), I love tench. Then I had a run of good perch up to the 12oz mark. The 7 metre swim seemed to be quite slow although I did manage a sweet little crucian carp and a small skimmer off it to give me 8 fish in the first hour. I was quite happy with this catch rate as this would give me 48 fish over the six hours and last match I'd had around 38 for 16lb 9oz so hopefully this would give me the target 20lb weight.
Hour two saw the inside line the more productive with some 1lb+ perch and some small carp and the odd roach and 12oz skimmer. The open water line was still quite slow although I did catch a little goldfish type thing and a couple of skimmers. Everybody seemed to be catching plenty of silvers and the odd small carp, Bushy kept trying his carp line but as yet he was quite quiet and I kept waiting for him to explode into action. Mike T and Les were netting plenty of fish but I couldn't really see quite a few of the anglers from my position behind the island.
I was still hitting my 8 fish an hour target with every fish requiring netting, I would put in a little dollop of choppie on one line before fishing the other. After each fish I repeated the procedure but the inside line was definately the stronger of the two. The bankside grapevine seemed to suggest I was doing well so I kept at it. I was getting loads of blows over my 7 metre line but I bumped/foulhooked a few skimmers and I reckon they might have been up in the water. I then hooked and safely landed my first decent carp of 4-5lb from the inside and I now had five carp including four smaller 8oz samples.
Mike T was getting quite a few small carp as was Les but Bushy was still strangely quiet. Oz across the pond was now catching carp regularly and I could see his yellow elastic stretching all over the place although he lost a few due to a big patch of lilies in front of him. I landed a second 5lb carp and was still getting the odd skimmer and roach, my Preston Hollow elastic was perfect for the carp but I was bumping the odd skimmer and I reckon Blue hydro would have been better. Hainsey came for a walk round and as he was coaching Butch I hooked a good carp from the 7 metre line and I heard him say how I was emptying it and that it must be solid – cheeky git! I had the fish under control and was down to my top three when it went under my keepnet and snapped me – bugger! I tied on a new hook and carried on but that fish was playing on my mind and I was hoping it wouldn't cost me at the end.
I was back on the inside when I hooked a decent fish which turned out to be a 3lb+ bream, incredibly it was the same fish I had caught last match here and on two other occasions (I could tell because of a mark on it's side). Hainsey said it's the only one in here and is called 'Billy'. That fish settled me somewhat and I carried on picking up odd fish from both lines, including my third decent carp. Oz was now catching strongly and Les was bagging and I wasn't sure if I was beating them or not. I was on 49 fish with ten minutes to go when I hooked another good carp, I was playing it carefully and I don't mind admitting I was shaking a little, Les blew for the all out and Mike T was playing a decent fish too, we both landed them successfully.
So I ended with 50 fish and I had no idea what weight I had, I thought I must have 20lb+. I felt I'd fished a really tidy match with the only blip being losing that carp and a few bumped fish. I'd done what I'd set out to do and just fished for silvers all day, in fact I hadn't picked up either of the other two rigs I'd set up. I turned on my radio as Chelsea were playing Wigan and needed to win to clinch the league title and they were winning 2-0 so it was all going to plan. I packed up and asked Les how he'd done, he said not as well as me but you can never tell with Les!
The weigh in started with Janders who had 10lb 6oz, before we moved onto Butch who had 18lb 10oz and then Mike T had an excellent 24lb 9oz and I wasn't overly sure I had that! Then it was my turn and my 4 decent carp plus about 6 smaller ones went a level 21lb and my silvers went 21lb 14oz, giving me a 42lb 14oz total and I was well chuffed. It was my biggest weight ever at Clivey but would it be enough. Bushy had 17lb 8oz off what is normally a really good carp peg but they just weren't there today. Then it was Les and I thought he might be one of the danger men, he weighed 28lb 8oz so I was still looking good. Les had done really well off a peg that hasn't done that well in recent matches so get's my man of the match award.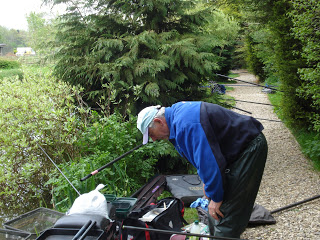 Les Braunton – Man of the Match
Next to Les, Steve Bishop had 19lb 11oz and then Picky didn't weigh and handed over a £1 (5-4 now, woo-hoo). Then came my other danger man, Oz and I was mightily relieved when he weighed 26lb 7oz, that just left Dunner and he had 24lb 6oz. So I'd done it, won on my birthday, won my first match of the year and for the first time at Clivey, to make things even better Chelsea beat Wigan 8-0 and were crowned Premier League Champions. The icing on the cake was Janders handing over £1 (well 70p actually). I'd also just like to retrospectively make Janders my joint 'Man of the Match' for last week when he had the best weight off peg 2 at Perry St this year.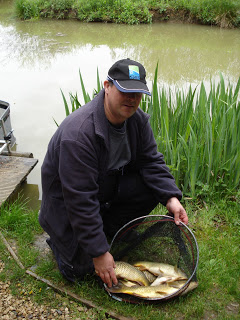 Oz with part of his third placed 26lb 7oz
1 – Jamie Rich (Against Men and Fish) – 42lb 14oz
2 – Les Braunton (Chard) – 28lb 8oz
3 – Steve Osborne (Chard) – 26lb 7oz
4 – Mike Thomas (Chard) – 24lb 9oz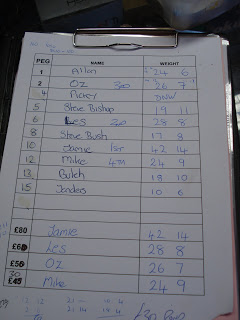 Good weights all round
I'd like to thank Chris for the use of his pond, a cracking little venue and to 'Billy' the bream for showing up on my birthday. Next week I'm at Dillington for the first match of the Summer League, I hope it fishes better than last Monday.