After a good night out at the Phoenix watching a band with my mate Andy it was off out Dillington for a very reasonable 12:00 draw for the blind pairs match. There was a decent turnout of ten anglers including Martin Heard who showed me some of his photos from his recent Thailand trip and it looks amazing and I can't wait until September when me, Scotty and Ash head to the same place. It was match organiser Robin Cox's birthday today and he was looking a little fragile as was his boy Leighton and Moses – Happy Birthday Rob!
The format today was very interesting, we would all draw and then fish and then after the match we would find out who we were paired with! I really wanted peg 17 and promptly drew it! and Martin Heard carried on where he left off last year by drawing the bush peg (peg 1) where loads of chub have been caught recently, does he ever draw a bad peg? Today the weather was supposed to be much better than yesterday but there was still a really cold wind along with the odd bit of rain – lovely. In fact the wind was blowing straight into peg 17 with a vengeance and it looked like I was in for another cold day.
Graham Field was on my right on peg 16 and Rob was on 18, I mixed up some Sensas Matchblend and started sorting the rest of my kit out. I'd bought some lovely Drake crowquill wagglers and had made one up specially for today for the whip. It was shotted with just three no 10's down the line ending in a fine wire size 20 hook. I also set up a 0.5 gram Drennan Roach for fishing at 10 metres, this had another fine wire 20 and 0.08mm bottom as I expected it to be quite hard.
Rob blew for he start and I cupped in two balls containing some hemp, casters and maggots on the 10 metre line before starting on the whip. I threw in a small nugget of groundbait and flicked out some maggots and the float disappeared only for me to bump the fish, still at least there were a few there right? – wrong! I couldn't get a bite and judging by the gnome like anglers around me, nor could anyone else. Eventually I managed two small perch but it was really slow, then Rob netted a decent perch from his long line so I chucked the whip up the bank and went out on the long pole.
Normally if the whips a non starter the fish are on the long pole line but this line was pretty much the same. After ten minutes my float eventually went as a 6oz perch took my single red maggot hookbait. I then added three small roach but it really was a struggle. Fieldy had about the same as me and after Rob's early bonus he was now sat waiting for bites as well. After losing a big fish Martin now had a couple of chub and was heading for yet another victory and I was praying I would get him as a partner. Looking across the pond I hadn't seen anybody catch a fish!
The wind was evil and I was really cold and not enjoying it at all but at least I'd remembered a flask of coffee today and was already half way through it. Then my float sunk from view and the strike resulted in solid resistance before my number four elastic streamed from the pole and I was attached to a big fish, not for long though as it snapped the 0.08 like cotton – bugger. I tied on another hooklength and went back to catching nothing, a brief return to the whip line confirmed there was nowt there either.
Leighton came for a wander around to warm up and he'd caught a chub and some bits but other than that it just a few small fish had been caught. Then Graham Bulgin latched into and landed a decent chub and I knew fishing for non existent bits was a waste of time. I quickly chopped up a load of worm and caster and deposited it on the ten metre line before changing to a more substantial elastic, hook and 0.12mm hooklength to sit it out for a bonus perch or chub. I tried double maggot and when this didn't work I stuck on a small piece of worm and then back to maggot and had no response at all. Rob and Graham were in the same boat, in fact the only person who was catching was Heardy who now had half a dozen big chub.
With an hour to go I still hadn't added to my six fish then Fieldy had two good chub from under the willow tree. Rob blew for the all out and for the second day on the trot I was glad to hear the whistle. Rob started the weigh in at Bruce Hunt who had 15oz, Rob weighed 1lb 4oz, my meagre catch went 9oz and Fieldy's chub assisted catch went 5lb 8oz. On the other side Martin had seven good chub for an excellent 23lb 8oz, Bob Hammond had 3oz, Leighton 3lb 5oz, Moses 8oz, Graham Bulgin 2lb 4oz and Steve Parker 2oz.
Then it was time to see who was paired with who, the first peg out was number one (Martin Heard) and he got partnered with peg 14 (Steve Parker) which meant they ran out easy winners with a combined weight of 23lb 10oz (that's the best 2oz Steve's ever caught!). I was now left hoping to get Graham Field as a partner but the two Graham's (Field and Bulgin) were pulled out together and that was second place taken care of with a combined weight of 7lb 12oz. The last two balls in the bucket were mine and Bob Hammond's and we had a combined weight of 12oz! so not too far off then!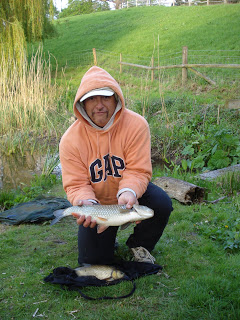 Graham with his second placed 5lb 8oz
Still it was something different and Rob's on about doing another similar event with a section on the pond and one on the canal, which I think would be good although a points system would make it fairer. So my two days fishing were quite poor and no coin, next week it's my birthday and we're at Chris's pond so hopefully the God's will smile on me and let me win (yeah right!).
Blind pairs
1 – Martin Heard (Tiverton) and Steve Parker (Ilton) – 23lb 10oz
2 – Graham Field (Ilminster) and Graham Bulgin (Ilminster) – 7lb 12oz
1 – Martin Heard (Tiverton) – 23lb 8oz
2 – Graham Field (Ilminster) – 5lb 8oz
3 – Leighton Cox (Ilminster) – 3lb 5oz