The weather for round four was awful (for a change!), I pulled out peg 4 and although not a flier, it did ok last match with Les catching 11lb odd off it. Les (or corner boy Les as he'll now be known) drew peg 10 but didn't rate his chances because the wind was blowing towards the other end. I had Steve Bush on my right and Janders next to him and Hainsey on my left so I prepared myself for a battering! Also I could see Picky opposite so I'd have a good idea how the side bet was going.
As it was blowing hard I decided to fish at around 6 metres and also feed the insides to my right and left. The open water rig was a Drennan Roach float with 0.12mm bottom and size 18 808 and the margin rig was a Drennan Carp with 0.12mm and the same pattern of hook but a size 16. For bait I had the usual maggot, corn and micro pellet (Ringers). Les blew for the all in and I cupped in some pellets and maggots at 6 metres and the same plus corn on both margin lines. I started out with double red maggot and after only 15 mins I knew it was going to be a struggle.
Nobody at our end was catching much, not even pegs 1 or 20, Picky had an early carp but there really wasn't much going on. I missed a bite before catching a small roach to avoid the blank. Chris netted a decent perch and had a foulhooked carp but despite my best efforts he refused to put it back! Mark 'Hoff' Hollister was doing well on the opposite bank and had a couple of good fish. Picky was now on two and I could see me losing another pound. Worse still was that Janders had landed a tench and a carp and I reckon it's all down to his latest lucky hat! He has that many hats I going to have a 'Janders hat of the week' photo every week!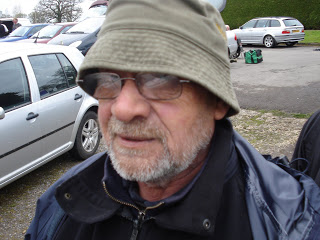 Hat of the week
I added a rudd to my meagre catch and was going nowhere fast, Chris had another carp and Picky was now on three (bye bye pound!). Janders was still getting odd fish although Bushy was in the same boat as me and league leader, Steve Bishop, was also struggling next to Picky. Reports filtered down that Les and Darren Roberts on 11 were catching. I kept feeding the insides and trying them every now and again but apart from a single liner I had no indications from either side. I was still potting in maggots and pellets on my 6 metres line and added two bootlace eels to my net.
Hoff was still bagging and looking good for a frame place, he now had several bream to go with his several carp and I'm sure he thought he was down the resi! Dave Abrams also got in on the act with a couple of carp but if anything our end was getting worse (apart from Janders). Picky was stuck on three although Bish had finally got off the mark with a small carp.
My inside lines were still dead as a dodo but with two hours to go I had my first carp and things were looking up! What cheered me up even more was the news that Chelsea had gone 1-0 up against Liverpool to keep their league title hopes alive. Then I had a second carp and it was starting to get interesting and I even started to think that if Janders framed there might be an outside chance of a section win. Then Chris spoiled things by landing a third carp, I then hooked a fish which turned out to be an 8oz eel which still left me chasing him.
I was getting blows on my 6 metre line and then I had my third carp to put me neck and neck with Chris and Picky. Then Chris hooked a good fish but lost it after a lengthy battle, I kept thinking I needed another carp but then Chris only went and hooked another, only for this one to come off as well! Bushy then had two in two chucks and our side had suddenly come alive. With 15 mins left Bushy struck into his third and Chris was into his fourth and all of a sudden my three wasn't looking so good anymore. My float then sunk from view and I was into one and played it gingerly, in fact there was elastic everywhere as Mike T on peg one, Bushy, me and Chris were all playing carp.
I netted mine and Les blew the whistle as I was unhooking it, so that was that, I was quite relieved as I was freezing cold. As I was packing up Les came by and said he'd had nine carp and a tench and one of his carp went 14lb 8oz (which is a handy bonus!) and that Darren had around eight fish and had snapped his pole on one. The weigh in started (as always) at one and Mike T had struggled for just over 3lb although he'd lost several, Janders had done really well to finish with five carp and two tench for 20lb 5oz. Bushy's three carp went 10lb 14oz and I thought it might be close between us despite my extra carp. In fact my fish went 11lb 2oz – phew! Hainsey then went and spoiled it by weighing 13lb odd, but then then weights dropped until Mike Hosgood had 16lb 1oz from peg 7 and then Les weighed 47lb 8oz. Darren had 39lb 3oz and the next best weight was Hoff who weighed 29lb 15oz from peg 16 and gets my man of the match award.
Dave Abrams had 10lb 10oz so that last carp of mine was worth a few extra points, poor old Oz didn't weigh on 17, Picky had 9lb 3oz (yes 4-4 now!) and handed over a £1 which I gave to Janders. Bish just had the one carp for 2lb 8oz and Dino had caught a few for 9lb 8oz. It was also the semi finals of the knockout with Chris Haines and Picky going through to meet in the final in three weeks time. Chris now leads the league on 63 pts, Les's win catapults into second on 59 and Picky is still in third with 55 and I'm just behind on 54. There's loads of people on 52 and 51 and a long way to go.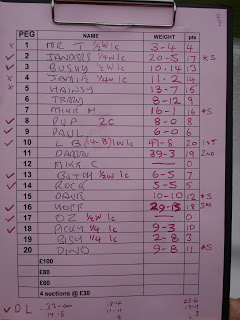 The corner pegs do it again
Tomorrow I'm out Dillington for blind pairs event which could be interesting!
1 – Les Braunton (Chard) – 47lb 8oz
2 – Darren Roberts (Chard) – 39lb 3oz
3 – Mark Hollister (Chard) – 29lb 15oz
Sections
A – John Anderson (Chard) – 20lb 5oz
B – Mike Hosgood (Exeter) – 16lb 1oz
C – Dave Abrams (Weymouth) – 10lb 10oz
D – Graham Pepper (Taunton) – 9lb 8oz