With no hope of a corner peg for at least another three matches I really fancied pegs 6 or 7 but pulled out peg 9, which hasn't had great form but the wind was blowing down towards pegs 10 and 11 and I thought I might get a few up in the water. Janders was across from me on peg 13 and Picky had drawn badly down on 16 so the £1 side bets were finely balanced. It was quite sunny but a lot cooler than it had been although there were still quite a few carp moving about in 10 and 11. Mark Hollister had drawn 10 and Hainsey had 11 and both are class acts and would be hard to beat today.
In fact with Alan Dunn on peg 6 and Bish on 7 in my section I couldn't see any hope of any coin today but at least I had the side bets to fish for. I set up three rigs (blimey!), a Drennan Roach float for fishing on the bottom at 11.5 metres, a little Trabucco dibber for fishing up in the water and a Drennan Carp for fishing down by the cormorant roost (sorry fish refuge). All had size 16 808's and 0.12mm bottoms. I mixed up some groundbait (Sensas Carp) and wetted some micro pellets before sorting out the rest of my bait. I also had maggots, corn and some hard 6mm pellets.
On the whistle I cupped in two balls of groundbait laced with maggots, micros and corn at 11 metres before potting in some feed by the barge. I baited up with a 6mm Sonubaits S-Pellet before shipping out to 11.5 metres and firing in six pellets every 30 seconds or so. Mark was quickly into fish and I decided to give it at least an hour up in the water. After 15 mins of lifting and dropping the rig while all the time firing in a few pellets, I was into my first fish and safely netted a 3lb carp. Graham Pepper on 14 also got off to a flying start and landed two carp quite quickly.
Mark (Hoff) was bagging and was soon on five fish, I was looking at him when my pole was yanked down but I somehow missed the bite! Hainsey opposite was also off the mark with a carp but even at this early stage it looked like the other end of the pond were in for a struggle. I hooked a second carp and after getting it under control, it snagged me up about seven metres out and I lost my hooklength. I did manage a second carp by the end of the first hour and thought if I could do two an hour I would get good points. Hainsey had pulled it back and the score between him and Hoff now stood at 5-5 and Graham was close behind on four fish.
I cupped in some more feed by the barge and continued fishing up in the water as I was getting enough indications to keep me interested and I was soon netting my third carp. Number four soon followed but every time I got one so did Hoff, Hainsey and Dino (Graham Pepper), in fact Hoff started pulling away from Chris and was already on six or seven fish. I kept feeding my inside line every hour or so as every time the wind dropped and the ripple disappeared, so did my bites. After three hours I was on five fish and it was already clear the winner would come form either peg 10 or 11 although they were both losing quite a few foul hooked fish.
Oz on peg 12 and Janders both now had a carp apiece and there also seemed to be quite a bit of splashing coming from the vicinity of pegs 6 and 7. The wind had now dropped and it was raining and I couldn't buy a bite, a brief try on the inside yielded no bites so I put some more feed in and went back out shallow. There were quite a few blows coming up from my long line so I tried a full depth rig with corn on the hook but never had a bite on it. Time was now ticking by and Hoff now had around a dozen fish and Chris 8 or 9 and I think Dino was on 6 or 7.
I came back on the inside and was feeding small amounts of bait via a little toss pot and missed two really good bites. With an hour to go Hoff had put his third keepnet in! Janders and Oz were now on two fish each so at least one pound was safe at the moment, also I had only seen Picky net one fish but you can never be sure. Another missed bite on corn and I was beginning to think I wasn't going to get any more. Then with quarter of an hour to go the float went and a decent fish was on, the black hydro did it's job and I netted my best fish of about 5lb with five minutes to go. No more bites and Les called the all out, Hoff had ended with 19 fish and Chris had around 12 and Dino had 9.
I packed up and as I walked past, asked how people had got on and it became apparent how hard it had fished towards the other end of the pond, Mike Collins had one carp, Bish had four but had lost five and Dunner had five and then it got even harder with Mike Hosgood on peg 1 only having two carp, maybe I might sneak my section after all? As always the scales started at peg 1 where Mike had 5lb 4oz then Bushy had 1lb 9oz from peg 2 and then Les put the first double figure weight on the scales, weighing 11lb 1oz. Dunner had 14lb 15oz form peg 6 and Bish a level 12lb from 7 and I thought I probably had that. Mike Collins had 1lb 14oz from peg 8 and my six fish weighed 20lb and I knew then I'd won the section as Hoff would frame.
Hoff's 19 carp went 63lb 2oz which was a fantastic weight and Hainsey weighed 38lb 5oz for second place. Oz had 8lb 3oz from peg 12 and Janders had 6lb 11oz and handed over a £1. He also had on a different hat and very fetching it was too! Dino did really well from peg 14 to sneak third place with 27lb 9oz. Picky weighed 5lb 14oz and handed over £1 (4-3 now) to make it a good day, things got even better when Chelsea thumped Stoke 7-0 to go back to the top of the league. The other end of the pond really had fished terribly with Dave Abrams only weighing 8oz off peg 20!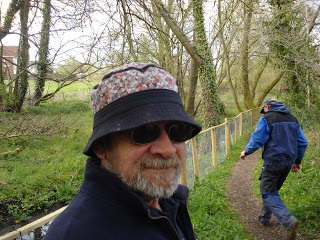 Janders was sporting a new hat!
So I picked up £30 for the section win and have rocketed up to 4th in the league with 40 pts which is currently being lead by Bish with 49 pts followed by Hainsey on 48 and Picky on 45. Round four is next week so more of the same would be nice! I was really pleased with how my day went and felt I'd fished a tidy match, hooking seven carp and landing six although I did miss a few bites.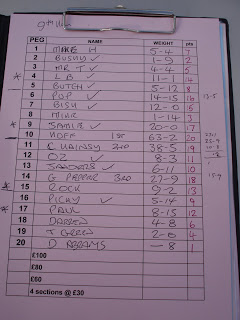 You can see how poorly one end fished by the results
1 – Mark Hollister (Chard) – 63lb 2oz
2 – Chris Haines (Haines Angling) – 38lb 5oz
3 – Graham Pepper (Chard) – 27lb 9oz
Sections
A – Les Braunton (Chard) – 11lb 1oz
B – Jamie Rich (Against Men and Fish) – 20lb
C – Roy Fowler (Chard) – 9lb 2oz
D – Paul Blake (Chard) – 8lb 15oz