Dave Lawrence picked me up at 7:00 and off we went, via Cartgate for a brekkie. There were only nine of us today and the pond looked really nice, Chris has given it a spring clean and got rid of lots of vegetation on the islands. I have struggled at the venue in the past and it's mainly due to me chasing carp, the last two matches I fished I got my head down for the silvers and framed both times and that was to be the plan for today (remember that!).
After Les emptied my wallet, it was time for the draw and I pulled out peg 5, which didn't mean too much to me until I got there and it was the peg where I lost a match-winning carp at the net. It's in a bit of a corner with reeds all along my left towards an empty peg, Janders was on the next peg along and I had Picky to my right so at least I'd be able to tell if I was going to be another £2 lighter! I also had an island opposite but I was determined to ignore the carp. It was a glorious sunny day and carp could be seen cruising and knocking the reeds about.
I had half a kilo of worms, micro pellets, caster, maggots and corn, so quite a full bait tray then! I set up two Drennan Carp rigs, both nearly identical apart from the one for open water had 0.12mm bottom and size 18 808 and the other had a beefier size 16 B911 and 0.14mm for fishing by the reeds (if I had to). I wetted some pellets and chopped some worms and was ready for the off with ten minutes to go. Les blew his whistle and we were off, I cupped in a full pot of choppie, casters and a few maggots at 8 metres in open water and micro pellet, caster and corn by the reeds to my left.
I started out with the head of a worm on the hook and had to wait quite a while before getting bites. In fact Janders had several fish and from the splashing to my right so had Picky before I got off the mark after 20 minutes with a net roach. Then I started to catch roach and skimmers and after an hour I had ten fish for about 2-3lb and I was pleased with my progress. Nobody seemed to be running away with it, in fact Janders had already slowed up and was trying his carp line. Hour two saw me catching a couple of better skimmers along with the roach but it wasn't as fast and furious as I'd hoped. I was having to wait longer and longer for bites so I decided to re feed the worm line and try the inside while it settled.
Janders had a decent carp of 5lb or so to put him firmly in the driving seat, I had a small carp on corn and two little tench on the inside before cupping in some more pellets and corn and going back over my worm line. It hadn't improved much and I was just about to give it up for a bad job when I had two decent skimmers to keep me interested and I was slowly clawing back Janders early lead. There still seemed to be a lot of splashing from Picky's direction and from all accounts, Butch, Les and Bushy were all catching well. I bumped a couple of fish so put some more worm in and tried the inside again.
I had also started feeding casters to the inside to my right but I never had a bite here all match. I missed some good bites on corn on my left hand inside but as I had a couple of roach I think they might have been the culprits, I also added another small carp. Janders had landed a couple more small carp and lost a couple too. I was swapping between my three lines and a lift bite over the worm line saw me net a 3lb bream which was very welcome and it was now tight between me and Janders but my two productive lines were slowing up. There were still loads of carp up towards the empty peg and I couldn't resist it any longer so shipped out to 11 metres, I lost a foulhooked carp and then had one on about 4lb and I thought it was fairly hooked but the hook pulled out of this one too!
I could still get odd fish from the worm line and I lost a couple of small carp from the inside. With an hour or so to go I thought I was out of it and concentrated on my inside but with all those carp showing temptation proved too much and I dug out a small dibber style rig and started flicking some 6mm pellets towards the reeds, but I never had a bite and in hindsight I wished I'd stayed on the inside or over the worm. I ended up with 37 fish and I thought I might just have double figures.
The scales started at Dave on peg 9 and he had 8lb 11oz, Bushy had an excellent 30lb 9oz from peg 1 and then Bish had 16lb 14oz from next door. Dunner had 17lb 8oz and I thought he'd been struggling!, Janders had 13lb 12oz and I thought I had a chance of beating that. My fish actually went 16lb 9oz and I was left cursing my faffing about for the carp, I should have done what I intended to do and just fish for silvers (will I ever learn?). Then Picky had 12lb 4oz which was a lot less than I thought and I gratefully pocketed his quid (4-2 now Picky!) and Janders handed over his too. Also it was Janders birthday today so happy birthday mate, you don't look a day over 75!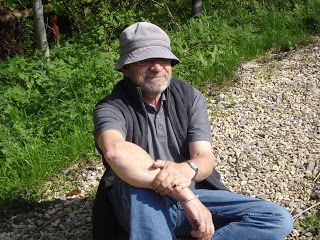 Birthday boy Janders (he's had a hard life you know!)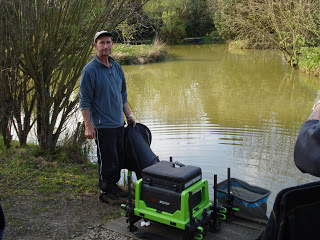 Bish just about to weigh in his 16lb 14oz
Butch then weighed 17lb 8oz and Les 20lb 13oz so another 1lb would have got me 3rd and I reckon I could have done Les if I'd ignored those poxy carp. I've also realised I need to sort my elastic out as my blue hydro is too tight and that cost me several fish as well.
1 – Steve Bush (Chard) – 30lb 9oz
2 – Les Braunton (Chard) – 20lb 13oz
3 – Butch Baker (Chard) – 17lb 8oz
3 – Alan Dunn (Chard) – 17lb 8oz
Next week is round three of the Spring league, so hopefully I'll make fewer mistakes then!