Much better weather for this one and the day started brightly (pun intended) when the league's sponsor, Chris Haines, gave us all Keenets sunglasses to cope with the extreme brightness of Bish's seatbox! At least we would now all be able to concentrate on our floats.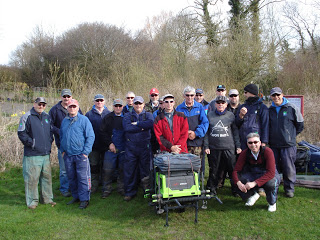 Bish is pictured in the centre (red fleece) with his box and the anglers are all wearing their new protective equipment (cheers Chris!)
Les announced the draw but first we had to draw for the individual knockout and I got Picky and as he'd beaten me three weeks on the trot out here, I really needed a good draw. I stuck my hand in and pulled out peg 10, a corner peg and just where I wanted to draw, Picky also got a corner in the shape of peg 20 and as the wind was blowing towards that end, there was every chance he'd do well. Bushy had peg 1 at the same end as Picky and I reckoned they'd both do well. Saying that, my peg is very good and has been doing well, Les was second off it in the last match. I also came in for a lot of grief and people started calling me the new 'Corner Boy'.
I got to my peg and it looked really fishy with quite a few carp cruising around, Oz was next to me on peg 9 and opposite on the other corner (peg 11) was Mike Collins, at least I think it was as he was togged out, head to foot in camouflage gear apart from a bright red hat! I mixed up some carpy groundbait and wetted some micro pellets before setting some rigs up. I set up a Drennan 0.5 gram Roach rig for fishing out and a little Trabucco Dibber for fishing up into the corner and down the insides. This rig would also double up as my up in the water rig if those carp stayed cruising about.
The lovely Steve Chant came round taking photos, which I hope to put on here soon and then there was just time to open some corn and have a quick coffee before we were off. I cupped in two balls containing some pellets, corn and maggots at 11 metres in open water before cupping in modest amounts on the inside and by the reeds at 13 metres. On the inside I added some corn and went with just maggots and pellets at 13 metres. I flirted with maggot up in the water but this just brought me a couple of small roach so I went to 11 metres with my deep rig. After half an hour I hadn't caught on this line and with Mike Thomas and Alan Dunn catching early carp, I was itching to try by the reeds.
I filled my little cad pot with pellets and maggots and shipped out with double red on the size 16 808 hook, I started getting bites, but only from small fish so I tried a piece of corn. Better indications followed and I was soon into a carp but not for long and I'm sure it was foulhooked. I then had a small carp which settled the nerves somewhat. Mike T was still getting the odd fish and Janders had a couple as well. I then had my second and lost another foulhooker and came back with a scale on the hook but it felt like there were loads of fish there.
After an hour I had two carp and I made sure I wasn't neglecting the inside and cupped in some more feed. During the second hour I added four more carp and lost another when the hook pinged out. There were still quite a few carp coming out but I was comfortably ahead of the people around me, Oz had got off the mark with a carp, Dunner had a couple and Mike T had added to his early fish although he'd lost a couple of screamers. At this point I felt my peg was solid and a really good weight was on, during hour three I added two more carp including my best fish of around 5lb to give me eight carp.
I refed the inside with it in mind to give it a try shortly, my 13 metre line started to slow towards the end of the third hour and I wanted to rest it. It wasn't just me though and everybody at our end seemed to have slowed up, still there was plenty of time to go. I came on the inside and had a bite quite quickly but the strike resulted with brief resistance before I came back with shit on the hook. The next bite saw the same result but this time along with the crap, I had a scale on the hook. No more bites saw me cup in a little more feed before going back on the more productive line. Did I say 'more productive'?, I now couldn't get a bite!
I gave it half an hour before trying my inside line again but the result was the same – nothing! The air temp had gotten a little colder and I wondered if this was the cause? Mike Collins had his first carp but nobody was really doing much up our end at all now. I tried my long line but came in a section where it was a bit deeper and the float went and I was attached to a big fish that lead me a merry dance and I had just about got it under control when it found a snag I didn't know was there and snapped me! Up until now I was really pleased with how I'd fished but it was now all going pearshaped. I tied on a new hook and went back over again, I had a bite which I missed before going back to watching a motionless float.
Time was now running out and I was pinning my hopes on the inside coming good in the last hour. Dunner was now catching quite consistently and I feared he might overtake me, I didn't know how the other end was fishing but reports suggested they were catching well and at this rate I wouldn't even pick up a section win, and from a corner peg as well! Back on the inside and nothing, I went to move the rig and a fish was on!, it wasn't very big but it had snagged me solid in all the brambles and although I could see swirls it wouldn't budge. I had to ship back and grab the elastic and pull for a break but slowly but surely the obstruction was giving and I thought I might sneak it in. Then the rig shot back at a rate of knots and on closer inspection the hook had straightened – great!.
The last hour I swapped between the two lines but never added another fish, in retrospect I should have stuck another section on as those fish might have backed off. I had eight carp plus a few bits which I reckoned might go 20lb or so. I packed up quickly and took most of my gear back to car, on the way I asked how people had got on and several people had 5, 6 or 7 carp and I was really regretting losing that big fish, which could have made all the difference. The scales started at Bushy on peg 1 and he had an excellent 41lb 9oz and nobody else would be near that. Hainsey had a nightmare and snapped his pole and weighed 11lb odd. There were several more double figure weights including Mike Hosgood who had three bream in his 13lb 6oz. Darren Roberts had just shy of 20lb and lost several as had Butch and that seemed to be quite a common theme for the day.
Dunner did well off peg 8 with 21lb 4oz and I wasn't sure I had that, my fish went on the scales and I was relieved when Butch called out 23lb 8oz, so at least I'd won my section. Mike T had a level 17lb but had been done by several as well, Janders had 12lb 1oz and handed over a £1. Terry Green came close with only five paste caught fish for 22lb 15oz but I was still hanging on to second place. I was worried though as Bish had seven fish and Picky eight. Bish's went 18lb 6oz but Picky's weighed 28lb 4oz so he pushed me down into third, knocked me out of the knockout and took a a pound off me, I'll get you next week if it kills me!
Still I picked up £70 and that's three matches on the trot I've picked up, that elusive third Perry St win still evades me and today was the best chance for ages for me to get it and I really wish now that I'd tried 14.5 metres. Well I won't have another chance of another corner for at least three matches because you can only draw two in the series. In the league Picky leads the way with 36 points followed by Bish on 34 and Terry Green on 30. With all the stick Bish has been getting I reckon he might use his section winnings to buy some black paint for his box!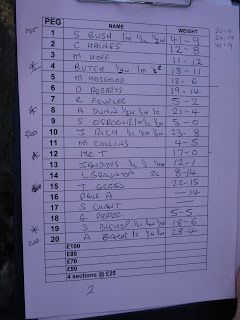 Scores on the doors
Next week we're at Chris's pond in Frome and I'm hoping for plenty of silverfish action, I'll keep you posted.
1 – Steve Bush (Chard) – 41lb 9oz
2 – Alan Gage (Chard) – 28lb 4oz
3 – Jamie Rich (Against Men and Fish) – 23lb 8oz
4 – Terry Green (Chard) – 22lb 15oz
Sections
A – Butch Baker (Chard) – 13lb 11oz
B – Alan Dunn (Chard) – 21lb 4oz
C – Mike Thomas (Chard) – 17lb
D – Steve Bishop (Chard) – 18lb 6oz