The weather was much better and there were even some blue patches in the sky and a big orange thing shining away! All I needed to do now was draw a corner peg! Les drew peg 10 and has now taken over Roy's mantle as corner boy! I drew and opened my hand to reveal peg 11, a corner peg! I now had to try and make the most of it. Janders had drawn peg 6 which has been quite consistent so the pound was all to play for. As well as the pound I had on with Picky (who was on peg 17), Les decided he wanted a piece of the action, he originally wanted a fiver but as he has much more experience of these corner pegs than me, we settled on a pound.
My peg looked the part although there was a cold wind blowing straight in my face and unusually there weren't any carp moving about – great! I set up the same two rigs as Friday with the only difference being that I upgraded to 0.14mm hooklength on my main rig. I also opened a tin of corn as Bish had caught most of his fish on it last Sunday. I settled on three lines, 11 metres in open water, 11 metres under the first tree and the margin to my left where Steve had caught late on.
Les blew for the start and everybody started cupping in their feed, I put maggots and micro pellets on the two longer lines and added some corn to the margin swim. I started in open water and missed a bite after ten minutes, which I think was a small fish but still took it to be a good sign. But that was it and Les hadn't caught either, Paul Blake on 13 had an early fish but it looked like it was going to be hard again. I gave the open water line forty minutes but had no more indications so I moved under the tree. I thought this might be better but I never had a bite!
Odd fish were by now being caught with both Rocking and Dave Abrams getting off the mark and Les had a small carp as well. I kept thinking 'any minute now' but it just wasn't happening and my worst nightmare was coming true, cocking up a flier. I kept thinking perhaps the really cold wind had something to do with it as it was coming over the top of Les and hitting me in the face. Les now had a couple of fish and I couldn't buy a bite. I tried the inside and had a couple of rudd but soon got bored of that and tried a piece of corn but the float just sat there.
Back out in open water saw me add a roach but I was going nowhere fast, we were now three hours into the match and I hadn't seen a sign of a carp. Bank walkers reported that odd fish were coming out at the other end and I was probably last on the pond and from a coveted corner peg! I was religiously feeding the margin hoping they would move in late as so often happens with carp. I asked Les where he'd caught on Friday and he said I was fishing the wrong place and needed to be further over. I dug out my 13 and 14.5 sections and pushed the rig past the first tree towards the second one and closer to the bank.
I had a bite quite quickly which turned out to be a tiny fish which fell off on the strike and I was becoming disheartened. Then a proper bite and black hydro streamed out and it was either a munter or foulhooked, it turned out to be the latter, hooked in the fin but at 3lb it was most welcome. I then had a second and as Les was stuck on five, I thought a comeback could be on the cards. A third one followed quite quickly but then it slowed. I was still getting the odd indication but I kept hitting a branch on the strike which wasn't helping. Also the otter fencing was making shipping out really hard work and most of the feed in my toss pot wasn't reaching its intended destination. I was trying to keep things tight and didn't want to reach for the catapult.
I did manage another carp but it was quite small and was praying for another, I flirted briefly with the inside but it seemed devoid of fish so I stuck it out long for the remainder of the match. I had a few indications but didn't add to my tally, I'm sure there were fish there but I'm a long way off the pace out here at the moment. As I was packing up, Picky walked up and said he'd had four carp, as had Butch on peg 20, Bushy had five and there were several people with two or three and I started to think I'd done worse than I first feared.
The scales started with Dave Lawrence on peg one who didn't weigh, next up was Bushy who did well from unfancied peg three with 20lb 12oz. Janders on six had a level 6lb and handed over a £1 which I gave straight to Les, Rocking had three carp for 11lb 5oz and I wasn't sure I had that. Dave Abrams had 7lb 6oz and Les came close with 20lb 5oz. My four carp and bits went 11lb 6oz and I'd pipped Rocking by an ounce. Blaker didn't weigh from thirteen although he'd had two carp and lost seven! Picky took a pound off me with 14lb 1oz and Mike Collins had 9lb 4oz form peg nineteen. With only Butch to go I needed him to beat Picky for me to sneak the section and he did just that with 15lb 6oz.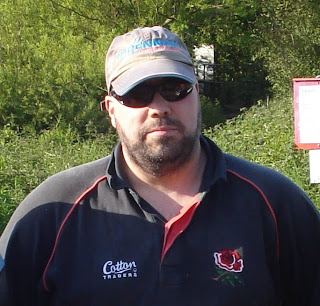 Bushy really didn't fancy peg 3!
So I managed to pick up £20 and keep the winnings ticking over but today was a case of 'must do better!'. Still I hadn't lost anything and it had been quite a nice day, I even had Les firing chocolates across the pond with his catapult, very nice they were too!
1 – Steve Bush (Chard) – 20lb 12oz
2 – Les Braunton (Chard) – 20lb 5oz
3 – Butch Baker (Chard) – 15lb 6oz
Sections
A – Jamie Rich (Against Men and Fish) – 11lb 6oz
B – Alan Gage (Chard) – 14lb 1oz
Next Sunday is round two of the Spring League and I really can't afford any more bad results.