There was a full house for the annual Good Friday match but conditions were awful with freezing cold rain pelting down and lots of rain during the night as well might well make the fishing hard. I was still praying for a corner peg though as loads of carp had been moving in pegs 10 and 11. Les announced the draw and promptly drew peg 11!, me and Janders drew late, he pulled out corner peg 20 and I pulled out poxy peg 4! Rocking Roy (the corner boy) actually didn't get a corner and was on 17 opposite me. My mood was lifted slightly when I got to my peg and I had quite a bit of cover in the shape of some dead reeds on the inside lines.
It was still chucking it down and I was already soaked and really cold, I was wishing I'd worn wellies and bought some waterproofs other than Drennan Drenchwear! I set up a 0.5 gram Drennan Roach float for 11 metres and 5 metres and a 0.4 gram Drennan Carp for the insides. Both rigs had 0.12mm bottom and size 18 808's at the business end. On my left I had Darren Roberts and Dave Abrams on the other side. As Janders had 20 and Picky had peg 6, I reckoned both pounds would be headed their way. I also mixed up a little Sensas Shrimp and Fishmeal groundbait for the long line.
Les blew his whistle and we were off, I cupped in two balls at 11 metres and small amounts of micro pellets (Ringers) and maggots on the five metre line and the two insides. I also added a few casters to the left hand margin to add a bit of variety. I started long with double red maggot on the hook and as predicted it was hard and a case of sitting and waiting. Roger Russell obviously hadn't read the script though and was into a carp from the cormorant roost between him and Steve Chant. The first hour was pretty much a non starter for our end of the pond (apart from Rog), Darren Roberts was getting the odd silver and that was it. I bumped a small fish on the long line and that was it.
Scotty Russell had drawn my peg from last week (8) and said he knew what not to do after reading this blog! He seemed to be proved right as well as he was playing a huge fish that he did well to land and at 14lb 14oz put him in a commanding early lead. Not to be outdone Rog added another and was miles ahead as nobody else down our end had anything vaguely carplike. Even the normally good corners (1 and 20) hadn't caught and nor had Picky so at the moment my pounds were safe. I was rotating my lines but after two hours I was still blanking. Les had caught a couple on peg 11 but that was about it.
I finally hooked a fish from the left hand margin which turned out to be a 12oz perch, my mate Andy turned up and the sun was actually out, this didn't last long though and the rain started again and he left us to it. I was so cold and bored and then to make matters worse Janders latched into a carp and after netting it was crowing somewhat! I then had a bite on the five metre line a carefully played and landed a 2lb carp despite a lot of barracking by Chanter who said he couldn't understand why I'd suddenly gone quiet! Brendon Ions on peg 1 also had a carp and I thought perhaps we might go on to catch a few now – wrong!
We were all going through the motions (apart from Rog who had now caught four and lost one), Chanter had resorted to facing the other way so he didn't have to keep seeing Rog's elastic coming out! I started getting bites from the right hand margin and had a couple of rudd and perch before hooking another carp which put me ahead in the section. Picky had a carp to keep him in contention for the pound. Back at 5 metres I missed bite and then next put in hooked a good fish which felt like an eel from all the head shaking! It did indeed turn out to be a snake and at 2lb+ it was unusual for this time of year but very welcome.
Darren was still getting silvers but no sign of a carp whatsoever. The weather and the fishing was that crap that Dave Abrams and Mike Hosgood packed up and had an early bath. I kept expecting Jander's and Brendon's pegs to switch on but the longer it wasn't happening the more I fancied my chances for the section. I couldn't buy a bite on the insides and was concentrating on the 5 metre line. I did have a bite where I struck and connected with the fish up in the water, foulhooked it didn't stay on long. I also had a good bite and the strike saw a good fish on briefly before my green Preston Hollow elastic retracted into the pole tip – bugger! On closer inspection the maggot was over the tip of the hook – bugger again!
Picky found two more carp up in the water and I needed another to be sure of collecting a pound but it wasn't to be although I was really glad to hear Les blow the whistle, I was so cold and wet. I packed up my sodden gear and took most of it back to the car before the weigh in. Brendon only had the one carp for 3lb and no one else weighed in the section until the scales got to me. I was admitting to 5lb or so and was pleased when the needle pulled round to 8lb 6oz. Darren had around 4-5lb of roach, rudd and perch but chucked them back. Picky's fish went 10lb so I really needed that last fish, I handed over Janders pound as he'd already conceded defeat.
Mark 'Hoff' Hollister had been sneaking them out and weighed 15lb 8oz and Scotty had added another to give him a total of 19lb 12oz (so that's how I should have fished that peg!), Bushy had 15lb 14oz from peg 10 before Les pipped him with 16lb 12oz. Les only had four fish, two big tench and two carp. Mike T had 4lb 8oz and Butch 4lb and then nobody else weighed until Rog plonked five carp in the weigh sling for 16lb 10oz. Janders single fish weighed 3lb 10oz but that was enough for him to win the section. I won my section and picked up £25 to stop a run of bad results and I felt I actually fished quite a good match.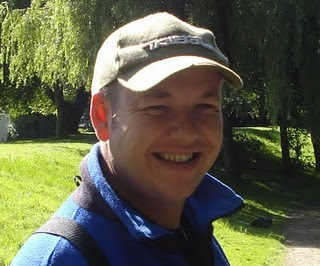 Specimen hunter Scotty had a munter of 14lb 14oz
1 – Scott Russell (Yeovil and District Angling Centre) – 19lb 12oz
2 – Les Braunton (Chard) – 16lb 12oz
3 – Roger Russell (Ilminster) – 16lb 10oz
4 – Steve Bush (Chard) – 15lb 14oz
Sections
A – Jamie Rich (Against Men and Fish) – 8lb 6oz
B – Mark Hollister (Chard) – 15lb 8oz
C – Mike Thomas (Chard) – 4lb 8oz
D – John Anderson (Chard) – 3lb 10oz
I'm back out there again on Sunday and at least the weathers supposed to be a bit better, just need to draw a corner peg now!