The final match arrived and I was guaranteed a corner peg today, as was my nemesis Janders. He paid me the £5 side bet we had on the league as I was thirty points ahead of him – cheers John! He'd phoned me earlier in the week and we convinced each other we'd draw pegs 1 and 20 (crap) rather the fliers 10 and 11 at the other end of the pond. Steve Bishop pulled out peg 11 so we hurriedly went in the bucket and Dave Abrams had the last peg which turned out to be peg 10 – bugger, our prophecy had come true. I opened my peg, hoping I had 20 but no of course I had poxy peg 1, not good.
The peg looks good but has been rubbish of late, there's a huge bank of lilies in front of you and more to the right leaving only a small channel to try and land an angry carp in – snag city. I still fancied I'd hook a few but whether or not I'd get them out was a different matter. I set up three rigs, a Carpa 2 for open water at 11.5 metres, a Drennan Carp for fishing by the lilies at 11.5 metres to my right and a Trabucco dibber for fishing on the inside to my right. This rig would also double up for fishing up in the water. All rigs had size 16 Tubertini 808's and 0.14mm bottoms. I also fitted toss pots to all three top kits (some might say this meant there was a toss pot at each end!).
I didn't have as long to set up as I would have liked due to having to take Les's gear to his peg (and he still won't let me fish Hainsey's the week after next!). On the whistle I cupped in half a pot of micros with a few bits of corn on all three lines before starting with the shallow rig and maggot to avoid the blank. My first small fish dropped off but I soon had two rudd and a roach safely in my keepnet, now for the carp! Janders got off to a flying start landing a small carp quite quickly, but apart from him nobody else at our end seemed to be doing much.
I went out on my open water line with corn on the hook, I had two bites quite quickly (which I missed) and felt it was only a matter of time before I hooked my first carp. I was still thinking this an hour later and it was time for a change, Terry Green-Niblett had landed a couple of carp on peg 3 to put him in the boss seat for the section. Bushy next to we was having lots of duck trouble but no fish trouble! My next move was to fish the line at 11.5 metres by the lilies, again I had a couple of bites before this died a death and I still hadn't added to my three small fish.
I fed all my lines again and tried the inside to the right, this seemed devoid of fish as well and I was all out of ideas (again!). Hoff was in third place in the league going into this match but had drawn badly on peg 18 on the opposite bank to my left, he'd just had one small carp as had Oz next to him on 19. I rotated all my lines again and had another bite on the 11.5 metre lily line, which resulted in a 4oz roach (not quite what I'd hoped for!). I then hooked a decent carp which I tried to tire out in open water but it still gave me some hairy moments in the channel, I eventually netted a decent common of about 4lb. Janders now had two carp and Terry Niblett had two carp and two tench but hopefully my fish would signal the start of a purple patch.
That fish was actually a false dawn and no more bites with over half the match gone left me scratching my head. Bushy was still getting 'ducked out' and becoming more and more frustrated, Terry now had five or six fish and would probably win the section or even frame. Word on the bank was that pegs 10 and 11 were catching (surprise, surprise) and Les had a few as did league champion Hainsey. Back on my margin line I missed a bite on banded pellet and then a good bite on corn, I felt there were some fish there but they wouldn't get their heads down. I kept having a nagging thought that they were up in the water as twice I lifted the rig into a fish and Oz had caught a couple shallow.
I then had a bite on corn that saw elastic streaming out briefly before the fish smashed me in the lilies (painful!). With half an hour left I tried up in the water with banded pellet and spraying pellets over the top but never had a bite on it. Janders ended with three carp and was looking good for a section win and a pound off me, he also gets my man of the match award for doing well off a shit peg. I was relieved when Les signalled the all out and will be glad to see the back of the pond until next year.
I was first to weigh and my carp and four small fish went 4lb 8oz, Bushy didn't weigh and if he never sees a duck again it'll be too soon. Terry did well with 22lb 13oz from peg 3, Mike C had a level 1lb and Les had 17lb 6oz from peg 5 although he smashed a top three on a fish which is still in the pond somewhere! Butch only had 5oz off peg 6 (so it's not just me then!) and then Blaker did really well with 33lb 11oz from peg 7. Alan Dunn (another contender for the league before today) blew out with 4lb 8oz from peg 8 and Picky took a pound off me with 7lb 6oz from peg 9 (and he wanted me to mention it's 8-7 to him now).
Dave Abrams had 30lb 8oz from 10 and Bish had an excellent 46lb 12oz from 11 and Dino had 25lb 10oz from 12 so this end had fished quite well again. Then there were two DNW's from Mike H and Rocking, Chris Haines was then the only decent weight in the remaining pegs with 19lb 3oz. Mike T had 5lb 8oz and Dave L weighed 5lb 2oz, Hoff blew his league chances with 2lb 11oz, Oz had 7lb 7oz and Janders a section winning 9lb 1oz (and did I mention he was man of the match?). All that was left now was the prize giving.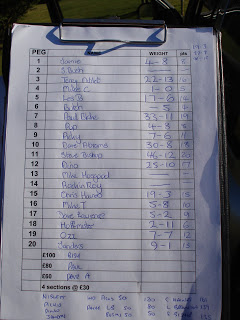 Once again the winning weights were the opposite end to me!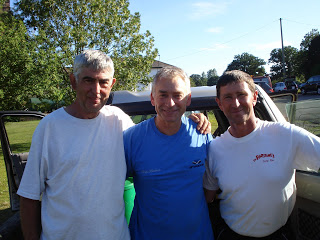 The top three in the league from left to right, Les (who came second despite having a leg chopped off!), Chris and Bish
Chris was crowned champion with 161 pts (an average of over 16 per match which is just brilliant), followed by Les and Bish leapfrogged into third place, well done guys. Bushy at least had something to smile about as him and Les won the pairs knockout and Picky won the individual.
1 – Steve Bishop (Chard) – 46lb 12oz
2 – Paul Blake (Chard) – 33lb 11oz
3 – Dave Abrams (Weymouth) – 30lb 8oz
Sections
A – Terry Green (Sillybait) – 22lb 13oz
B – Alan Gage (Chard) – 7lb 6oz
C – Graham Pepper (Chard) – 25lb 10oz
D – John Anderson (Chard Minnows) – 9lb 1oz
Final League Positions
1 – Chris Haines – 161 pts
2 – Les Braunton – 139 pts
3 – Steve Bishop – 135 pts
Pairs Knockout winners – Les Braunton and Steve Bush
Individual Knockout winner – Alan Gage
The club would like to thank Chris for his continued support and Les for organising an excellent league. Personally, my league had some highs and lows, did manage two third places and two section wins but also endured some gruellers, I was glad to finally get a result off peg 6 (perhaps I just need three goes at every peg!).
Mike C let me have the latest junior match result from 10th July on the pond (see below), all the juniors caught fish and the top two found bonus carp to boost their weights
1 – Ethan Collins – 4lb 9oz
2 – Kevin Buxton – 4lb 7oz
3 – Sean Atyeo – 6oz
4 – Brad Chard – 3oz
So I've fished four matches on four different venues this week and not picked up a bean! Next Sunday I'm back at Dillington and I'm not doing too well out there at the moment, I might try and sneak a Thursday match in at Summerhayes before then as well.