There was a good turnout of 13 for this one and I pulled out peg 17 and was well happy with that as it's a decent peg. When we got out the pond we had the added bonus! of the Festival of Yesterdays Farming taking place on the estate all around us, so much for a quiet days fishing! At least on the side I was on, we didn't have it all going on directly behind us. Roger Russell was on peg 16 and with the level back up, it looked nice, Steve Parker was on my left hand side.
There were loads of fish topping and it looked like being a good match, I mixed up some Dynamite Baits Roach groundbait before setting my rigs up. I set up the usual Drake waggler 4 metre whip rig plus a Drennan Roach for the chopped worm at 10 metres. I was going to set up a little Drennan Squatt rig for fishing past the whip line but I ran out of time. On the whistle I cupped in some chopped worm and casters at 10 metres before starting on the whip. Bites came straight away but a tiny roach followed by an even smaller perch wasn't what I had in mind. I switched to caster and started catching some quality rudd and roach. I was feeding hemp and caster with the odd little nugget of groundbait.
After an hour I had 28 fish for about 3lb or so and from what I could see most people were catching and at this early stage felt a good weight would be needed to do well. I was catching on the caster in spells and a switch to maggot saw my catch rate improve slightly but the average size of fish decrease but I was still getting the odd better fish. By the end of the second hour I had around 55 fish but the whip line was slowing. I cupped in some more choppie to keep the eels happy and would be trying it shortly. I struggled on for a bit but bites were now very few and far between.
The festival was in full swing and the chap on the microphone was giving out lots of interesting facts about vintage tractors and fire engines. The comments around the pond suggested that bites had dried up for most people so it was time for my eel line. I nipped a worm in half and shipped out, loosefeeding casters over the top and not neglecting my whip line. I waited ages for a bite and when the float slid away I was fully expecting lots of elastic to come out but was disappointed when a small roach was the result. No more bites left me scratching my head, there were still loads of fish topping so I went to holdall and set up a little shallow rig. This didn't work either and I only had one small roach.
By now several people were walking and it looked like bites had dried up for everyone, back over the choppie and a tiny perch was added to my net and time was running out. I tried the whip line again and had a run of five or six roach before that died. I stuck with it until the end and added one decent roach before the end to finish with 75 fish. I really wasn't sure what weight I had (for a change!) and was guessing at around 4lb, if the fish had all been the same size as the fish I was catching in the first hour I would have said I had nearer to 8lb.
As I was packing up I asked Roger what he had and he reckoned on about 3lb, Leighton wandered down and said that Malcolm Levy had won it off peg 1 as he'd caught four chub late on and also that Martin Heard had done ok on the small fish. Roger had the scales and started at Moses on peg 11, he weighed 3lb 10oz and I thought he'd done better than that, Robin had 2lb 2oz before Graham Bulgin had 5lb 7oz and I thought he'd struggled! Roger had 4lb 3oz and then it was my turn, it was close but Roger called my weight out at 5lb 9oz and I was leading the section with two to weigh. Steve Parker had 4lb 2oz and Leighton had 2lb 3oz, so I'd won the section!
As expected Malcolm won with 10lb 10oz from the other section but Martin ran him close with 9lb 11oz. Alvin was the next best weight in that section with 5lb 8oz so I'd actually sneaked into third place (and learnt loads about tractors in the process!). Also it was nice to ounce Alvin out of it for a change! although I wish I'd had a £1 bet with him now! Still he had the consolation of winning his section and Graham won ours. I picked up £25 to take my winnings for this year to over £900, although it will probably all go pearshaped now.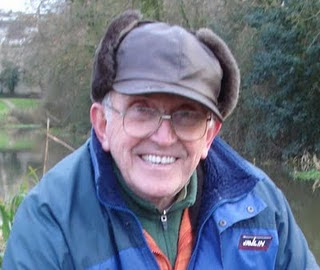 The 'Old Fossil' thought he was on the Trent catching chub!
Although the leading weights were decent it's still not great for six hours fishing and I still feel it could do with an injection of skimmers (and some more tench would be nice!).
1 – Malcolm Levy (Tiverton) – 10lb 10oz
2 – Martin Heard (Tiverton) – 9lb 11oz
3 – Jamie Rich (Against Men and Fish) – 5lb 9oz
Sections
A – Alvin Jones (Enterprise Angling) – 5lb 8oz
B – Graham Bulgin (Ilminster) – 5lb 7oz
Hopefully I'll get to fish the last evening match at Summerhayes on Thursday as I couldn't make last weeks.