After quite a bit of rain on the Saturday I was once again surprised to see the river low and clear but at least this week we didn't have bright sunshine to contend with. There were only eight of us fishing and this week Rob had put two pegs in at North Bradon, 92 and 96 and I didn't really fancy either and really wanted 14 or 27. Of course I pulled out peg 92, it's known as the 'Roach Hole' but hardly any roach show nowadays and it's normally chub that make up the weights from it. Last year a tree had gone down across the peg but Janders (remember him!) still did over 6lb off it and I also recall Neil Dring doing 18lb of chub off it a couple of years previous. Neil had drawn 96, which was a golden peg and had the scales. Rob said most of the tree was now gone and he saw several chub in there yesterday.
I got to the river and my peg looked really good and I couldn't wait to get started, it was a bit of a rush to get set up so only a single rig came out the bag and yes it was a Drennan Carbo! I plumbed up and there was a good depth running up to the tree in the water.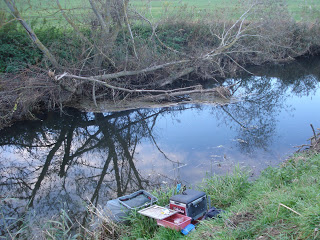 Peg 92, how fishy does that look!
The start time arrived and I went out in the flow with a single caster and missed a bite straight away, I then started catching small chublets and had eight and a roach in the first hour and I started to think I could do a weight. Surely it was only a matter of time before the big chub arrived? But then I got plagued by minnows and despite trying double caster, half a lobbie and upping the feed, they remained a problem. Every now and again I'd get a small roach, chublet, dace or gudgeon but I wasn't catching fast enough to do a weight. Where were those bloody chub? I kept holding back right by the tree but got snagged a couple of times and minnows were still being a bloody pest.
By the half way point I probably had a pound and a half and was very frustrated, then Neil arrived and he hadn't had a bite so I stuck at it, hoping for good section points are maybe even yet another default section win! Time was running out and still no chub when out of the blue I had a better chublet and three nice roach with the best probably around 8oz. Would I finish with a flourish? no was the answer as I only added a couple more gudgeon to end with 28 fish (plus minnows) for a couple of pound or so.
Neil walked up with the scales and reported that he'd had four good chub and lost two in the last two hours! My fish went 3lb 1oz and after four matches that's my top weight! and I still haven't caught a proper chub. Neil's four 'dogs' went 10lb 4oz and if he framed there was still an outside chance of a section win.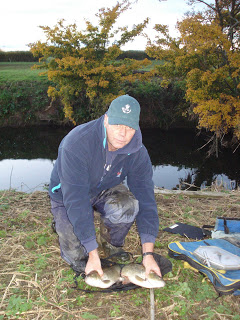 Neil with his late chub!
Back at the results and Neil had tied with Martin Heard (another £1 bites the dust!) for first place. So Neil won his second V.E.S. match (and golden ball) on the trot and Martin won his second match on the trot! Graham Field won the top section from peg 15 with 3lb 14oz and as for my section, Pete Lonton had 3lb 2oz from peg 27, so I'd been ounced again! I'm having a bit of a bad run at the moment, with a free date next week I think we're having a knock up somewhere so lets hope for an improvement then.
1 – Neil Dring (Ilminster) – 10lb 4oz
1 – Martin Heard (Tiverton) – 10lb 4oz
Sections
A – Graham Field (Taunton) – 3lb 14oz
B – Pete Lonton (Ilminster) – 3lb 2oz