More rain and the river was in perfect nick yet again, my day didn't get off to the best of starts when I overslept and had to rush over to Ilminster as I had all the stuff for the draw in the back of my car! I got to the pub (minus all my kit, which I'd have to go back for) and had all the usual abuse about me having my head up my arse, that sort of thing! Rob had put some cracking pegs in today including 14, 15, 27, 125 and 126, in fact the only pegs I didn't fancy were 18 and 29. When the draw was announced I thought I'd go in early and I hung onto my peg without looking while everyone drew. I was waiting for someone to say they'd got 18 and when this didn't happen, I slowly opened my fingers and there was poxy 18 staring back at me!
I drove back to Chard to get my kit really disheartened because although I'd done alright off it last week, with some good pegs in I didn't fancy 5-6lb would be enough to get in the frame today. I actually had the choice of 17 or 18 and when I finally got to the river I decided to give 17 a try instead as it did look nice. With me being so late, I had to get my patched up 'Ole Faithful' out for another session. The depth was fairly similar to 18 and when I finally got fishing I had already missed quarter of an hour, I started catching dace and small chublets quite quickly, along with the normal minnows.
My catch rate was similar to last week but the average size was smaller with just the odd net fish and I was going nowhere fast. The peg is just below a bridge and back when it used to be good, people used to catch by the wall on the opposite bank but it looked pretty pacy today. I probably had a pound or so in the net but with two hours gone things had slowed up and with nothing to lose I decided to try by the wall. The rig actually sat in the flow quite nicely and then the float just slid away and I was soon netting an 8oz chublet. Another three in as many chucks hinted there were a few fish there but then I couldn't buy a bite again.
Leighton wandered down from peg 14 (the tank traps) and said it was quite slow and he'd only had a couple of pound and that Dringer was struggling in 15. He'd also spoken to his dad on peg 29 and both he and Martin Heard on 27 were struggling but apparently Graham Field down on 125 was bagging and had phoned his missus to bring over another keepnet! I kept at it because although Graham looked to be a clear winner and I fancied 126 to be second there was still third place up for grabs.
I was still getting the odd fish from in the flow and every now and again I'd try by the wall and get another dace or chublet. I'd also fed an inside line from the start and kept trying it periodically but never had a fish from there. I was getting a few problems with minnows and tried lobbie and double caster and had a couple of fish on both to end with 28 fish which I reckoned would go around 3lb.
While I was packing up, Rob turned up, he didn't bother weighing in and Heardy had 1lb (woo-hoo, I'd beaten him two weeks on the trot). Dringer came down to weigh me in first and when I weighed 4lb 9oz I suffered the usual ribbing over my crap estimates. As I was loading my car they came back from weighing Leighton and he'd had 4lb 10oz – bugger, ounced again! I had to weigh Neil while Rob rushed off to weigh Fieldy in, Neil had 1lb 13oz so I actually scored two league points but was sure that I wouldn't pick up today.
Back at the results and Graham Field had weighed in a staggering 43lb 4oz to set a new match record! He'd caught 314 fish on the waggler and maggot and had an amazing days fishing. Janders held the old record of 37lb 8oz and I thought that would stand for years but as he's now defected to carp puddles there's no chance of him reclaiming the record. I do think it'll take something special to beat Graham's new record.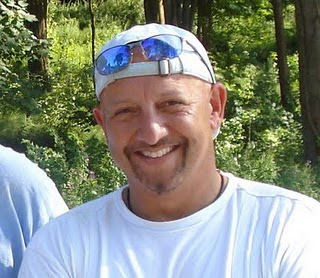 Graham Field – new River Isle match record holder with 43lb 4oz
I looked at the weigh boards and was surprised to see Steve Parker had only weighed 2lb 3oz from peg 126 and that Richy hadn't weighed from 128, which meant I'd sneaked into 3rd and picked up £16. Richy actually chucked back 44 fish and I reckon that might have pushed me, I learnt years ago to always weigh in as you never know!
1 – Graham Field (Taunton) – 43lb 4oz
2 – Leighton Cox (Ilminster) – 4lb 10oz
3 – Jamie Rich (Against Men and Fish) – 4lb 9oz
After three matches and dropping the worst result, Leighton leads the league with two points followed by Graham on three and me on four. Next week is round four of the V.E.S. and I'm just hoping I don't draw 17 or 18 again!