Unusually for me I spent quite a bit of time doing some prep on Saturday, tying hooklengths and doing some hair rigs for today. We were all in with a chance of a corner again but after last Sunday I didn't particularly want one! Before the draw though, Les had to do the preliminary draw for the individual knockout. I was one of the lucky dozen who got a bye to the next round (good job as it turned out, but more of that later). It was then time for the draw for today and I pulled out peg 4, which was where Hainsey won from last week, so I thought I might get a few.
Once again I had Les for company on the next peg and I don't think he was that impressed! I was intending to fish up in the water (just for a change!) and have the two insides for back up. Chris said he'd caught feeding 4mm pellets down the edge so that was the only change to the bait table, which also had the usual corn, maggots and 6mm pellets on it. The inside line to the right was through a channel Chris had cut in the reeds last week but it also had an anti cormorant rope going over the top which was going to impede striking.
On the whistle I cupped in some maggots, corn and 4mm pellets on the right and threw some in on the left hand margin before starting up in the water. First put in I was lifting and dropping the rig while feeding 6mm's when the float buried and carp number one was on. I had it under control and was unshipping when the sections stuck and came apart with a jolt and the fish came off – bugger. Still I was confident of getting a few more. The next two were only on very briefly and I think they were foulhooked. I did manage to land a small one before the first hour was up.
The second hour was much the same and I lost two more foulhookers and landed another small carp. Although it wasn't bagging I was fairly happy as most of the people in my section were struggling too and at this stage I was doing well. Bish and Blaker opposite only had one carp and a couple of eels each, Mike T on my right had one carp and Les hadn't caught a carp yet. I was still feeding both insides with 4mm's but I wanted to leave them as long as possible so kept at it on the long line.
I never added to my meagre tally in hour three and as Blaker and Bish had both landed another carp, Janders had landed a carp and Hoff now had two carp and a bream I was slipping down the section fast. It was time to try the insides, I slipped on a grain of corn and toss potted in some more 4mm's and corn. I had a couple of good bites quite quickly, but missed both with the reeds and rope proving to be a pain in the ass. I then had a bite which ripped the pole tip round but the resulting carp of 2lb wasn't helping my cause much.
Les had a couple of bream and a good foulhooked carp and he overtook me as well, Bish had another carp and panic was starting to set in. I tried banded pellet and corn on both inside lines but despite getting indications I never had another fish there. Carp could still be seen cruising and I decided to spend the last hour and a bit up in the water. I did have another foulhooked fish on briefly but that was it and I knew I'd be last in my section as Mike T and Janders had both added second good sized carp.
I packed up pretty pissed off as that would be my league buggered, in hindsight I should have concentrated on the inside and I might have had a couple more. The weigh in started at Bushy on peg 1 and he'd done well to land 43lb 9oz of carp and he would top the section and stay top of the league with that. Then Dino had 9lb 10oz, Mike T's two fish went 13lb 3oz and then my pathetic haul went 7lb 8oz, Les had 16lb odd. The pond had fished quite hard in places and Roy had 11lb 14oz from peg 6 before Hainsey put an excellent 83lb 3oz of carp on the scales from peg 7. Everyone knew he'd win with that to make it two wins at Perry St on the bounce and five wins in two weeks, he's just too good (and he had tennis elbow too!).
Next to Chris, Butch only had 6lb 14oz, Oz 3lb 14oz and Mike Collins 2lb 1oz. Picky did well from peg 11 with 53lb 8oz and I handed over a squid (and it's 6-4 to Picky now), he also won the second battle of the paste kings beating Terry Green who had 46lb 14oz from peg 12. The weights then dived and the next best weight along that bank was Steve Bishop with a level 25lb. Janders also took a pound off me with his 13lb to top off a miserable day. I was stone cold last in the section and 10 points meant I've slipped from 2nd to 6th. To stand any chance of doing well I need to win my section for the next four matches and that's never going to happen.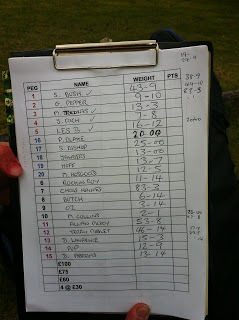 Quite a patchy weigh board this week
1 – Chris Haines (Haines Angling) – 83lb 3oz
2 – Alan Gage (Chard) – 53lb 8oz
3 – Terry Green (Sillybait) – 46lb 14oz
Sections
A – Steve Bush (Chard) – 43lb 9oz
B – Roy Fowler (Chard) – 11lb 14oz
C – Dave Lawrence (Tytherleigh) – 15lb 3oz
D – Steve Bishop (Chard) – 25lb
League wise, Bushy still tops the leaderboard with 13 points followed by Terry Green and Hainsey on 17, I'm way down on 24.
Well tomorrow I'm at Summerhayes but as it's on Longs, I'm not holding out much hope of a brown envelope there either!