The final match arrived and I was hoping for a good draw so I could finish with a flourish but pulled out peg 3 and I was pretty gutted as it hasn't been a great peg. Bushy got me to open his peg for him and he had peg 2 which he wasn't happy about. His main rival in the league, Hainsey had peg 20 which is a corner but tends not to be as good as 10 or 11, so it was all to play for. Also he was against Bish in the knockout final and he'd drawn peg 13 so he was probably favourite in the battle of the Steve's.
My peg had loads of lilies on the inside but I didn't want to have to go too close to them in search of fish. I had a shallow rig for 11.5 metres, a dibber for under the tree towards Bushy and a deep rig for 8.5 metres just past the lilies. Janders came down from peg 5 for a chat and then it was time to start. I cupped in some micros, corn and maggots on my two lines before starting up in the water with a hair rigged banded pellet. Bushy was into carp straight away as was Pup opposite but I was struggling to get indications. Hainsey was soon into fish, as was Mike (somewhere in the South West, possibly near Exeter) Hosgood on my left.
Bushy got to four or five and Hainsey wasn't too far behind before I hooked my first carp, I didn't think it was particularly big but it shot up towards Mike and was bashing the lilies to his left! Mike jokingly asked if I wanted him to net it for me, I got it back and thought I had it under control when off it went off again. This time Mike struck into a fish and our rigs got tangled and my puny elastic was no match for Mikes beefy elastic and he netted the fish! Everyone thought this was hilarious although it transpired that Mikes fish was hooked in the mouth so it looks like mine came off, not an ideal start.
I stuck at it for a bit and after an hour or so finally netted my first carp of around 3lb or so but I was already miles behind Hainsey and Bushy. Picky had landed one on peg 15 so the pound sidebet was still in the balance, although with all the grief him and Les were giving me I was hoping the fish fairy would pay them a visit. Plenty of fish could be seen cruising but they seemed very wary of the pole, Bushy and Hainsey were still getting odd fish and Oz on peg one had got off the mark after losing a few. After an hour I had put some more feed on my two other lines and with another hour now gone, I decided to try them.
Firstly I went to the 8.5 metre line with corn on the hook and toss potting in some micros and corn, I gave it half an hour but only had one small indication. I was still feeding pellets out and there seemed to be plenty of carp milling about now that the pole had gone from over their heads. I had a look on my right hand inside line and started getting bites but I just couldn't hit them. After five or six missed bites I finally did connect with one and landed a good carp of 5-6lb without too much fuss. I did hook another but as I got it into open water, the hook pulled out. I also tried banded pellet on the inside but only had a couple of indications on it.
With carp on the long line swirling for the odd pellet, it was time to go back and have a look. I'd noticed Bushy was fishing much shallower than me, six inches to my foot, so I made a quick alteration. I pulled out of a carp (foulhooked?) before hooking a bit of a beast which tore through Pup's swim before going through Bushy's as well before I could get it under control. My green Preston number 12 Hollow elastic was woefully under gunned really and I must get some pulla-bungs because I had hell of a job trying to net the fish. I eventually netted it and at 6-7lb it was a nice weight builder. I had a couple of smaller carp to put me on five and all of a sudden with an hour and a half to go, I was getting regular bites and Bushy had slowed right up although he was on around ten fish so I couldn't see me catching him.
I had another carp which must have been pushing 8lb so I shouted across to Les to ask if he wanted me to take it to be weighed as there was just over an hour left. I even received loads of stick from Les and his sidekick Picky about that! and Dave decided he would join in as well, it was like being back at school! Still, it looked like the fish fairy had answered my prayers as they seemed to be struggling. This blog also seemed to come in for a fair bit of stick (but I bet you're all reading it now though aren't you?). Oh well I suppose you'll always get some people who want to take the piss and if they don't like it, why bother reading it!!
I had another of a similar size to put me on seven carp (and a roach that had snaffled a 6mm pellet) and from rather a bleak start it was looking like I could do a decent weight. With half an hour to go I hooked number eight and again I think it was a good fish, I was down to my top two and it wasn't doing too much when it went into a patch of lilies and was stuck solid, eventually I had to pull for a break and lost the hooklength. I really hoped it wasn't going to cost me and was wishing I'd played it in open water a bit longer. That was to be the last of my action and I made a mental note to myself to get some pulla-bungs as soon as possible as over the course of this league I reckon I would have landed a fair few more fish if I'd had them fitted in my top kits.
Picky asked how many fish I'd had and when I shouted back seven, he said he'd had four so there was a good chance of us ending up all square at 7-7. I hadn't seen much happening at the other end so was hoping Bushy would frame and I might get the section by default. Then as anglers started walking back it turns out the other end had fished quite well, Andy Eagle (fishing instead of Terry Green) had 16 carp in peg 10, Butch had ten opposite and Bish had ten carp and a bream from peg 13 which meant the knockout final would be tight as Bushy had 11 carp.
The scales arrived and Oz had over 21lb in peg 1 before Bushy's fish went 56lb 15oz, I pulled out one net with my two biggish late carp in and they went over 15lb and my other five went over 21lb to give me a 36lb 11oz total. To top my day off I ripped a hole in my second keepnet as I pulled it out (TackleUK here I come!). Mike H weighed 29lb odd and Janders just shy of 20lb so I pocketed a nugget, Picky also paid up before weighing so we ended up all square.
I finished packing up and took my kit back to my car, as the rest of the anglers came back, Andy Eagle had won as predicted with 69lb 7oz, a victory on his very first visit! Butch had weighed 27lb 2oz so I just needed Bushy to beat Bish to pick up the section. Bish had 42lb 3oz so at least I'd have a brown envelope to come to help pay for a new keepnet. In the knockout final it turned out that the two Steve's had tied on points so Bushy nicked it on weight, it couldn't have been closer, a great final. Hainsey's 15 carp went 60lb 13oz to take second spot and although he gained a point on Bushy it wasn't enough and Bushy took the league title.
At the results Andy was announced as the winner and very generously donated £20 to Les's charity. Bushy was announced as the league and individual knockout champion and a very worthy winner too, over the ten matches he's finished in the top three six times and won his section twice, only not picking up winnings on two matches. Hainsey was second with the Hoff third and Bish fourth and then I sneaked into fifth and picked up another £20 to go with my £30 section winnings, so a good end to the league really.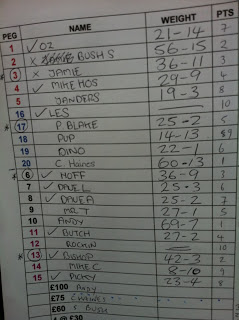 Good weights yet again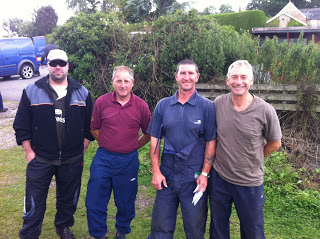 The top four in the league (from left to right), Bushy, The Hoff, Bish and Hainsey
1 – Andy Eagle (Haines Angling) – 69lb 7oz
2 – Chris Haines (Haines Angling) – 60lb 13oz
3 – Steve Bush (Chard) – 56lb 15oz
Sections
A – Jamie Rich (Against Men and Fish) – 36lb 11oz
B – Mark Hollister (Chard) – 36lb 9oz
C – Steve Bishop (Chard) – 42lb 3oz
D – Paul Blake (Chard) – 25lb 2oz
Final League positions
1 – Steve Bush – 24 pts
2 – Chris Haines – 26 pts
3 – Mark Hollister – 35 pts
4 – Steve Bishop – 36 pts
5 – Jamie Rich – 41 pts
Individual Knockout – Steve Bush
Pairs Knockout – Steve Bishop and Mike Thomas
I would just like to thank Les for organising another excellent league and the Cotley for doing the breakfasts (they are huge and well worth checking out). Well this will be my last year fishing the league as Les has said I can't fish next year as I don't fish the other Chard leagues. It's a real shame as I've fished the Spring League every year and he knows I fish the river in the winter. It's a friendly league (on the whole!) and I've really enjoyed fishing it and they're a great bunch to fish with and I will miss it.
Oh well, tune in next week to see if I've finally bought some pulla-bungs (and a new keepnet!).