After quite a bit of rain in the week and some last night, I was hoping the river might have a tinge of colour for today and the signs were looking good for a decent match. I got to the draw and there were ten of us fishing today including 'Rocking' Roy Fowler and Leighton Cox who was fishing his first match for ages. I got a coffee and checked the section boards, there were some really good pegs in but two stood out that I really didn't fancy, peg 123 and 125 which I had in the last V.E.S. match.
Pete announced the draw and I hung back a bit but was soon wishing I hadn't as I couldn't hear anyone say they'd drawn either of those pegs! I stuck my hand in and pulled out poxy 123 and as it's a peg I've never done any good off, I was already fearing the worst at this early stage. Rocking drew last weeks winner 126 and I expected him to do well, Rob drew 124 which has been really consistent, Martin had 125a and Justin had 125 and I just couldn't see me getting too many points today.
I got to the river and there was a slight tinge but not as much as I'd hoped for and you could still see plenty of 'stick ups' and cabbages. I quickly set up a Drennan Carbo and plumbed up, I had a nice depth across at about 10 metres and there was a decent amount of flow as well. There were lots of minnows topping and I began to think I might catch a few. We were starting at 10:00 and I'd barely finished setting my one rig up when it was time to start. I started across with a single caster and was feeding casters, maggots and hemp. The float slid away after a couple of minutes and I swung in a gudgeon so at least I was off the mark.
A couple more 'gobies' followed but I wasn't really setting the world alight, I took a section off and had a run of three small chublets but that was short lived as well. I was by now fishing double caster as the minnows were being a real pain. I tried half a lobbie tight across to the far bank cover in search of a chub but only succeeded in getting snagged up and losing a hooklength. After an hour or so I only had those six fish plus a few minnows for a few ounces in total. It was time for a coffee and a wander. First port of call was Rob on 124 but he was down watching Martin on 125a, I sat down with him and Heardy said he was struggling, he was getting a few tiny roach on the waggler but had already lost a pike. Rob said he'd only had a few bits but had lost a couple of decent fish.
Rob went back to his peg and I finished my coffee behind Martin, he said Justin was getting some small dace on 125 but as nobody seemed to be running away with it I decided to get back to it. As I walked past Rob he was playing a fish but it came off on the way in, I carried on walking! Back at my peg and first put in I had a 12oz chub and when I followed this up with a couple more small fish, I thought I might put together a half decent weight. It wasn't to be though and I just kept adding the odd small dace, roach and chublet but had no quality at all.
Half an hour from the end, Rob walked up and said he'd had two chub, while he was there I had a 4oz roach but only added two more small fish up to the end of the match. I finished with 20 fish (plus minnows) and would be lucky to do a pound and half. After a really good start to the river matches my weights are going down hill rapidly, although I don't think my drawing hand has been performing very well. I quickly packed up and as I was taking my gear back, Rob arrived at Justin to weigh him in. He'd had lots of small fish for 4lb 11oz, with a section last staring me in the face I asked how Roy had got on and was surprised when Rob said he'd packed up! Apparently he'd thrown back 3lb of fish with an hour and a half to go so at least I wasn't going to be last in the section.
Martin had found a chub and weighed 5lb 7oz and Rob's two chub plus bits went 6lb 9oz and I knew I would be scoring four points today – not good! My fish went a lowly 2lb 1oz and if I never see that peg again it will be too soon. Back at the results and Leighton had caught small fish steadily all day from peg 85 to win with 8lb 8oz, Pete Lonton had a similar day in the weirpool at Isle Brewers (120) and was second with 8lb 2oz and Rob was third.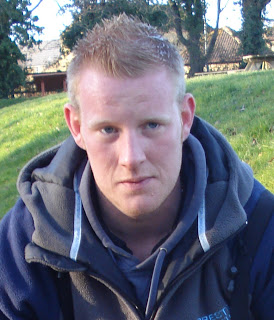 Leighton was victorious on his first river match of this campaign
1 – Leighton Cox (Ilminster) – 8lb 8oz
2 – Pete Lonton (Ilminster) – 8lb 2oz
3 – Rob Cox (Ilminster) – 6lb 9oz
Sections
A – Graham Field (Taunton) – 5lb 12oz
B – Martin Heard (Tiverton) – 5lb 7oz
You can drop a match in this league and after two matches I already need to drop one!
There is a free date next week with no match scheduled, I'm willing to arrange a knock up so if Martin Heard, Steve Parker, Graham Field or anyone else wants to fish, let me know or else I'll probably go to Summerhayes (if there's a match on!).