After two weeks with no brown envelopes and no Ilminster match this week I booked into a match at Summerhayes. The match was on Sellicks and I have a pretty good record on this lake so I was hoping to get back to winning ways again. At the draw there were all the usual suspects like Mark Leahy, Heardy and Bruce Hunt who was hoping he could make it a hat trick of wins today. I was hoping for a nice middle peg so I could fish for silvers and really didn't want to draw peg 23. But my drawing hand is really not behaving and I pulled 23 out of the hat! Still I had 12lb of skimmers off it last time and I thought double figures would be enough today.
The pond level was right up but Pete said pleasure anglers had been bagging with silvers off my peg so I was feeling quite buoyant. I had Heardy on the next peg and he was keen to have a side bet which I thought was a little unfair as I was fishing for silvers, but I still agreed like a mug! I set up a Carpa 2 for my two skimmer lines at 8.5 metres in the bay (where I caught last time) and 10 metres straight out about two thirds of the way across. I also set up a dibber for fishing right in the corner and also for across to the island but hoped I wouldn't end up fishing either of these.
Pete shouted the all in and I cupped in half a pot of micros on both skimmer lines and the same plus some corn in the corner. I started on the 8.5 metre line with a 4mm expander and was expecting to catch quite quickly but after ten minutes I still hadn't had a bite. Martin got off to a good start landing some skimmers and a couple of carp, fishing tight across. Eventually I started getting a few bites but I couldn't hit them and then I foulhooked a carp briefly before it came off. After an hour I was still blanking and Martin was well ahead with three carp plus some silvers.
I went out to the 10 metre line and finally got a skimmer and followed this up with a 2lb carp and thought they had finally found the bait but those fish proved to be a false dawn. I added a couple more skimmers plus some tiny ones and it looked like the silvers weren't playing ball at all. I kept swapping between my two skimmer lines but it took two hours before I had a decent skimmer off the shorter line. I then hooked what I thought was carp on the longer line only for a near 2lb tench to pop up! That fish got me interested again and when I added another decent skimmer I thought I still might be able to challenge for the silvers.
But then my swims died completely and all I could get was the odd tiny skimmer of an ounce or so. Martin had slowed up as well although he was comfortably ahead of me with about six carp plus some silvers. I tried in the corner with soft pellet and corn but only had another tiny blade. Running out of ideas I went across to the island at 13 metres and had one tiny skimmer before losing another foulhooked carp and I was going nowhere and just didn't know what to do next.
The rest of the match was a real struggle and I was just getting the odd knock from small fish and only landed one more decent skimmer before the end. I ended with that tench, around seven decent skimmers plus around a dozen tiny fish and that carp. I thought my silvers might go 4-5lb which I just knew wouldn't be enough today. I quickly packed up and went to watch the weigh in which started with Bruce on peg 3. He had 13 carp for over 40lb plus some silvers to total just over 44lb and was looking favourite to win although by all accounts Adie Bishop had also done well.
As the scales worked their way round the lake I was keeping an eye on the silvers weights and nobody had much more than 4lb and I started to think I might sneak in. Adie Bishop was 6lb shy of Bruce's weight but it put him in second place. Then we got to Glyn Wickham and he had 10lb 10oz of silvers in his 25lb+ total, I knew I didn't have that but I thought if he framed I might pick up by default, this didn't last long though as somebody pipped him a few pegs along. Glyn admitted he'd lost six carp and two big tench so he could have won it. Martin then moved into third place with 33lb+, I didn't bother weighing my single carp but out of interest weighed the silvers which went 6lb 13oz which was second in the silvers, the trouble was, Pete was only paying one today!
Oh well, my bad run continues, in hindsight I should have fished 0.10 instead of 0.12mm and some maggots or casters would have been a good idea as the fish just weren't having the pellets at all. Glyn caught on chopped worm and several people caught on maggots or bread and it just goes to show how quickly you can fall out of touch with a venue when you haven't been for a few weeks and the weather starts to get colder.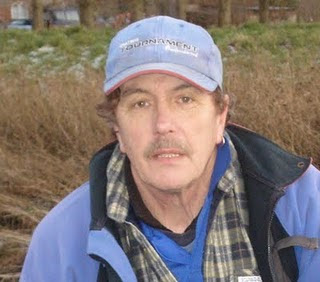 Bruce did the hat trick
1 – Bruce Hunt (Tiverton) – 44lb+
2 – Adie Bishop (Summerhayes) – 38lb+
3 – Martin Heard (Tiverton) – 33lb+
Silvers
Glyn Wickham – 10lb 10oz
Weather permitting I am back on the Isle next week so tune in to see if I can put this bad run to bed then.