After three bad weeks I was hoping to turn things around this week and as Rob, Leighton and Neil were off playing darts (getting drunk), it was down to me to sort out the pegs for this match. I intended to put all decent pegs in and was hoping to put us all down at Redbridge and Isle Brewers but ended up putting three pegs at Upper Coxes. There was 14, 15 (or 18) and 17 at Coxes and then 106, 108 and 120 down at Redbridge/Isle Brewers. I really fancied 14 or the three pegs at the bottom end but pulled out 17 and it's a peg I just can't seem to do well off. Martin drew 14 but kept telling me I'd win off my peg, yeah right! but to be fair he did do 8lb 15oz off it a couple matches back and there seems to be quite a few small fish there at the moment. I'd still rather have his peg though!
When I got to the river I was amazed to see it low and clear, especially as we'd had a lot of rain in the week. I sat right down by the water, just below the bridge and as I was setting up, there were loads of small fish topping and I was actually starting to look forward to it. Fieldy had the choice of 15 or 18 and chose the latter which I didn't think would do me any favours as the peg is directly below mine. I set up a Carbo on quite a long line so I hopefully wouldn't spook the fish in the shallow water (it was only about 18 inches deep) and was ready with ten minutes to go.
I started with the top three with a couple of sections added to fish down the middle but only had indications from minnows so I soon added another section. This was better and I was soon catching dace and some tiny chublets, all on single caster. I put another section on and started getting odd fish across by the wall. I wasn't really flying but after an hour I had 14 fish for probably a pound or so. I kept trying down in the main flow where the fish had been topping but only had a couple of very small roach. The second hour was a carbon copy of the first and I added another 14 fish and thought if I could keep this up I would have around 5-6lb which might sneak into third place as I couldn't see me beating Heardy or Justin in 120.
Hour three was slower but I wasn't too concerned as I hadn't ventured down the peg yet. Ned turned up for his weekly walk and was joined behind me by Fieldy who said he was struggling and was probably wishing he'd fished 15 now! I added a couple of fish while they were there and Graham accused me of bagging! By now I was regularly trying down the peg but it just wasn't happening, a big fish rolled in the flow a couple of times and once just above and I tried half a lobbie to try and snare it but never had a bite on the worm. I kept adding the odd dace and chublet and ended up with 43 fish plus a couple of minnows and thought I had around 2lb 8oz which wouldn't get me a brown envelope today. My only hope was is Pete in 108 and Steve in 106 had struggled and I might sneak third but it was unlikely.
Graham walked by to weigh Martin in and when he came back he said Heardy had 5lb 13oz, which was nearly all trout! (I reckon Martin was fly fishing!). His weight surprised me as I thought he would sack up in there today. My fish went 3lb 6oz and Fieldy had 1lb 6oz (and was definitely wishing he'd picked 15 now!) so at least I'd secured two section points for the league. Back at the results and Justin had a lovely days fishing and won with nice net of dace and chublets weighing 9lb 7oz. Not far behind was Steve Parker who had three chub for 9lb 1oz, his peg was also a golden peg so he was close but no cigar! and Martin sneaked into third.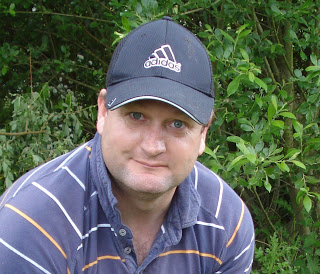 Justin won with a nice net of dace and chublets
1 – Justin Charles (Ilminster) – 9lb 7oz
2 – Steve Parker (Ilton) – 9lb 1oz
3 – Martin Heard (Tiverton) – 5lb 13oz
With the three darts players away, the league is tight after three matches and after dropping the worst result Pete Lonton and Heardy are leading with three points followed by me, Justin and Robin on four.
Next week is the Royal Oak league so tune in to see if my bad run continues or if I can get back to winning ways.