As you may have noticed from the title, we have a new co-sponsor for this league in the Tacklebox in Chard and I would like to say a huge thank you to Darren for his support. Also new for this week was my sparkly new Preston waterproofs although with how dry this winter has been so far it doesn't look like I'll get to test them anytime soon! Rob had used the bottom end of the river again as it was still low and clear and with only six of us fishing there was a good chance of drawing a good peg. I really fancied pegs 120 or 126 but of course Heardy drew the former and Rob drew the latter (why can't I draw like that!). I delved into the bucket and pulled out peg 124 again – great! Earlier on in the season it had been producing chub but I struggled for 4lb 2oz off it a couple weeks back and Pete Lonton only had 10oz off it last week.
I got to the peg and decided to sit a little lower than last time so I could reach all of the swim with 13 metres. I only had time to set one rig up and it wasn't deep enough so I had to do a bodge job and add some more line on (professional I know!). Still at least I looked the part in my new gear! The start time arrived and inching the rig through in the main flow with caster on the hook I was soon getting the usual minnows and the odd little roach and dace. After an hour I'd had 5 or 6 but probably didn't have 4oz yet so it was time to try half a lobbie. This produced a few knocks from small fish but after two hours I hadn't added anything else to my net and it looked like being yet another struggle.
I decided to have a coffee and wedged the pole between my legs so the float was holding back in the flow at 10 metres. I was just tucking into a sandwich and some crisps when the float went under and a better fish was on! At 10oz it wasn't the biggest chub in the swim but it more than trebled my weight. I went back out with another half a lobbie on and just as I reached for my half eaten sandwich, the float went again and I had another chublet, this time around 12oz-1lb. That's it I'd found them I thought but apart from a few knocks I went back to scratching around.
I went back to caster and had a few more small roach and dace (plus minnows of course) and was about to give it up as a bad job when I had a better roach of about 6oz. No more decent refins followed so I was back on the worm with a couple hours to go. Ned turned up for his usual Sunday walkabout, although this time he was doing a bit of piking with his two boys. He said Neil in 129 was struggling and Rob was getting bits in 126. Just after he left I had a really good bite on worm that saw elastic come streaming out of the pole and the fish was right back under all the far bank crap. I was convinced it was a pike until I saw it flash and it was definitely a decent chub. I applied more pressure and eventually it came out backwards and I netted it to find out it was foulhooked in the tail! Still at 2lb 8oz it was gratefully received.
I was thinking a couple more of those and I'd be in with a shout, Ned returned and said Heardy in the weirpool was getting odd fish but not really bagging so it looked like it could be another low weight day. I kept trying all round the swim with worm and did get another around 12oz from the top of the swim and that was it. Despite upping the feed in the last hour I never added anymore fish to my net and just can't seem to catch more than one decent chub from this swim. I thought my 18 fish (plus minnows) might go 4-5lb and if the fliers hadn't fished as well as expected I might sneak in the frame.
As I was packing up, Neil wandered up with the scales and said he hadn't bothered weighing as he only had a few small fish but Rob had a lovely net of mainly quality roach weighing 11lb 6oz and I thought he'd win with that. My fish went 5lb 3oz so my estimate was pretty bang on for once. We got back to the results and Martin had weighed 9lb 12oz (so much for struggling then!) and I started to think I was going to miss out. Leighton hadn't caught in 108 and Steve had one chub for 2lb 7oz from 106 but had lost three. So I sneaked into third place and picked up £13 to keep my winnings for this record breaking year ticking over.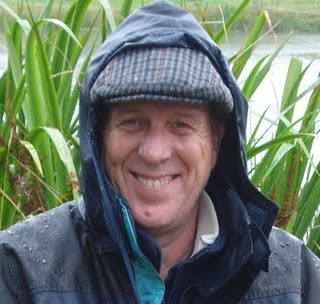 Rob continued his good form with a nice net of roach weighing 11lb 6oz
1 – Robin Cox (Ilminster) – 11lb 6oz
2 – Martin Heard (Tiverton) – 9lb 12oz
3 – Jamie Rich (Against Men and Fish) – 5lb 3oz
League wise, Martin still leads with 3 points, Rob has leapfrogged me into second on 4 and I'm in third place with 5.
Next week is the Xmas Fayre which I won last year and I would love to do it again, I just need to draw a flier now!
On the plus side, there are still some good nets of small fish being caught and it bodes well for the future, if only we could get some colour in the river I'm sure you would see some really good weights.
Before I go here's the link to the Tacklebox's website http://www.lymetackle.com/ please check it out and pop into the shop's in Lyme or Chard and support your local tackle dealer.