After buggering up most of my rigs over the last few weeks, I actually spent quite a while on Saturday making up rigs, tying hooks and putting new elastic in my pole. This combined with my new waterproofs had me raring to go on Sunday, I just needed a decent draw now. There were twelve of us today including Ned and his boy, club treasurer Andy Welch and Tony Newman who we hadn't seen since the first V.E.S. match! Pete announced the draw and I waited a while before delving in and looked around to see what others had drawn, Pete had the much fancied 126, Leighton had the 'Council House' which was in for the first time this season and Andy Welch had 85 which has been a consistent peg this year. I went for it and pulled out 82 again – bugger! I did have the choice of 82 or 83 and everyone reckoned I should give 82 a go. Then Heardy had the last ball in the bucket and it was 120 and I knew he'd be there or thereabouts from there (and he really is drawing well at the moment).I got to the river and was surprised how low it still was considering how much rain we'd had in the week, but that seems to be a sign of the times with the river rising and falling very quickly. I went up to look at 82 and it looked okay but it's on a high bank which I didn't much fancy with the gusty winds predicted for today. Also the cows were around and I didn't really want to spend half the match fending them off, so 83 it was then! I made myself comfortable before getting one of my shiny new rigs out and plumbed up around the swim, the rig was pretty much spot on and I waited for the start with a cup of coffee.
10:15 arrived and I baited up with caster and inched the float through in the flow leading up to the bush and it slid away and I swung in a gudgeon, next chuck I had a dace and followed this with a chunky little roach. I was feeding casters, maggots and hemp and getting a bite every run through. After the first hour I had 26 fish, mostly gobies with the odd dace and roach and thought if I could do 20 fish an hour I wouldn't be too far off double figures by the end of the match.
The second hour was pretty similar and I added another 24 fish although I was catching mostly gudgeon along with the odd minnow (which I didn't count) and was ahead of my target at this stage. Hour three saw things start to slow although I still had 16 fish to put me on 66 and I was still ahead of my target. Nearly all my fish were coming from above the bush and holding back by the bush saw very few indications which surprised me as the swim screams chub!
Hour four saw me really struggling, I did have one gobie on maggot, I tried poking the rig right in under the bush and had an 8oz roach straight away, next chuck I had a 6oz chublet and thought perhaps I'd found them again but it was short lived and I only added a couple more gudgeon. I flirted briefly with worm but never had a touch on it. The wind was pretty strong but as I was only fishing about 8 metres it wasn't affecting me too badly and then the rain started! It was coming down quite heavily and I was glad of my new waterproofs which seemed to be performing really well.
I was still putting the odd fish in the net but it was obvious I wasn't going to reach my target, as the light started to fail I had three roach including a couple of better ones to finish on 79 fish. At an ounce each I would have 5lb and as I had some better fish I really thought I might have 7-8lb. I weighed Andy in who had struggled with the wind for 8oz although he did lose a good chub, I plonked my fish on scales and was disappointed when the needle settled on 5lb 14oz although I felt I'd fished a good match and had only dropped one fish off.
I got back to the pub and people started filtering back, Heardy had done 7lb 15oz from peg 120 (he must know that peg like the back of his hand now!) and was top until Leighton came back from the Council House swim where he'd had 8lb 2oz and he'd packed up an hour early! There were a couple of 5lb+ weights but I was still hanging on in third place until Neil Dring appeared and he'd had an excellent 12lb 11oz from peg 96, so I'd just missed out on the frame.
Pete did the results before we all tucked into an excellent buffet laid on by Steve and Cindy and then it was time to pick our prizes, I was called out in fourth and got a nice bottle of whiskey which would do for Mum as she likes the odd drop or two! I forget to mention that Martin had yet another £1 off me and I only have one match left to try and win one from him this year.
1 – Neil Dring (Ilminster) – 12lb 11oz
2 – Leighton Cox (Ilminster) – 8lb 2oz
3 – Martin Heard (Tiverton) – 7lb 15oz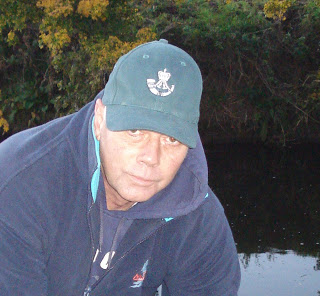 Xmas Fayre winner – Neil Dring
So that just leaves next week to see if I can finish on a high and break through the £1300 barrier.
The club would like to thank Pete Lonton for getting all the prizes, Robin Cox for organising the match and Steve and Cindy at the Oak for laying on a lovely spread.
The final match of the year is next Sunday and the draw is at the pub between 8:30 and 9:00.
Barney's Pairs Open has been rescheduled from New Year's Day to March 4th.