After some freezing weather and plenty of rain in the week, I really thought the river would have plenty of colour for this match and when Rob said he'd pegged the top end, I fancied it could be a good match. After a hairy drive to Ilminster on very icy roads, I was disappointed that there were only five hardy (or should that be stupid) anglers at the draw. I really fancied peg 14 (the tank traps) but pulled out peg 15 (close but no cigar!), still it's a half decent peg, especially with extra water on, so I wasn't too disappointed.
I got to the river and was amazed to see it still quite clear, it had extra pace but no real colour. My peg looked really good though, it's a big pool with the main flow through the middle and under my feet with slacker water on the far side. From experience I knew there was a deep hole in the middle and a decent depth until it shallows up in the tail. Being a lazy git, I just set up a 1.5 gram Drennan Carbo and plumbed up around the swim to make sure I would be slightly overdepth.
After a quick coffee it was time to start, I fed the far side where the flow eddies back, in the middle and in the flow under my feet. I started holding back in the flow and had a bite straight away from a small dace, which dropped off on the way in – good start! Then I couldn't get a bite and a change from caster to maggot saw me catch a minnow to avoid the blank. I tried the far side but never had a bite so next it was down the inside but when this was no better I was running out of ideas. I stuck another section on and went down past some overhanging crap on the inside and the float buried straight away and I swung in a 3oz chublet, I thought I'd found them but then couldn't buy a bite again!
I felt like there were some fish about so I took a section off and inched the float through on the inside, a decent bite saw some elastic out and I gratefully netted a 6oz trout (which count). Next put in I bumped a fish before having another trout of a similar size before it went quiet again. I tried all three areas again but had no more indications. Rob came down from the tanktraps and said he hadn't had a bite yet! While he was with me I was on maggot down the inside when I had a couple of little digs which I thought was probably minnows but when I went to move the rig a fish was on briefly! I'd already lost as many fish as I'd landed and I was hoping they wouldn't prove costly.
Rob went back to his peg and left me to it, I did manage a tiny dace from across on maggot but was still going nowhere. I tried half a lobby to see if there were any more trout about but never had a bite in the three spots I had fed. More out of desperation than anything I stuck two sections on and went down towards the tail of the swim and the float didn't even settle before shooting away and the pole tip starting knocking as well! and I still missed it! I came back and half the worm had gone. I tried again but never had another bite down there.
My last action of the day was another small trout on caster from in the flow 11.5 metres down the peg. I packed up hoping the others had found it as hard as I had. Steve walked up from peg 17 and said he had struggled too, before going up to see how Rob had got on. I took my kit back to the car and got the scales and walked up to weigh Rob in, he'd found two trout and weighed 1lb 3oz, I wasn't sure I had that! Next was Steve and he'd had four trout (think we might be better off fly fishing next match!) for 2lb and I knew I didn't have that and was staring at last in the section. My three trout, one chublet, tiny dace plus a couple of minnows went 1lb 4oz – phew! So at least I had two section points to keep me in contention in the league but it could have been so much better if I hadn't bumped off those fish.
Back at the results and the anglers at Ashford had struggled with Martin winning yet again with 3lb 6oz of chublets from peg 82. Neil Dring had 1lb 4oz which meant me and him had tied for third place and picked up £7.50 each! I lost yet another £1 to Martin and will have to try and recoup some in 2012, but I'm not holding my breath!
1 – Martin Heard (Tiverton) – 3lb 6oz
2 – Seve Parker (Ilton) – 2lb
3 – Jamie Rich (Against Men and Fish) – 1lb 4oz
3 – Neil Dring (Ilminster) – 1lb 4oz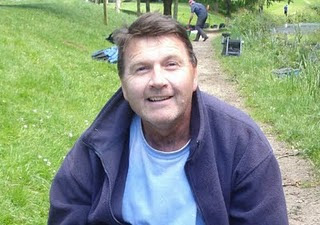 Martin finished the year leading both leagues
Well that's it for me in 2011, my best year ever winnings wise although I missed out on making it £1300 by just £9, maybe next year! I won nine matches and jointly won the evening league at Dillington with Moses and going into 2012 I'm joint second in this league and not too far off the pace in the V.E.S. Precision league. I would just like to wish anyone who reads this a very Merry Xmas and a Happy New Year and of course TIGHT LINES.