STOP PRESS After last weeks blog, Scotty messaged me to say there was a match at Summerhayes on Sellicks if I fancied it, so I had one more chance to try and break the £1300 mark. My alarm going off at 6:30 was a bit of a shock to the system, as was getting up in the dark! I got to Bridgwater and there was a decent turnout of anglers including Martin Heard (who I paid my £1 to from last week) and Bruce Hunt who has been winning matches at Summerhayes with frightening regularity.
Scotty had sorted me bait out (top man as always) and today I had liquidised bread, slices for punching, micros, expanders, pinkies and maggots. I'm made up some 4 x 14 rigs with size 18 808's to 0.10mm and was quite looking forward to targetting the silvers. After a cup of coffee it was time to draw, I pulled out peg 9 which Pete reckoned was a good silvers peg so that would do me. For company I had Bruce on peg 6 and Heardy on end peg 4 (yet another flier!) and Adie Bishop on my left in the corner. As we were setting up, it looked like they were after carp across so I should have the silvers pretty much to myself.
Pete shouted the all in at 9:15 and I cupped in a few micros and pinkies at 10 metres down the track and some liquidised at the same distance but to my left before cupping some bread in across for the carp. I started down the track with double pinkie and the pimple of float I had showing soon disappeared but I missed it, next put in I had a 4oz skimmer and I was off the mark. I had a few more tiny blades before catching a 4oz carp and was quite enjoying it. The weather was incredibly mild and there was no wind as yet. Adie had got off to a flying start and had landed three or four small carp although Bruce and Heardy hadn't got much at this early stage.
After an hour I had eight fish for probably a pound and decided to try a 4mm expander to see if I could catch some better quality. I had a couple more 4oz skimmers before landing a 2lb carp. A few blades followed before I hooked another decent fish which turned out to be a 1.5lb crucian which was a welcome addition to my silvers net. I was missing quite a few bites though and bumping the odd small fish. I tried punch over the left hand swim but only caught one tiny skimmer on it so started feeding micros there as well to give me somewhere to go to rest my main swim.
We had some freezing rain which thankfully didn't last long but a gusty wind had got up and it was making presentation a nightmare. I was still getting odd small fish but now Heardy was motoring on carp and as Adie now had probably ten carp I couldn't see any point going across as I was never going to catch them up. So it was head down to try and win the silvers prize. Halfway through the six hours I was still geting the odd 4oz skimmer and had one around the half pound mark and thought I was on course to do 5-6lb which should be good enough as 4-5lb had been winning the silvers.
Bruce was really struggling and had turned his attention to the silvers and was catching tiny skimmers every put in and even had a little tench. I knew I was probably just ahead with my crucian but I was now struggling and I could see him overtaking me at this rate. I tried pinkie again over both lines and could get odd tiny blades but it was still very slow. I kept trying pellet but was missing way too many bites. As the end of the match approached I was convinced he'd done me and I finished with 38 fish and I thought my silvers might go 4lb.
The scales arrived at Martin and he had 63lb 1oz and would be there or thereabouts with that, Bruce weighed 5lb 13oz of tiny skimmers which was a really good weight and I didn't think I had that. My carp weighed 2lb and then I plonked my silvers on the scales and the needled settled and Pete called out 5lb 15oz – phew! but would it be enough? Adie had 46lb+ and then I continued packing up as the scales went round the other side. As I was packing the car Scotty turned up and he'd had 11lb 10oz of skimmers – bugger. I was hoping that he'd frame as he had over 30lb in total but it wasn't to be as peg 23 had 56lb+, so I'd failed in my bid to top £1300, maybe next year then!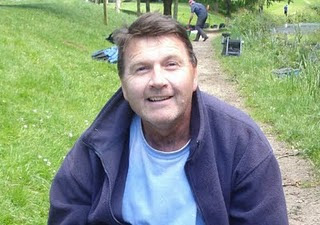 Heardy does it again! (I'll have to get another picture for next year as I'm getting sick of this one!)
1 – Martin Heard (Tiverton) – 63lb 1oz
2 – 56lb+
3 – Adie Bishop (Summerhayes) – 46lb+
Silvers
1 – Scott Russell (TackleUK) – 11lb 10oz
Well that is it for me for 2011, there are matches at Summerhayes on New Year's Day and Monday 2nd Jan but my next match will be on the Isle on the 8th Jan and you can read all about how I get on right here. Happy New Year everyone, have a safe one.