STOP PRESS (Again!) Despite me saying I wouldn't be fishing again until the 8th Jan, Les phoned me about a knock up down the resi and I thought I'd give it a bash. I was up early and the first to arrive in the car park, Bob Hammond soon turned up followed by Janders and then the rest who had been for breakfast. I suffered the usual abuse about being lost and did I know that this wasn't the river! There was a decent turnout of 11 and after getting some bait from Les it was time to draw. Les won the Xmas match from peg 8 but reckoned the other end would be better today as it was out of the keen wind. Les got me to draw for him and I pulled out 7 followed by peg 2 for me. Bish had peg 1 and I had Oz on my left with Janders next to him so at least I could keep on eye on how my pound was looking!
It was certainly a couple degrees warmer down our end so hopefully I might get to see the tip go round a few times. I was wary that Scotty said he didn't have a bite for three hours in the Xmas match so it could be a waiting game. As always my first job was to mix my groundbait and today I had some Sensas Black Bream which I thought would be ideal given the resi was clear and the fishing likely to be quite hard. I set up a feeder rod with a small Drennan groundbait feeder and finished off with a size 18 B611 to 0.10mm bottom. I didn't want to put too much feed in and decided to start quite light to try and raise a bite. I clipped up at around 40 turns and had a quick coffee before the start.
My first cast with double red maggot ended in disaster when I had a tangle and spent a while sorting that out. I was eventually under way and hadn't missed much as nobody had caught around me. In fact the first hour was an anti climax as nobody around me had a bite and I was now fishing double pinkie on the hook. I was only putting in a couple of pinkies in my feed and I was leaving the feeder out for quite a long time. Also my casting wasn't particularly accurate but then I hadn't done any feeder fishing for ages. Hoff up on peg 6 had a couple of small roach so at least there were fish about.
Two hours passed and nobody from pegs 1 to 5 had caught yet, not even a bite! From what I could see, very little was being caught and a single fish would be worth it's weight in gold. I wasn't panicking yet but if I reached three hours without a bite then it could be a different story! And I was running out of coffee! Then on two and a half hours I had an indication, I waited but it didn't develop and when I reeled in my pinkies were definitely damaged, had I missed my chance? Half an hour later I had a decent pull and a fish was on! I gingerly played it and netted a nice roach of about 8oz, I was off the mark.
Ten minutes later I saw Janders netting a roach and the pound was anybodies yet again, then I had another roach and then a decent skimmer of 1.5lb to put me back in the driving seat. At this stage I felt there were a few fish about but then I couldn't buy a bite again. Both the Steves either side were still fishless and although Hoff had a couple more roach, I felt I was doing alright. Going into the last hour I missed a bite and had another roach and that was it. Bish had blanked and Oz had a solitary late roach, Janders didn't add to his roach so at least the pound was safe.
I packed up and as I walked back to the car I asked Hoff how he'd got on and when he said he'd had eleven roach I thought it could be close between us. Then he said that they'd been catching skimmers to his left and both Les and Butch had nine apiece, it was like a different world from Hoff upwards with most people catching skimmers and roach and I hadn't seen anyone catch bugger all! The scales started with me and my three roach and a skimmer went 2lb 14oz, Oz weighed 8oz and Janders had 4oz so at least I won a pound. Mark Mockridge on peg 5 had also blanked and things got better when Les said I'd won the section. Hoff had 3lb 6oz, then Les had a nice net of skimmers weighing 16lb 12oz, Dave Abrams had 10lb 7oz, Dave Mockridge had 11lb 14oz and then Butch had 19lb 8oz and actually had more skimmers than he was admitting to! Bob on the other end peg had some nice roach but couldn't find any skimmers and weighed 2lb 2oz.
So my first match of the new year saw me win a brown envelope containing £20 and lets not forget the pound off Janders – cheers mate! I do enjoy fishing the tip for bream/skimmers and would like to have another go when it's warmer and there's a chance of a proper bagging session.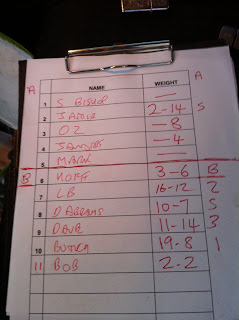 A tale of two ends!
1 – Butch Baker (Tatworth) – 19lb 8oz
2 – Les Braunton (Haines Angling) – 16lb 12oz
3 – Dave Mockridge (Chard) – 11lb 14oz
Sections
A – Jamie Rich (Against Men and Fish) – 2lb 14oz
B – Dave Abrams (Weymouth) – 10lb 7oz
Right, that's definitely it until next Sunday, lets hope for another brown envelope then!