Driving to pick up the bait yesterday, there was loads of rain and I was hoping that we might get some colour in the river for this week. At the draw there were some really good pegs in including my peg from last week, 125 and 126. To be honest I didn't really fancy drawing 124 again as I didn't think those chub would show again so soon. I also didn't particularly want 124a but of course drew it, I did have the choice of that one or 123 but I hate that peg with a passion. I did win off 124a this time last year with a couple of chub and Heardy had done 5lb+ off it fairly recently so there were fish to be had.
On arriving at the river it was terribly clear yet again although there was a little more pace. I think that's been half the problem this season, just no water in the river and I can't recall fishing it once with proper colour on it. I managed to get myself dug in quite low to the water but the wind was coming straight up the river and it was a really cold wind too – nice! I only set up a 1.5 gram Drennan Trio and kept thinking I should have set up a waggler as Heardy had caught quite a few roach by casting down into the shallows, but like a muppet I left the rod in the bag. Robin was above me on 124 and the wind wouldn't be helping his cause much and I fancied Neil on 125 and Steve on 126 to fill the frame places today.
I started with double maggot in the flow at 8.5 metres to try and catch a minnow to avoid the blank but couldn't even catch one of those! There were also quite a few 'stick ups' and after getting snagged a couple of times I was soon switching to caster. The wind was pretty strong and made holding even 8.5 metres a struggle. I was just thinking it was going to be a chub or nothing day when I had an indication which I missed. Next put in I had a small dace and things were looking up, then the greedy minnows arrived and I had two or three, where were they earlier when I was fishing maggot! I then had a 1.5lb chub in the flow and I started to feel there were a few fish about.
We were now an hour and a half in and Rob walked down and said he was struggling to hold the pole although he'd lost a chub first put in. He wandered down to see how the others were getting on and on his return he said Steve and Neil were getting odd small fish but not setting the world alight. I had added a couple more dace and a small roach and was strangely quite enjoying it as I was getting a few bites. I was praying another chub would show up as I felt that was the only way to stand a chance of beating 125 or 126.
I was still catching the odd small dace and roach and by the halfway mark had probably reached the heady heights of 2lb! Then I heard some splashing and looked up to see Rob netting a chub, great that was probably 3lb then, going by the fish I had last week. I really needed another chub now. I would get the odd run of bites before it slowed and I was cursing not setting up that waggler to give me another option. Going into the last hour I was on 11 fish (plus minnows) and probably had about 2lb 4oz. I was hoping it would be a 'golden last hour' but the fish didn't want to play ball and I only added one more dace. To make matters worse Rob had added a second chub and I was sure there would be no brown envelope for me this week.
I packed up and took half of my gear to the gear and collected the scales (yes I had them again!). Steve had loads of small fish for 2lb 9oz and I didn't think I had that, Neil had a decent net of roach and dace for 5lb 8oz and took the lead. I was sure Rob's two chub would beat that but he was adamant they weren't very big – yeah right! My 12 fish went 2lb 7oz and I needed another chub (or maybe I should have set up that waggler rod!). When Rob pulled out his net it was obvious he was telling the truth and his two chub weighed 3lb 1oz which was good enough for second place. It does make me wonder as those fish obviously weren't the ones I had last week, so just how many chub are in that peg!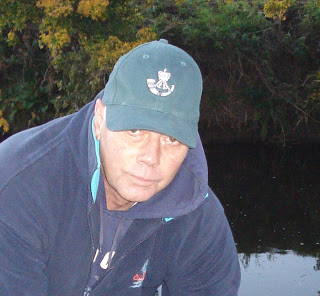 Neil won yet again!
1 – Neil Dring (Ilminster) – 5lb 8oz
2 – Robin Cox (Ilminster) – 3lb 1oz
Final League Standings
1 – Martin Heard (Tiverton) – 11 pts
2 – Jamie Rich (Against Men and Fish) – 13 pts
3 – Steve Parker (Ilton) – 16 pts
So I finished second in this league but I think Rob only pays out one so no coin this week. I'd like to say a big thank you to the Tacklebox in Chard for their generous sponsorship, Steve and Cindy at the Royal Oak for being excellent hosts and Rob Cox for organising another brilliant league.
Next week is the final V.E.S. Precision match and I'm currently joint second with two others and I need a section win to guarantee a top three placing in the league, come back next week to see if I get it.