The final match arrived and it was a glorious sunny day although not ideal for catching fish on a low, clear river! I got to the pub and things got off to a great start when Rob handed me £20 for coming second in the Tacklebox/Royal Oak league which finished last week. This league is pretty tight with Martin leading with 8 points followed by me, Rob and Justin on 10 with Pete Lonton on 11. Justin couldn't fish today so he was out of it but I still needed a section win to guarantee a league placing and that's easier said than done with the patchy fishing at the moment. Bob Hammond was fishing today and it was lovely to see him back on the river.
Rob had done his best to put pegs in that would give people a chance but I didn't really fancy 108 or 92 and really fancied 120 but of course Heardy drew that and would now definitely win the league as it's been a really consistent peg. As for me, I opened my hand to reveal peg 124 again!, I wasn't sure those chub would show and it has been a chub or bust peg of late. Neil had drawn 125 where he won last week and Steve Parker had 126 again, poor old Rob drew 92 although he had the choice of 95 as well but he didn't fancy either of them!
I got to my peg and managed to get lower to the water than last time and just set up the same rig I'd used the last time I was here. Would those chub show again? 10:15 arrived and we were off, I started with a single red maggot and caught a tiny minnow after inching the float through in the flow, so I'd at least secured three points. I switched to caster and was surprised when the next chuck resulted in a small roach. This set the scene for the first hour and I caught five roach and a tiny chublet plus a few minnows but I knew I wouldn't win anything if I carried on catching like this. I tried going further down the peg and holding back in the flow and a good bite resulted in a substantial amount of yellow elastic stream out of the pole tip, the 0.12 bottom did it's job and a 2lb chub was netted, this was more like it! I was sure this wasn't one of the chub I'd caught two weeks ago and it was bigger than Rob's last week so again it begs the question, how many chub are in this peg?
I then had a gudgeon on caster so thought I'd try half a lobbie to see if I could target another chub, I didn't have to wait long and a savage bite saw me net a second chub of similar size. I thought one more would give me a chance of winning the section but no more bites on the worm from here so I started searching the rest of the swim. I had some decent bites at the top of the swim (where I caught last time) but I think it might have been small fish attacking the worm as I didn't connect with any. Neil turned up and he was really struggling in 125 and could see every inch of his swim, he'd had loads of minnows and a few small silvers. He phoned Rob who was also struggling and said Pete had only had minnows in 96. Neil said he'd give it another ten minutes but might be back to leave the scales with me (great, even though I didn't draw the scales, I was still going to end up with them!)
After he'd left I tried caster again but a couple more minnows soon saw me back on the worm, I was fishing at the top of the swim when the float buried and I had chub number three and this one was bigger at around 3lb. I did miss one more bite here but also snagged up a couple of times. Back down in the flow I had another gobie on caster but no more bites on worm. Next up was 13 metres to the far bank reeds towards the bottom of the peg, I wasn't hopeful as I've never caught here although other people say they have. After five minutes the float slid away and a good fish was on, this one gave me the run around and tried it's best to bury itself in the reeds but I eventually netted a good 3lb+ fish.
I decided to leave this to settle after the disturbance and tried my other two main areas but after ten minutes I was back down there and away the float went again, this was another good fish and put me on about 12lb with two and a half hours to go and I was starting to feel a big weight was on the cards. Typically I then couldn't buy a bite and even managed to catch a minnow on lobbie! I was a bit concerned that Neil hadn't come back, maybe he was catching now! Going into the last hour I hadn't added anymore from down the peg so was back at the top and a change to caster saw me catch a 4oz dace followed by two small roach and couple more minnows. Another gudgeon down the peg saw me stick it out on worm for the last 15 mins but I didn't add anymore to my net. I do think under the right conditions this peg could do hell of a weight but the way things are going we'll never have any rain again.
I packed up and on my way back to the car I asked Neil if he'd started catching, he said not really but as Steve Parker had gone on in 126, he had to stay to weigh me in. He'd wanted to go and watch his beloved Spurs but as they lost 5-2 to Arsenal he's probably glad he didn't! Neil had 1lb 10oz and had really struggled, my five chub, seven roach, three gudgeon, one dace and a tiny chublet plus minnows weighed 13lb 5oz, so at least I'd won my section which should see me secure second place in the league. I did weigh the biggest two chub thinking I might beat my personal best of 3lb 5oz but the biggest was the same weight, maybe next time! Back at the results and Martin was the next best weight with 5lb 6oz and he secured his second league title, so I'd won my second match in three weeks. I picked up £45 for the win and £60 for second in the league so a good day all round. Pete found a chub of 2lb 12oz and was third on the day and leap frogged Rob into third place in the league.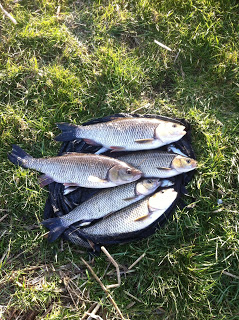 My five chub plus bits went 13lb 5oz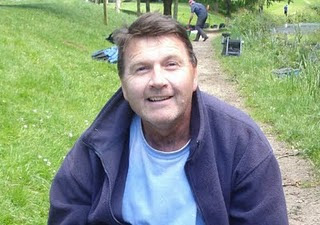 Martin Heard – V.E.S. Precision Winter League Champion
1 – Jamie Rich (Against Men and Fish) – 13lb 5oz
2 – Martin Heard (Tiverton) – 5lb 6oz
3 – Pete Lonton (Ilminster) – 2lb 12oz
Final League Positions
1 – Martin Heard – 9 pts
2 – Jamie Rich – 11 pts
3 – Pete Lonton – 13 pts
The club would like to say a big thank you to V.E.S. Precision for their generous continued support, Steve and Cindy at the Royal Oak and Rob and Pete for organising another excellent league.
The clubs AGM is at the Oak on Friday 2nd March, starting at 7:30.
Barney's Pairs Open is next week and there will be one section on Dillington Pond and one of the river. Draw is at the pub between 8:30 and 9:00.